The recent Gender Gap Report 2020 released by the World Economic Forum (WEF) ranked Philippines 16th globally. The country boasts the smallest gender gap in Asia by far, even surpassing first world nations like Japan, Australia, Canada, and Switzerland. 
Among the four dimensions in which the report was based on, the Philippines performed strongly in three of them. In the Economic Participation and Opportunity dimension, 80 percent of the gender gap has been closed. This is an exceptional achievement for an ASEAN country considering that both, developed and developing countries made very little improvement in this category. 
The analysis found that women in the Philippines outnumbered their male counterparts in senior and leadership roles. The same was found for professional and technical positions, which the vast majority of countries in the report failed to achieve. The Philippines is just one of four countries to have achieved this.
While the vast majority of countries are at a standstill in closing the gender pay gap – with some even widening – the Philippines's gender pay gap has closed by 81.2 percent, ranking the nation fifth in the world for this category alone. 
The Philippines has also closed gender gaps in both, Education Attainment and Health and Survival dimensions. This entails factors such as literacy, enrolment in education, and access to healthcare.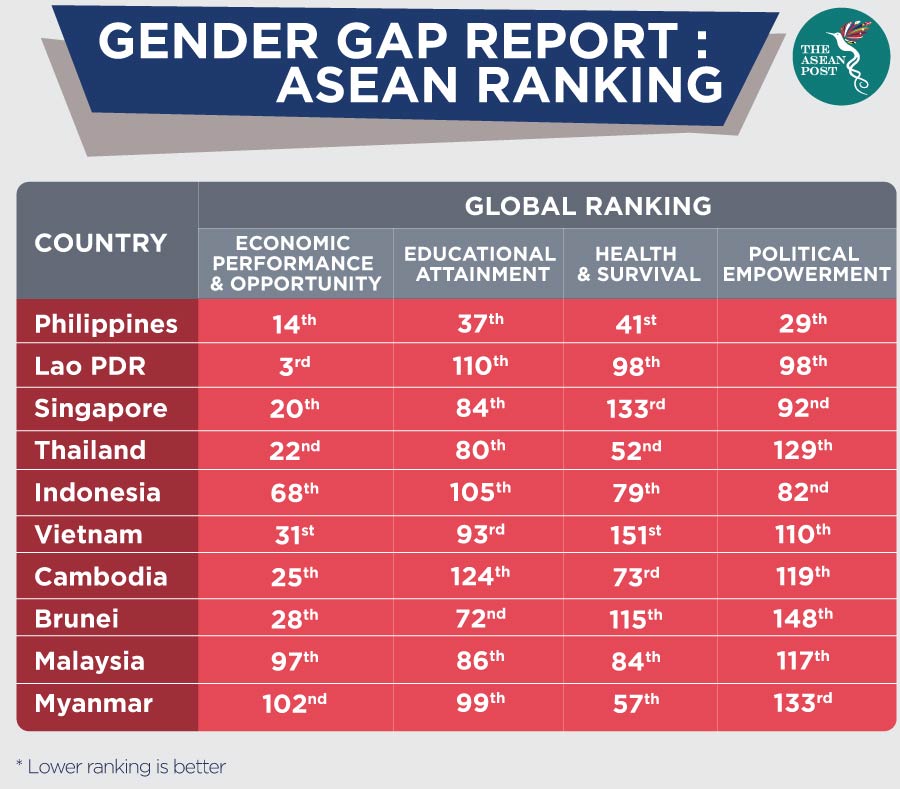 The "role model" effect
While there are multidimensional reasons why women are often not granted the same opportunity as men, the WEF assessed why some nations are performing better than others. The "role model" effect was found to play a big role in empowering and normalising the role of women in leadership positions. 
This is a concept that allows an individual to create a relatable image of success that they too can achieve. Thus, women taking up positions normally filled by men has a positive reinforcement on other women seeking to break gender barriers.
Therefore, when more women enter politics, it corresponds with an increase of women in senior roles in the labour market. 
Vice President of the Philippines, Leni Robredo, is undoubtedly an influential and powerful figure in the country. She has been an outspoken critic of President Duterte's anti-drug operations that started in June, 2016. With 5,552 people already killed according to official reports, and speculation that the number is four times higher, Robredo's report under the Inter-Agency Committee on Anti-Illegal Drugs (ICAD) has revealed major failures in the President's war on drugs.
Many critics of Duterte have remained silent for fear of retaliation, Robredo's courage is surely deserving of admiration. Although the Philippines enjoys greater gender equality, boasting more women in managerial position than any other Asian country; there is still more to do.
"We, at the Office of the Vice President, have always believed that real empowerment truly begins with economic empowerment. That for every woman who is able to thrive and succeed, an entire community can be lifted out of poverty," said Robredo. 
Robredo advocates the need for equal treatment as much as equal representation of women. Women in political office are often subjected to malicious criticism that the Vice President claims her male counterparts are rarely subjected to. 
However, not all countries can boast of the same positive spill over from the "role-model" effect like the Philippines. According to the WEF's Gender Gap Report 2020, two of the worst performing countries in ASEAN when it comes to gender gap parity are Malaysia and Myanmar. Curiously, Wan Azizah Wan Ismail is Malaysia's first woman deputy prime minister while Aung San Suu Kyi is the current state counsellor of Myanmar. Clearly, holding office alone is not enough to make a difference. 
Alleviating women from poor conditions with effective empowerment programs, such as the "Angat Buhay" program in the Philippines is key. 
Moreover, there is a high risk that countries that have failed to address gender parity will see the gap widen in the future due to a lack of proper planning to train women for the technologically-driven industries of the future. "If there ever was a better time to strengthen ASEAN's commitments to human rights and gender equality, it is now," said Robredo.
She explained that "as fast-growing industries emerge, we need to strengthen our training and skills development programs, and make them on par with global standards. We need to take advantage of the opportunities created by the ASEAN Economic Community by making sure that our workers are ready. When we do, our people, especially our women, will not be left behind; instead, they will be equipped with competencies that are in line with the demands of the international labour market."
Related articles:
No room for women in "New Malaysia"?