The world spends so much on wars and violence but spends next to nothing on peace. The obvious result of conflicts and wars is human suffering, but there is also a cost to the economy that can further cripple the world's infrastructure and stability. Vision of Humanity, a global peace and development guide, released a report from the Institute for Economics and Peace (IEP) on the 2019 Global Peace Index (GPI), detailing the impact of violence on the global economy.
The report's findings are based on 16 separate expenditure categories that calculate the direct and indirect costs associated with conflict and violence. Direct costs are losses incurred through government spending on military, judicial systems and healthcare, while the indirect costs are economic losses due to ongoing crises. The report found that over the last 10 years, the average level of global peacefulness has deteriorated by 3.8 percent, though it saw a slight improvement between 2017 and 2018. 
Conflicts and violence have robbed the world of economic opportunity as well as human capital. Based on the 2019 GPI, the world incurred a loss of US$14.1 trillion in purchasing power parity (PPP) in 2018, which equates to 11.2 percent of the Gross World Product (GWP), or US$1,853 per person.  This year, new tensions between nations have begun to emerge, threatening global peace while past conflicts continue to have a significant impact on economic performance around the world. Myanmar had the largest deterioration in the ASEAN region due to its ongoing conflict with rebel separatist groups and the Rohingya crisis.
Another looming threat to peace is climate change. According to the 2019 GPI report, 971 million people live in areas with high climate change exposure. Out of that number, 41 percent live in countries with an already low level of peacefulness, where climate fluctuations only increase the likelihood of conflicts.
Trade war
According to a World Economic Forum (WEF) article on trade conflicts by Pamela Coke-Hamilton, director at the United Nations Conference on Trade and Development (UNCTAD), the ongoing trade war poses a real threat to the world's economy. 
The trade war between the United States (US) and China has significant implications on global investment flows, employment and growth in both, developed and developing countries. Based on a UNCTAD 2018 report on 'Key statistics and trends in trade policy,' out of the US$250 billion worth of Chinese exports subject to US tariffs, 82 percent will be captured by firms in third countries, while 12 percent will be retained by Chinese firms, and only six percent will be kept by US firms.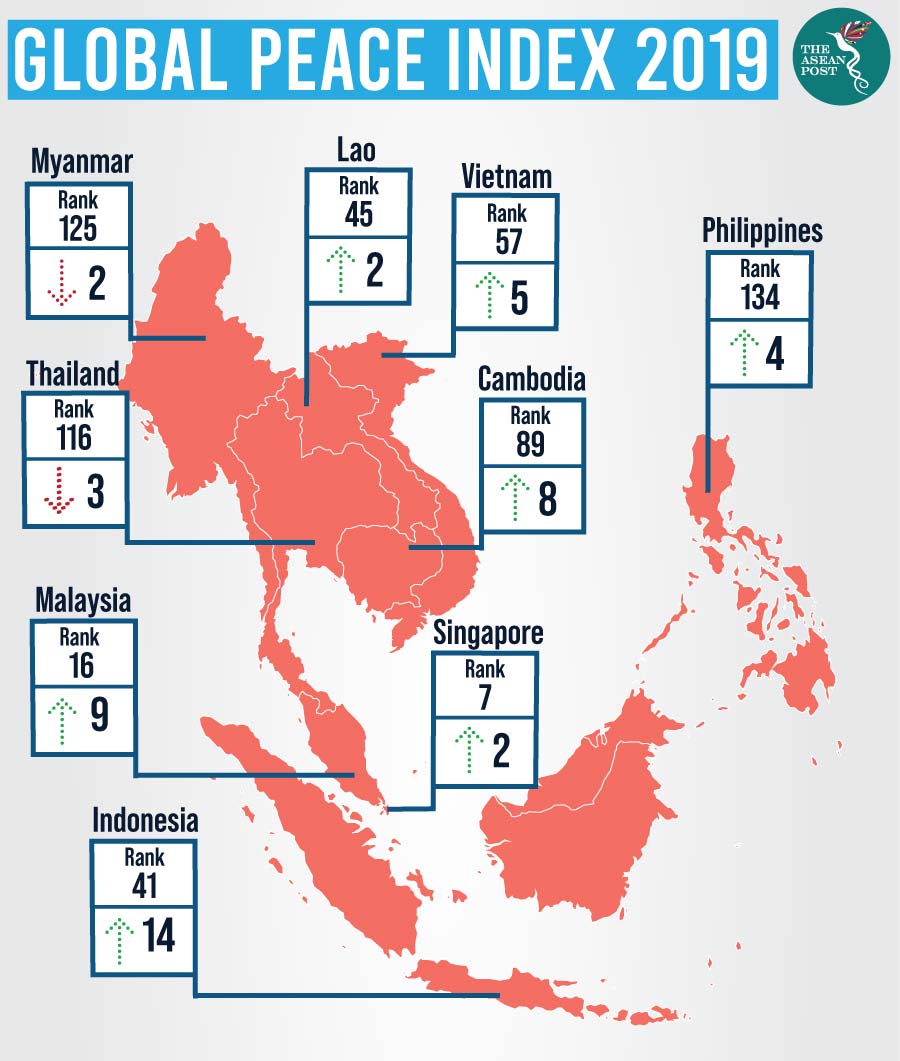 Source: Institute for Economics & Peace, 2019
Similarly, of the US$110 billion worth of US exports subject to China's tariffs, about 85 percent will be captured by firms in other countries – US firms will retain less than 10 percent, while Chinese firms will only keep about five percent. The UNCTAD report found that results are consistent across different sectors, suggesting that a trade war cannot guarantee protection for domestic firms both, in China and the US. 
The US-China trade conflict also signals the weakening of a multilateral trading system and hinders cooperation efforts when tackling global challenges.
According to a 2019 Oversea-Chinese Banking Corporation (OCBC) report on 'Trade tensions and its impact on ASEAN,' the effect of the US-China trade war on the region may vary due to the different levels of dependence on trade and potential recalibration of production lines and/or redirection of trade flows due to the tariffs imposed. The report claims that countries most exposed to trade tensions are those whose economies are most exposed to US & China in trade, such as Singapore and Malaysia.
A common stand
Amid the US-China trade war, China has become more forward in asserting its claims on vast swathes of the South China Sea. Last June, a Chinese fishing vessel was accused of ramming a Philippine fishing boat, prompting the US to call out China's 'bullying behaviour'. Vietnam recently demanded China remove a survey ship from Vanguard Bank, which it says lies within Vietnam's exclusive economic zone. Le Thi Thu Hang, a spokeswoman for the country's foreign ministry said that "Vietnam has made contact with China to protest its repeated violations and demanded that China withdraw the vessel group from Vietnamese waters."
US State Department spokeswoman Morgan Ortagus commented that China's reclamation and militarisation of disputed outposts in the South China Sea "undermine the peace and security of the [ASEAN] region". 
ASEAN Business Advisory Council (BAC) chairman, Arin Jira said that ASEAN should stand together against bullying and corruption. 
"We're not siding with US or China. We just want ASEAN to have a common stand. We have to stand against trade bullying, coercion," Arin said during the Third ASEAN Media Forum held last month in Bangkok, Thailand.
At the forum, which focuses on tackling global challenges facing ASEAN, Arin called for "world economic peace," amidst the ongoing US-China conflict. Arin said the trade war could be a wake-up call to speed up reforms and infrastructure developments among ASEAN members. 
"I say trade war is inhibiting our growth. But ASEAN has a voice. We need to make our voice heard."
Although investing in elements that sustain peace can lead to a cycle of less violence and stronger economies, the potential economic benefits of peace sadly continues to be overlooked. 
Related articles:
ASEAN growth slower than forecasted