The competition between ride-hailing apps in the region could slowly become a one horse-race as the tech world has been rocked with rumours of Uber exiting the region.
The speculation began after Japan's SoftBank made a US$1.25 billion investment in Uber that effectively made them the company's largest shareholder. Softbank are also large investors in Grab, so a tie-up with Grab would be in the best interest of the bank as they seek to monopolise the ride-hailing app market.
While Grab's quest for monopoly of the region might become a reality soon, there is one market in the region that Grab has yet to conquer – Indonesia. With a population of over 250 million people, Indonesia is the largest market in Southeast Asia. Oxford Business Group reported in 2017 that ride-hailing is expected to skyrocket in Indonesia from US$800,000 in 2015 to US$5.6 billion by 2025.
Go-Jek's Dominance In Indonesia
Established in 2010, Go-Jek started with only a call centre and a fleet of 20 drivers. Go-Jek revolutionized the ride-hailing industry in the region by introducing motorcycle taxis (ojek in Indonesian). With Jakarta's notorious traffic jams and underdeveloped public transport system, it is no surprise how quickly Go-Jek dominated the market.
Due to Go-Jek's introduction of motorcycles to the ride-hailing industry, other players such as Grab and Uber had to follow suit to maintain their respective footholds in the Indonesian market.
In a survey carried out in 2018 by ecommerceIQ, a Southeast Asian market research brand dedicated to e-commerce, an overwhelming 56% of participants preferred Go-Jek as opposed to the 33% who preferred Grab and the 8% that chose Uber. Numbers from Indonesian data and digital analytics firm, ilmuOne further consolidates the dominance of Go-Jek in the market. Data from December 2017 shows that Go-Jek has over 9.7 million users throughout Indonesia.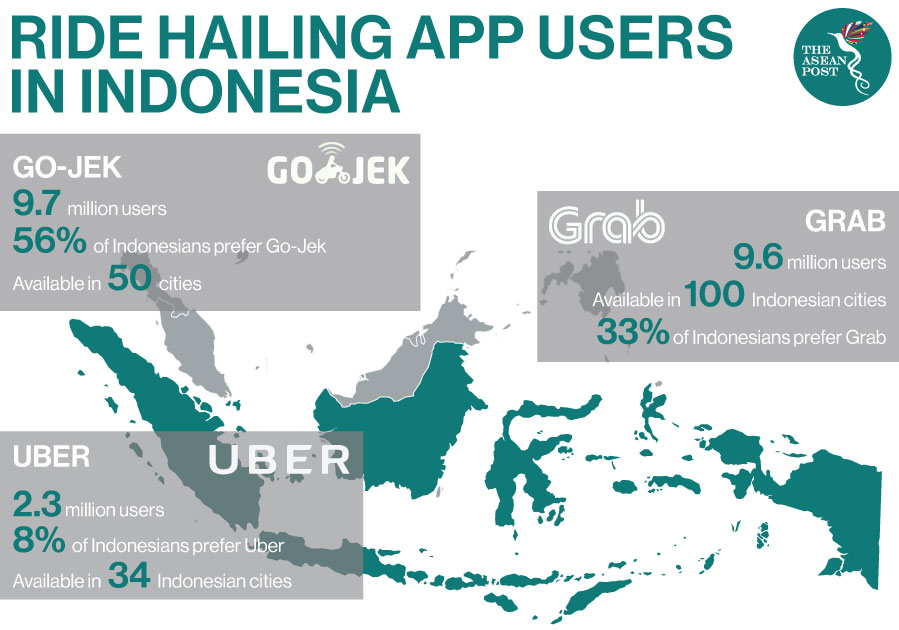 Go-Jek isn't only about motorcycle taxis in Indonesia though, they also offer much more. The company offers other services such as Go-Food which does food delivery and Go-Med which buys and delivers medicine for you.
Having already dominated the ride-hailing app market, Go-Jek is now looking to challenge GrabPay and Alipay in the e-wallets and e-payments game by launching Go-Pay. CEO and co-founder, Nediem Makarim told Bloomberg in December 2017 that "2018 will be the year for Go-Pay." According to Nediem, Go-Pay will leave the Go-Jek app ecosystem and exist on its own, aiming to be "… the number one financial inclusion tool for Indonesians to gain access to digital goods and services and other financial services." Nediem added that he wishes to "…see a whole bunch of Indonesians walking around, taking Go-Jek rides around the city without even thinking about whether they have their wallet with them or not."
Despite the app being limited to only Indonesia, Go-Jek is attracting major investors from around the world.
Go-Jek, who are the first unicorn startup in Indonesia, secured investments from Google, Temasek and Chinese firm Meituan-Dianping last month. According to Reuters, the investment from Google will be worth about US$100 million and will be their first direct investment in Indonesia. The investments from said firms are part of a whopping US$1.2 billion fundraising round.
Go-Jek's plans however go further than just merely fundraising. Nediem told Bloomberg in December 2017, that Go-Jek has plans to become a public listed company. In the interview, Nediem mentioned that the biggest challenge to their ambitions is not having enough resources. If they manage to go public, raising capital quickly will no longer be a problem for them.
While Go-Jek are still ahead of the pack, the competition they face is stiff. Especially as they enter new grounds such as e-wallets and e-payments. The company would have to face off against already established brands such as Alipay. Also, their dominance in the ride-hailing world isn't necessarily set in stone. Grab aren't too far behind and if they do end up merging with Uber, Go-Jek may have their work cut out for them in Indonesia.
Related Articles:
Agricultural apps ploughing the way for farmers in Myanmar
Can China's militarisation of the South China Sea lead to armed conflict?
Need for regulation grows in tandem with e-payments push in Southeast Asia