8 March every year marks the much-celebrated International Women's Day (IWD). Its aims are to highlight women's achievements and increasing visibility, while calling out inequality. In order to accomplish Goal 5 of the United Nations' (UN) Sustainable Development Goals (SDGs) – which is to achieve gender equality and to empower all women and girls – various efforts have been made across the globe.
The last few decades have seen more girls going to school, fewer girls forced into early marriage, more women serving in parliament and positions of leadership, and laws being reformed to advance gender equality.
A growing body of research and evidence strongly suggests that gender parity can become a "crucial driver of social cohesion, economic prosperity and national growth income," stated the UN Economic and Social Commission for Asia and the Pacific (ESCAP). This can also be seen in McKinsey's 2018 report titled, "The Power of Parity" which states that advancing women's equality in Asia-Pacific countries could add an estimated US$4.5 trillion to the collective annual gross domestic product (GDP) by 2025, a 12 percent increase over the business-as-usual trajectory.
Nevertheless, despite significant progress, not a single country in the world can claim to have achieved gender parity.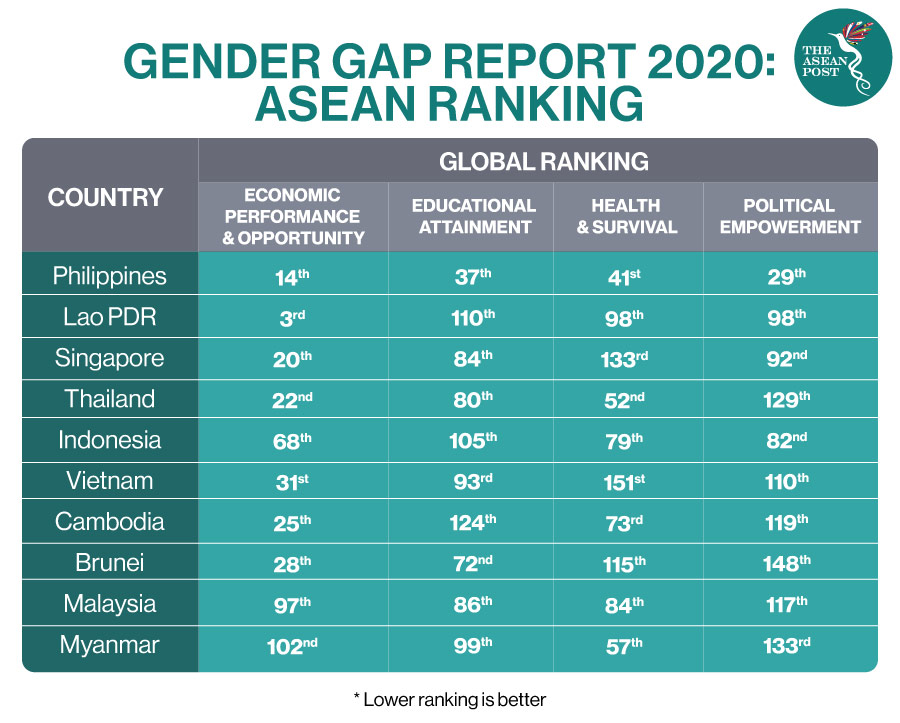 The wrath of the COVID-19 virus could have worsened gender inequality. UN Women suggests that the coronavirus crisis could wipe out some 25 years of increasing gender equality.
Amid the pandemic, a number of concerns have been raised by governments, the media, activists and organisations – unwanted pregnancies, unsafe abortions and unsafe births, a rise in gender-based violence and practices such as child marriage and child labour.
The aforementioned issues could potentially reverse "hard-won gains which have improved the lives of women and girls in recent decades," said Bjorn Andersson, Regional Director Asia-Pacific of the United Nations Fund for Population Activities (UNFPA).
Employment, Unpaid Care
Although people from almost all walks of life have been severely affected by the pandemic – more women have lost their jobs due to the impact of the coronavirus compared to men.
According to McKinsey, women's jobs are at 19 percent greater risk than men's are. 
In a 2020 report titled, "COVID-19 and Gender Equality," the global consulting firm states that women make up almost two-fifths of the global labour force but have suffered more than half of the total job losses from the crisis. This has left them 1.8 times more vulnerable to the impacts of the pandemic as opposed to men.
This is probably due to the fact that women are over-represented in three of the four most in-decline sectors of the global economy: accommodation and food services (54 percent), retail and wholesale trade (43 percent), and services such as arts, recreation and public administration (46 percent) – which have all been hit-hard by the pandemic. 
Moreover, it was reported that women are doing significantly more domestic chores and family care because of the pandemic. Employment and education opportunities could be lost, and many women may potentially suffer from poorer mental and physical health, a British news agency reported. 
The care burden poses a "real risk of reverting to 1950s gender stereotypes," warned Anita Bhatia, UN Women Deputy Executive Director.
According to the World Economic Forum (WEF), the economic disruption from the health crisis has disproportionately burdened women with unpaid care.
Prior to the pandemic, for every one hour of unpaid work done by men, three hours were done by women. Bhatia stated that "the number has at least doubled" during the pandemic.
"More alarming is the fact that many women are actually not going back to work," added Bhatia. 
The pandemic has also forced schools and child-care providers to shutter – shifting online – and piling even more pressure on working mothers.
"Substantial research has shown that most professional gender gaps are in fact motherhood gaps: women without children are much closer to parity with men when it comes to salaries and promotions, but mothers pay a large career penalty," wrote international journalist, Amanda Taub in her article in The New York Times.
Nevertheless, despite the setbacks brought about by COVID-19, the world has also witnessed the remarkable strength and inspiring leadership of women in responding to the crisis.
A comprehensive joint study conducted by professors at Liverpool University and the University of Reading shows that countries led by women were locked down earlier, "followed the science" more rigorously, and were more prepared to take economic risks to protect lives than their male counterparts.
"Our results clearly indicate that women leaders reacted more quickly and decisively in the face of potential fatalities. In almost all cases, they locked down earlier than male leaders in similar circumstances […] it has certainly helped these countries to save lives," explained lead researcher Supriya Garikipati.
Some women leaders cited in the study include Angela Merkel of Germany and Jacinda Ardern of New Zealand who have been praised for their handling of the pandemic.
"To build back better, and faster, we must build back in a more gender-inclusive way, with women contributing to the strategy and leadership of our economic recovery," said Vanessa Lau, CFO of Hong Kong Exchanges and Clearing Limited (HKEX).
The theme for IWD 2021 is #ChooseToChallenge. Let us reflect on this today and work towards a gender equal world.
Related Articles: