Although everyone in Southeast Asia can fly these days due to the proliferation of low-cost airlines, the experience is not necessarily pleasant with long queues and constantly having to present travel documents to different parties.
Airports are struggling to cope with growing passenger numbers who are also becoming more demanding. This makes them good testbeds for smart technology.
In Southeast Asia, Singapore's Changi Airport is leading the charge in innovation. This is par for the course in tech-driven Singapore and its quest to form a Smart Nation. Early last year, the Changi Airport Group (CAG) launched Living Lab in collaboration with the Singapore Economic Development Board (EDB).
The Living Lab will use Changi's year-old Terminal 4 as a live testbed for new technologies. It focuses on several areas, namely automation and robotics, data analytics, the Internet of Things (IoT), security technologies and smart infrastructure management.
A laboratory approach is also being adopted by San Diego International Airport which runs an Innovation Lab program twice annually for companies to pitch and present airport-related products and services. Successful projects are then implemented at the airport. Among the more notable innovations was the first reusable, portable mobile device charging system and an airport-wide mobile delivery app that lets passengers order food and retail items and have them delivered to specific locations within the terminal.
Groupe ADP, which built and manages the Paris-Charles de Gaulle, Paris-Orly and Paris-Le Bourget airports launched an Innovation Hub last year as an incubator for airport-related technologies. Groupe ADP also offers space at its headquarters to host showrooms, workshops and meetings with partners and staff.
The International Air Transport Association (IATA) conducts annual surveys to gain insight into what passengers want. Last year, its Global Passenger Survey reported passengers wanting more technology to make airport processes more efficient.
The IATA's 2018 Global Passenger Survey found that overall, passengers want real time journey information delivered to their personal devices and biometric identification to facilitate their travel processes.
The survey of 10,408 respondents from 145 countries also found that passengers want more automation of airport processes, wait times of less than 10 minutes at security and immigration and to be able to track their bags throughout their journey.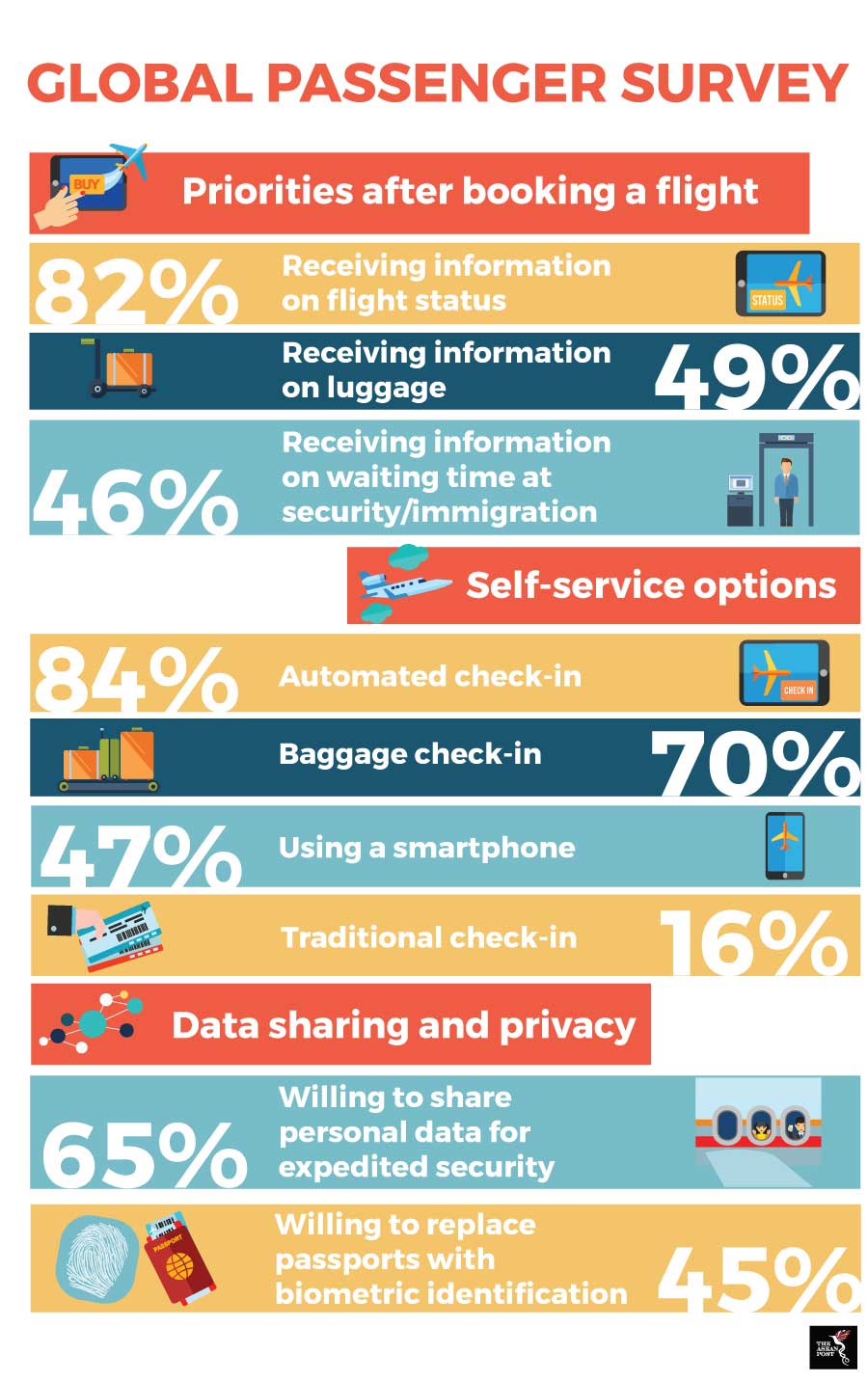 Source: International Air Transport Association 2018
One ID concept
The IATA is promoting a One ID concept to replace the present repetitive process of showing boarding passes and passports to different parties for different purposes. Each of these stakeholders – airlines, border control, customs and screening authorities – developed their processes independently of each other. With One ID, the use of trusted digital identity, biometric recognition and a shared collaborative identity management platform will simplify the process. This can reduce queue and wait times, and prevent the use of false identification papers, in cases of human trafficking and evading the law.
The IATA is rolling out plans to use radio frequency identification (RFID) in baggage tags starting in 2020. With RFID chips or inlays in tags, baggage can be tracked at virtually any point in all airport processes, minimising the risk of lost bags, theft and fraud.
Airports in London, Tokyo and Singapore, among others, are pushing for autonomous equipment: self-driving vehicles, automated baggage handling and transport systems and even aerobridges that align themselves to aircraft doors.
Tokyo Airport deploys friendly-looking robots to help with airport security, transportation, logistics and translations.
Taiwan's Songshan and Taoyuan international airports have robots that tell passengers their departure details and weather updates for their destinations by simply scanning boarding passes. They also take the opportunity to plug the latest duty-free special offers and airline promotions.
South Korea's Incheon Airport also deploys robots to provide information and directions to departure gates. They move autonomously and navigate with cameras, ultrasonic, laser and proximity sensors, recognise voice and can process language and display information on LCD screens.
Changi Airport's Terminal 4 is testing a remote-controlled vehicle that can transport baggage from a plane to the baggage handling area in 10 minutes. It also uses bots to deliver food to lounges. Its kitchens have assembly lines that work with just nine employees instead of 45. It uses an automated cutlery packing system to improve productivity.
The airport is also testing a system for air traffic controllers to monitor aircraft using digital infrared cameras to improve visibility during hazy or low-visibility conditions.
Self-service is also a major feature. Passengers can collect their boarding passes and print bag tags and drop in their check-in baggage at automated kiosks. Border control is automated: passengers scan their passport, boarding passes and fingerprints at automated immigration gates. To board the plane, passengers scan their boarding passes at automated boarding gates. At all these gates, passengers' photos are taken for identity verification.
Technologies tested and refined in Changi's smallest terminal will eventually be used for its biggest. The 1,000-hectare Terminal 5, due to open in 2030, will be able to accommodate 50 million passengers a year.
The future of airports will see more extensive and innovative use of artificial intelligence (AI), robotics, biometrics and automation. Everyone can fly, but they will have to do things for themselves.
This article was first published by The ASEAN Post on 27 September 2018 and has been updated to reflect the latest data.
Related articles:
The future of aviation in Southeast Asia
Is Southeast Asia ready for self-driving taxis?