In 10 days, the global number of confirmed COVID-19 cases more than doubled from about 153,000 on 14 March to over 372,000 on 24 March. Even with the combined help and resources from Chinese experts and additional aid from Doctors Without Borders (MSF), the rapid rate of infections in Italy has pushed hospitals to full capacity, forcing emergency rooms to close their doors to new patients – thus, increasing the mortality rate compared to other countries. 
In order to contain the virus at a manageable level, researchers from the University of California, Berkeley have proposed measures such as social distancing that both, delay and reduce the peak number of new cases to prevent the health care system from being overrun. The pandemic "curve" compares the rate of infections without social distancing and one which incorporates precautionary measures.
The faster the infection curve rises, the quicker the local health care system gets overloaded beyond its capacity to treat people. The model of the virus' spread illustrates how a flatter curve (which assumes the same number of infections) over a longer period of time would ease the stress on respective healthcare systems. 
"We have a simple message for all countries: test, test, test," said Dr Tedros Adhanom Ghebreyesus, Director-General of the World Health Organisation (WHO).
Despite its Movement Control Order (MCO), Malaysia currently has the highest rate of infections among ASEAN nations. Its Health Director-General, Dr Noor Hisham Abdullah has warned that the surge of COVID-19 cases in the country would lead to doctors having to decide on which patients to be given a ventilator.
"There are now 64 patients in the intensive care unit (ICU) with 27 of them on ventilators. The worry is if there is an exponential spike in cases. Our capabilities are limited. Then we have to choose which patient will have the 'privilege' of ventilators," he said. 
Some countries have managed to suppress the spread of the virus better than others, and this can be attributed to their respective capacities to test large numbers of people – some, with the help of Artificial Intelligence (AI).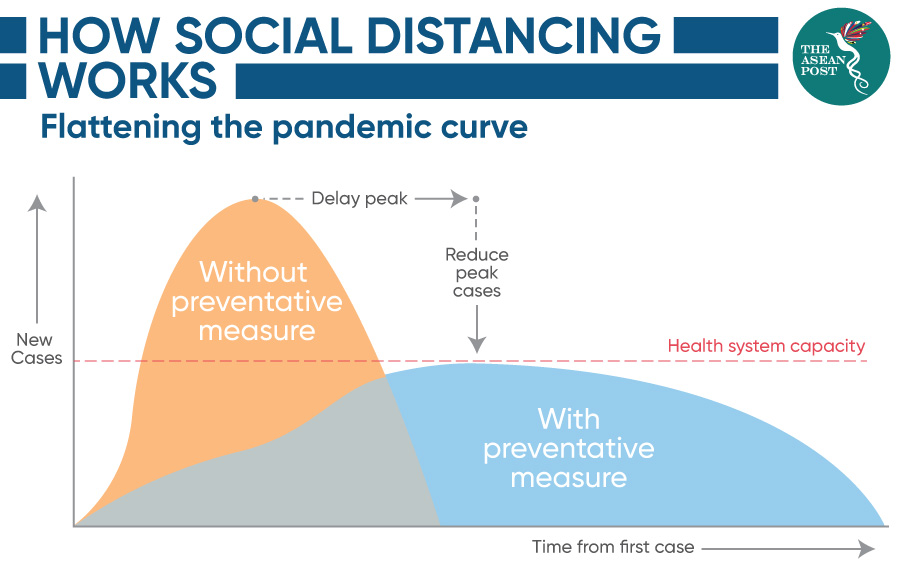 Successful AI implementation
In the early stages, the Wuhan Municipal Government instructed its local epidemic prevention personnel to screen suspected cases by making daily phone calls to gather information such as symptoms and body temperature of residents. However, human operators cannot complete more than 300 phone screenings a day. The efficiency and accuracy of such calls can also vary, depending on the operator's experience and judgement. 
To address this problem, Ping An Smart Healthcare launched a smart audio screening system for COVID-19 to strengthen epidemic controls and prevention with AI technology. To date, the system has completed over 580,000 screenings in 47,000 households in 17 communities in Wuhan, which successfully identified more than 1,600 suspected cases for tracking. 
The system can activate automated dialogue according to programmed questions, understand the semantic meaning of the conversation, structure and categorise the results for risk assessment, and report to the epidemic prevention and control management team, who can then accurately track residents with suspected symptoms. 
"Preventing and controlling an epidemic is like racing with the virus. Ping An's COVID-19 smart audio screening system can effectively strengthen the ability to prevent and control the epidemic, resulting in higher efficiency and smarter management. As a result, epidemic prevention personnel can focus their time and efforts on more important tasks," said Geoff Kau, Co-President and Chief Strategy Officer of Ping An Smart City.
While current AI technologies are far from replicating human intelligence, they are proving to be very helpful in tracking the outbreak; diagnosing patients, disinfecting areas, and speeding up the process of finding a cure for the COVID-19 virus.
With so much data being generated on the novel coronavirus every day, the AI algorithms can help home in on the data that can provide pertinent information on the spread of the virus. It can also find important correlations between data points, such as the movement patterns of people who are living in the areas most affected by the virus.
The Tampa General Hospital in Florida, United States (US) has also incorporated AI in its strategy against the virus outbreak.  A software developed by Care.ai, an AI-powered autonomous monitoring platform for healthcare, was deployed to reduce foot traffic in hospitals. It is capable of performing facial scans to identify patients with fevers, which was able to reduce foot traffic in the hospital by 75 percent according to a statement by Tampa General CEO and President, John Couris. 
Countries such as China and South Korea are also sending resources and equipment to countries struggling with containing the virus. Video conference calls between China and other nations including the European Union (EU) are currently on-going to share technical advice and experience to curb the current rate of infections. 
The sharing of resources must continue for an effective global response. This must go beyond just an immediate response but focused instead on a long-term, efficient system to prevent future epidemics from turning into pandemics.
Related articles:
Coronavirus toll soars despite lockdowns