ASEAN has to do more to attract private investment for key sustainable infrastructure programmes as the region makes the transition to a low carbon economy. 
HSBC presented a report to ASEAN Finance Ministers in Bangkok earlier this month ahead of their annual ministerial summit which outlined three recommendations in response to the region being disproportionately affected by climate change and the growing need for private investment to help bridge infrastructure funding gaps.
The report states that an estimated US$100 trillion of investment is needed in new sustainable infrastructure globally over the next 15 years – including financing for clean energy infrastructure, sustainable transport, energy efficiency and waste management – to meet the goals of the Paris Agreement.
A think tank which promotes human development and environmental sustainability, the International Institute for Sustainable Development defines sustainable infrastructure as the development of roads, buildings, energy and water infrastructure with careful consideration to environmental and societal impacts. In general, sustainable infrastructure assets are low carbon, climate friendly and socially inclusive.
According to the World Bank, the global infrastructure gap means 940 million people live without electricity, 663 million people lack proper drinking water and 2.4 billion people have no proper sanitation facilities – and uncounted numbers are unable to access work and educational opportunities due to the absence or high cost of transport services.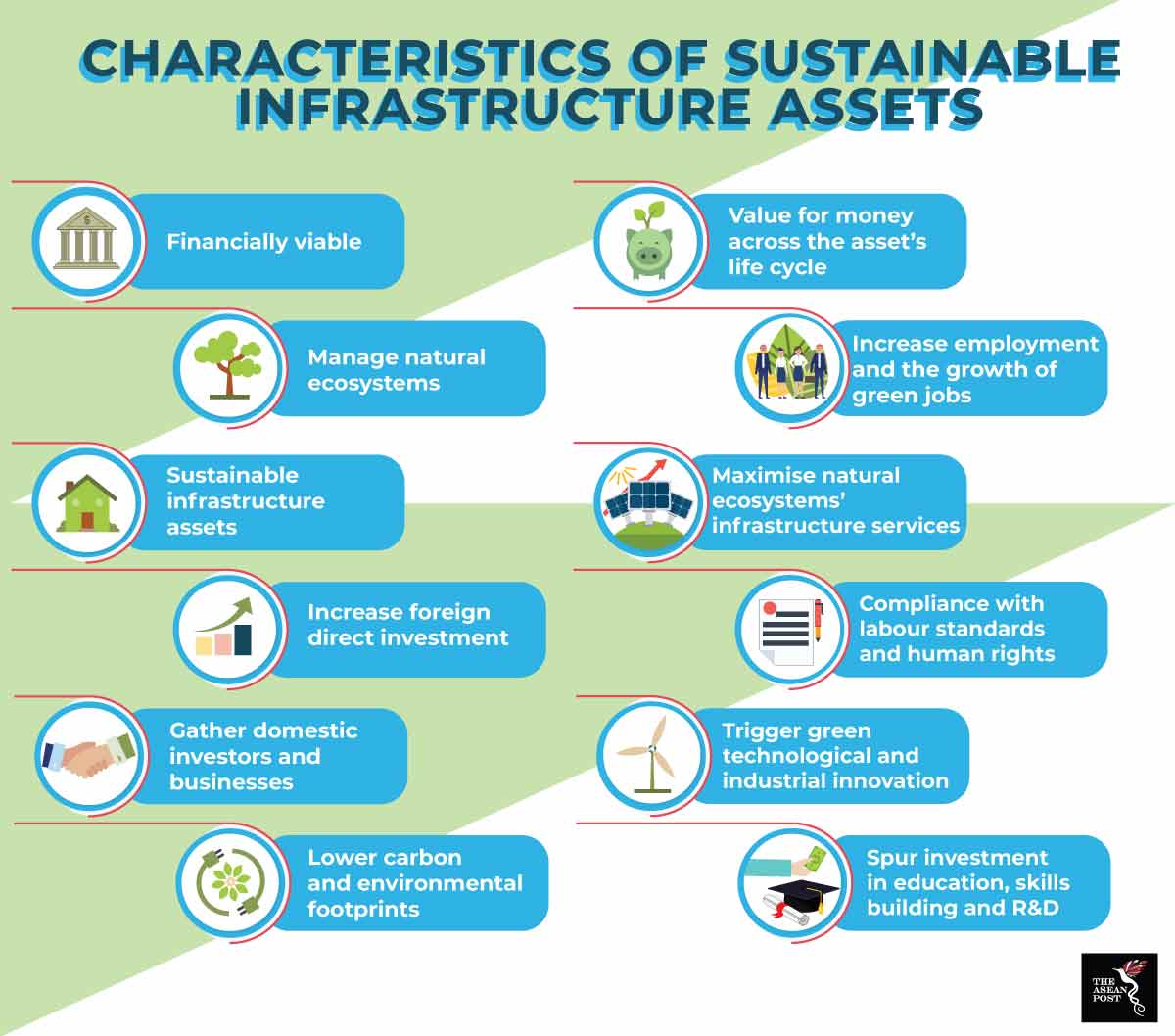 Source: International Institute for Sustainable Development
Three recommendations
Titled 'Financing Sustainable Infrastructure in ASEAN', the report's first recommendation is for multilateral organisations to collaborate in publishing an annual 'Doing Sustainable Infrastructure Report'.
Since there is no single authoritative report that governments, international organisations, development banks and the private sector can rely on to evaluate progress and identify opportunities for further improvements in the ASEAN region, the proposed report will provide a checklist of best practices that can be considered to better enable financing of sustainability linked infrastructure.
Periodic progress reports on ASEAN member states' investment environments and efforts to promote financing for sustainable infrastructure would also be included in the report. Recommendations on ways to increase financing for sustainable infrastructure based on key metrics and feedback from public stakeholders in government, international organisations and the private sector would be another key outcome of the report.
The second recommendation aims to build on ASEAN's Smart Cities Network with the creation of a potential ASEAN Urban Infrastructure Network – providing capacity building for public sector leaders so they are better equipped to work with the private sector to develop bankable and sustainable infrastructure projects.  
The report's third recommendation is to develop an ASEAN Blended Finance Toolbox in partnership with development banks and the private sector. The tool box would work with the industry and development banks to introduce a blended finance approach in order to "crowd in" a broader spectrum of investors looking for long term returns.
Ongoing efforts
Among the steps the region has already taken to unlock private sector financing for sustainable infrastructure include the launch of the ASEAN Green Bond Standards in November 2017 by the ASEAN Capital Markets Forum. This created a common framework to promote the growth of a new green asset class while enhancing transparency, consistency and uniformity of new issuances. This was followed by the launch of the ASEAN Social Bond Standards and ASEAN Sustainability Bond Standards last October.
Just last month the Philippines (together with Bhutan, Mongolia and Vietnam) signed a Declaration on South-South Cooperation to access climate finance, particularly the Green Climate Fund (GCF) – a fund established by the United Nations Framework Convention on Climate Change (UNFCCC).
In June 2017, the Monetary Authority of Singapore launched the Singapore Green Bond Grant scheme which provides financial subsidies for the advisory fees associated with undertaking green financing.
"The development of sustainability linked infrastructure using public and private sector financing is the only way that ASEAN can address the challenges that climate change presents to its economies," said Mukthar Hussain, HSBC's Head of Business Corridors for Asia-Pacific.
Related articles:
ASEAN's role in realising the Paris Agreement