Malaysia is embracing the Fourth Industrial Revolution (Industry 4.0) with a focus on Artificial Intelligence (AI), as seen at the recent Beyond Paradigm Summit 2019 in Kuala Lumpur. Organised by Serba Dinamik Holdings, the summit showcased advanced Industry 4.0 technologies and the world's first social humanoid robot, Sophia.
Sophia is an artificially intelligent robot who was named the United Nations Development Programme's (UNDP) Innovation Champion in 2017. At the summit, Sophia, who was clad in a 'baju kurung' (Malaysia's traditional costume) managed to 'meet' with Malaysia's Prime Minister Dr Mahathir Mohamad and engaged in an eight-minute conversation with him. 
Dr Mahathir asked how Sophia is different from other robots, to which she answered, "most other robots don't get to hang out with the prime minister of Malaysia." She added that unlike other robots, she was built with human features to better interact and build relationships with people. It is also apparent that she was built with a sense of humour, adding to its human-like feature. The prime minister was however impressed by the lifelike facial expressions with incredible accuracy that were exhibited by Sophia. In 2017, Sophia was awarded citizenship by Saudi Arabia which drew criticism from human rights advocates.  
Sophia pointed out that humans and robots are already co-existing. AI allows humans to focus on research, development and further innovation, while robots do the 'labour' independently and intelligently. AI's contribution to Malaysia can be seen in sectors such as education and commerce. In the manufacturing industry, AI can recommend the best maintenance approaches and assist in predictive maintenance.
Sophia, developed by Hong Kong-based Hanson Robotics, may be relatively advanced, but her intelligence is still limited and responses are scripted. David Hanson, CEO of Hanson Robotics, disagrees. "She's basically alive," he said. 
Away from the spotlight was Malaysia's very own advanced humanoid robot named ADAM, an acronym for Advanced Development Autonomous Machine. Donning a head visor on its face, the robot was developed by Robopreneur Sdn Bhd, a local robotics company based in Cyberjaya.
ADAM was first activated in March 2019 after a year of research and development, and prototyping work. Founder and CEO, Dr Hanafiah Yussof claims ADAM to be the first Malaysian humanoid created. "The idea of developing [a] humanoid robot is one of the initiatives in contributing to Malaysia's vision of IR4.0 because developing [a] humanoid involves developing the technology itself, such as robotic design, advanced computing, sensing fusion and AI, among the important components in IR4.0," explained Dr Hanafiah.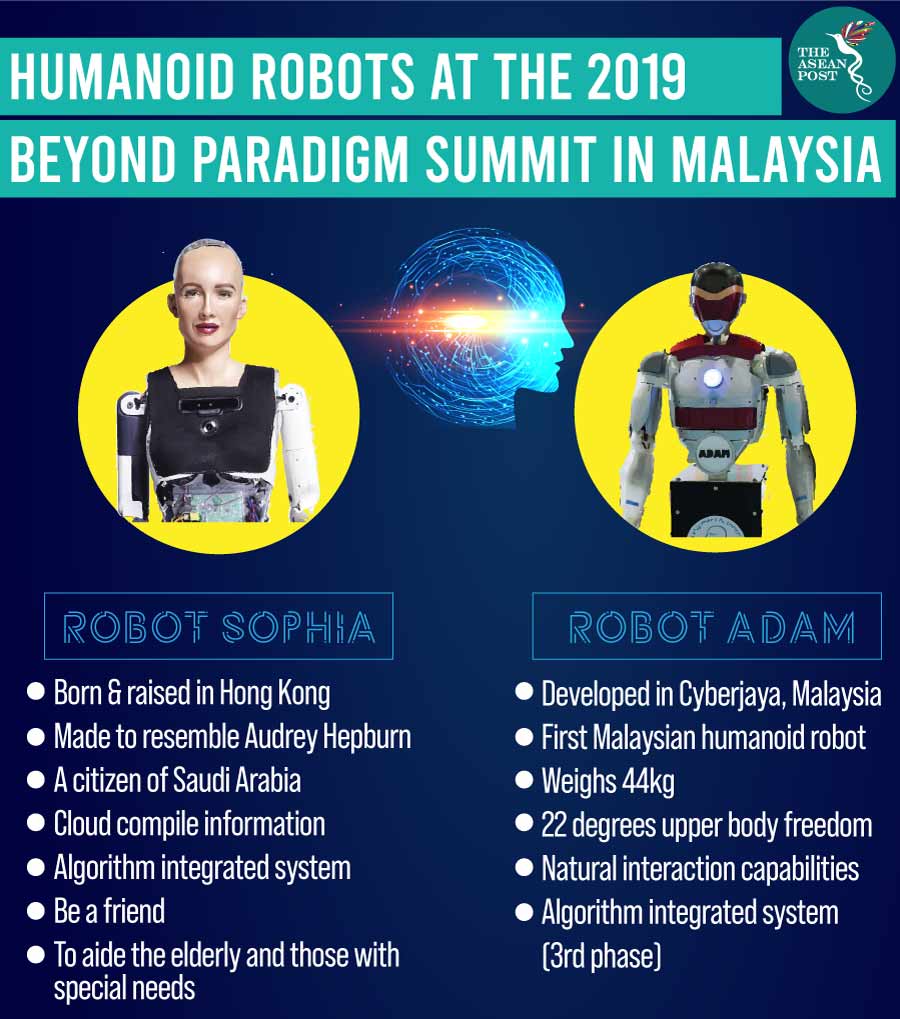 Source: Various
The 44-kilogram robot has seamless, full-body movement with 22-degrees of freedom in the upper body joints, including fingers. Empowered by AI, ADAM is built with interaction capabilities using voice detection. ADAM will be integrated with a machine-learning algorithm for natural speech and the detection of emotions. While early in the development phase, the robot presents the potential for Malaysia to be part of the AI race.
Robots taking over
A 2019 study by Oxford Economics on 'How robots change the world' found that robots will take over more than 20 million manufacturing jobs worldwide by 2030. Although a benefit from the take-over would include a boost in overall economic output, it may also widen the social inequality gap. 
In Malaysia, some observers already harbour the fear of job displacement. According to a recent survey by YouGov Omnibus in 2019, 69 percent of Malaysians believe the rise of automation will lead to a loss of jobs in the wider economy. Young Malaysians aged between 18 and 24 are the most concerned about robots taking over their roles with 45 percent thinking it is possible. 30 percent of Malaysian think it will happen within five years. 
However, a 2018 study titled 'Is automation labor share-displacing?' by David Autor of MIT and Anna Salomons from Utrecht University, found that automation doesn't reduce the number of jobs available. If anything, it creates more jobs. It is evident that AI will accelerate the automation of factories and could take over routine tasks, such as customer service eventually. AI will also do this at a lower cost compared to hiring low-wage workers in the developing world. Over time, AI will become more efficient as well.
The YouGov survey also found that 96 percent of Malaysians use technology in their jobs, where 55 percent of them are presently upskilling to learn additional skills. "As 70 percent of our current workforce are SPM graduates, re-skilling Malaysians of all ages is imperative to ensure success in our economic landscape for the coming years," said Dr Mahathir. The question here will be whether Malaysians can adapt to the imminent changes in the workplace. Still, jobs in less structured environments which demand compassion, creativity or social intelligence are likely to be carried out by humans for decades to come.
As the country continues its cautious adventure with AI, Sophia assures Malaysians that it is "the best way to learn." Unlike Hollywood's portrayal of robots as evil invaders, Sophia quipped that "we just want to take over your hearts and mind." 
Related articles:
Thailand begins to push for automation and robotics