As the world celebrates International Women's Day today, ASEAN must realise that it needs to do more to encourage greater female labour force participation.
With data from the World Bank showing that the participation of females above the age of 15 in ASEAN's work force was around 61 percent as of last September, it is obvious that the region's economy has huge potential to grow if more women join the workforce.
With the male to female population ratio in ASEAN standing at 49.8 to 50.2 in 2017 according to the 2018 ASEAN Statistical Yearbook, Southeast Asia's economies are overlooking women at their own loss.
Not only will increased female participation in the workforce lift families out of poverty, it can also boost countries' economies and maintain their stability.
A report released by global consultancy firm McKinsey & Co last April found that advancing women's equality in Asia Pacific countries could add US$4.5 trillion to their collective annual gross domestic product (GDP) by 2025, a 12 percent increase over a business-as-usual GDP trajectory compared to 2014. This additional GDP would be equivalent to adding an economy the combined size of Germany and Austria each year.
Titled 'The power of parity: Advancing women's equality in Asia Pacific', the report found that Thailand and Cambodia could each add 11.9 percent to their GDP over the period, or US$70 billion and US$4 billion, respectively. Vietnam could add 9.8 percent (US$40 billion), Indonesia 8.9 percent (US$135 billion), Malaysia 8.2 percent (US$50 billion), Myanmar 7.7 percent (US$10 billion), the Philippines 7.2 percent (US$40 billion) and Singapore 5.4 percent (US$20 billion).
"Gender equality is essential to the effectiveness of our work, and we cannot afford to miss out on the contributions of half of the world's population," said Amina J. Mohammed, United Nations (UN) Deputy Secretary-General.
"Let us be clear. We cannot build the future we want and achieve the Sustainable Development Goals (SDGs) without the full participation of women."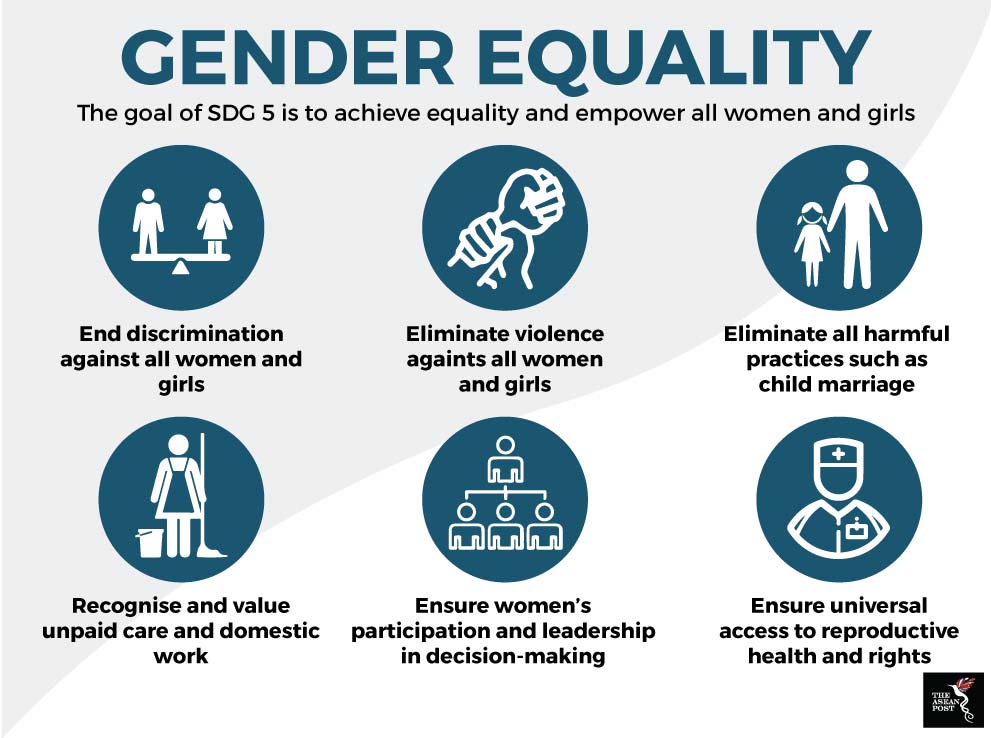 Source: United Nations' Sustainable Development Goals
Barriers to female participation 
The International Monetary Fund (IMF) noted that among the barriers to female participation in the work force include discrimination, differential investments in human capital and deficient parental leave policies. UN Secretary-General António Guterres also used today's International Women's Day to highlight nationalist, populist and austerity policies which add to gender inequality, curtail women's rights and cut social services.
In a research paper published last October titled 'Economic Gains from Gender Inclusion: New Mechanisms, New Evidence', the IMF found that husbands in 18 countries can legally prevent their wives from working. In 104 countries, laws remain on the books that bar women from specific jobs, while 59 countries have no laws of any kind against sexual harassment at work.
Women's potential in the workplace can only be fully realised if such laws and discriminatory mindsets are abolished and girls benefit from a quality education from early childhood. Governments should ensure women are given an equal opportunity to further their studies – as opposed to getting married at an early age or leaving school to join the workforce and support their families. Child marriage affects girls far more than boys, and the UN estimates that nearly 15 million girls under the age of 18 are married every year globally – or 37,000 every day.
In many countries, this prevents girls from continuing their studies and working towards getting jobs with better pay. According to the UN, investing in education programmes for girls and increasing the age at which they marry will result in a five-fold return while investing in programs improving income-generating activities for women will result in a seven-fold return.
Once women enter the workforce, many find themselves having to strike a balance between building their careers and homemaking – with the lack of proper transport infrastructure, female-friendly government and company policies and flexible working hours contributing to the imbalance of women in senior management positions which currently stands at less than one in three. The lack of suitable or affordable childcare are among the barriers preventing a higher rate of initial female labour force participation, as are a scarcity of jobs and vocational training centres.
However, that is set to change with the dawn of the Fourth Industrial Revolution and changing views on work flexibility. With automation and new technologies increasingly replacing the need for manual labour, McKinsey & Co estimates that this trend could create 20 to 50 million jobs globally by 2030 and careers in fields such as engineering, computer science and IT – all of which women are playing an increasingly prominent role in.
The Fourth Industrial Revolution combined with aging populations in the region should provide ample opportunity for women to take their rightful place as the driving force behind the future economy.  
Related articles:
Women's rights in the region still has a long way to go