According to data from the International Labour Organisation (ILO), an estimated 122 million children aged between five- and 14-years old work for their survival in Asia. 
Nevertheless, the actual figures for child labour are uncertain given the variations in the definition of child labour in different countries including variations in age of employability and nature of employment. Other than that, there is also the issue of invisible workers who are not included in research data and surveys.
ASEAN member states have made numerous efforts to improve the lives of millions of children. In 2019, a joint report published by the United Nations Children's Fund (UNICEF) and ASEAN titled, "Children in ASEAN: 30 Years of the Convention on the Rights of the Child" highlighted some action plans in ensuring the rights of every child across all 10 member states. This includes increasing coverage of quality services and continuing to strengthen areas like health, education, child protection and social welfare among others.
Nevertheless, child labour is still a problem in Southeast Asia. It is rampant even in the modern world – despite victims of child labour having decreased in number in many countries over the last few years. 
Unfortunately, the ILO and UNICEF recently warned that the current coronavirus outbreak could create the first increase in child labour in more than 20 years. 
Before the pandemic, the number of child labourers globally dropped to 152 million from 246 million in 2000. But the COVID-19 fallout has put millions more children at risk of underage labour due to school closures, job losses and deepening poverty, and has jeopardised the UN global goal of ending the practice by 2025.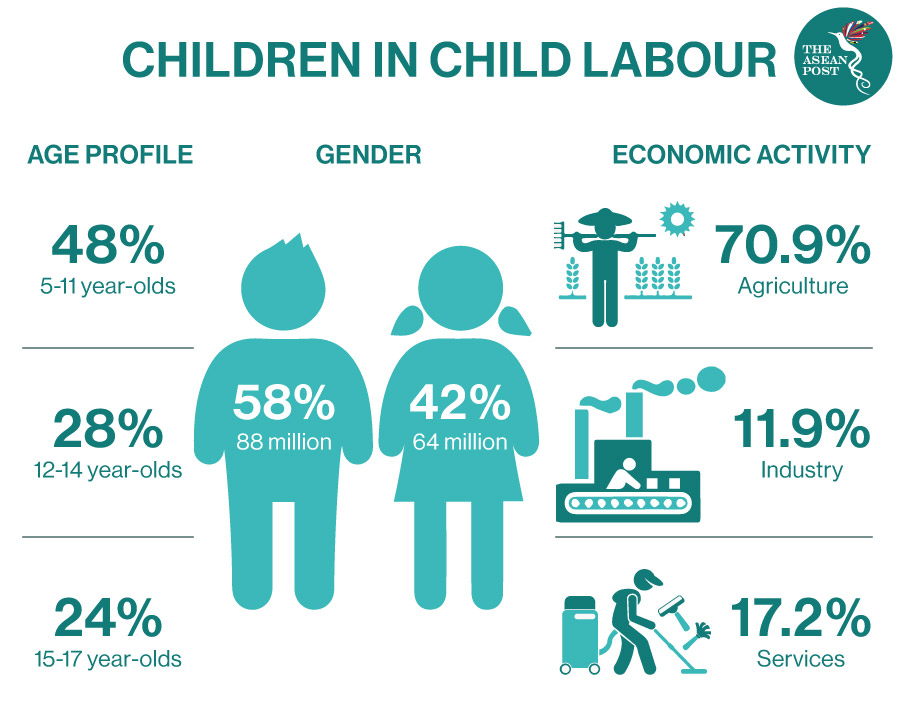 COVID-19 Crisis
The pandemic has severely affected livelihoods, local industries and the global economy in general. Millions have already lost their jobs and the current crisis has resulted in increased stress and an economic slump. 
Back in October, the World Bank estimated that between 88 and 115 million people worldwide would be pushed into extreme poverty in 2020. In an updated estimate of the impact of the coronavirus, the organisation said it now expects the COVID-19-induced new poor in 2020 to rise to between 110 and 124 million. 
Dang Hoa Nam, director of the Department of Children's Affairs under the Ministry of Labour, Invalids and Social Affairs in Vietnam told local media that parents who have lost their jobs and sources of income tend to let their children work to earn some extra cash for their families. 
"Poverty is the biggest cause of child labour," said Nam.
"The pandemic could result in a rise in poverty and therefore an increase in child labour as households use every available means to survive," explained Lee Hong Loan, chief of the Child Protection Section of UNICEF in Vietnam.
Moreover, due to COVID-19 and adherence to preventive measures, many schools and classes have also shifted online. But, unfortunately, not every child has access to the internet or computer equipment for distance learning, leaving many poorer students even further behind.
"Children of legal working age may drop out of school and enter the labour market with limited education and skills. Children below the minimum legal age may seek employment in informal and domestic jobs, where they face acute risks of hazardous and exploitative work, including the worst forms of child labour," stated UNICEF.
The world must urgently swap promises for action in the drive to end child labour as the coronavirus pandemic threatens decades of progress in combating the practice. 
"Even before the pandemic, we were dealing with ... rising poverty and low wages, eroding social protections, lack of quality education and normalisation of children's work through weak laws and a culture of impunity in many countries around the world," explained Henrietta Fore, Head of UNICEF.
"With the devastating impacts of COVID-19, especially at the household level, more children are vulnerable to exploitative and hazardous forms of work," she continued.
Related Articles:
Protecting Child Workers During The Pandemic