On 13 September, the Philippines released and deported United States (US) Marine Lance Corporal Joseph Scott Pemberton after President Rodrigo Duterte granted him "absolute pardon" for killing Jeffrey "Jennifer" Laude, a Filipino transgender woman in 2014.  
Serving less than six years of his 10-year prison term, Pemberton's early release sparked public outcry in the country due to a host of other issues.  
While Duterte has since justified his decision, there are various opinions seeking to explain his unanticipated pardon that generally points to improving US relations. However, the case may end up causing an adverse effect on the Philippines' future position in bilateral agreements with the US.      
The murder case drew international attention when Pemberton, upon discovering Laude had male genitals, strangled and dunked her head in the toilet bowl of a motel. In December 2015, he was eventually convicted and has since been serving his sentence in a converted container van parked inside the Philippine military headquarters rather than in the national penitentiary, as provided for in the Visiting Forces Agreement (VFA) between the Philippines and the US. 
Recently, a regional trial court ruled that Pemberton had shown good behaviour and therefore had served the equivalent of his maximum sentence of 10 years. Despite living in isolation, Pemberton is presumed to have displayed good conduct since there is no proof of any misbehaviour during his detention – an assumption that Duterte used to justify his grant of pardon. 
Legally, the president can exercise his authority to grant reprieves, commutations, and pardons after conviction. Metropolitan Trial Court Judge Marlo Campanilla explained that "wise or unwise, the granting of pardon is constitutional. It is also a political question, which is beyond the review power of the judiciary." 
Still A Killer
The President's spokesperson Harry Roque, who incidentally was a former lawyer for the Laude family, clarified Duterte's action. 
"The President cleared the punishment that was imposed on Pemberton. What the President did not erase is the conviction of Pemberton. He is still a killer," said Roque.
Despite legal justifications, criticisms abound over Duterte's pardon that reflect other issues related to the case. Virginia Suarez, legal counsel of the Laude family, denounced it as "a travesty of Philippine sovereignty and democracy" and "another hallmark of Philippine subservience to the US."
The Commission on Human Rights in the Philippines also decried the pardon as unjust as it is regarded as a hate crime against a transwoman and "an affront to the LGBTQI community." 
The National Council of Churches in the Philippines had accused Duterte's move as an act of double-standards in dispensing justice "amid calls to release low-risk, sick, and elderly prisoners, including those who were wrongfully imprisoned because of their political beliefs."
In addition, Duterte's pardon is regarded as a major turnaround from his earlier stance. 
A week after Laude's murder in 2014, he had called for the scrapping of the VFA and the Enhanced Defence Cooperation Agreement (EDCA) with the US if the Philippines could not get justice for the killing. 
According to Duterte: "If we only end up looking like fools, and our jurisdiction is being played upon and nobody can really get their hands on the accused, why should we continue with those agreements?" 
His unexpected pardon also contradicts his well-known anti-American rhetoric of US imperialist tendencies and its interference in Philippine domestic affairs. 
Thus, speculations persist to comprehend Duterte's improbable move. His spokesperson justified that it is "grounded on national interests" yet provided a mere assumption on the president's motives. 
According to Roque: "In my personal opinion, this grant of a pardon for Pemberton is part of the President's wish for the Philippines to benefit from a vaccine that America might develop."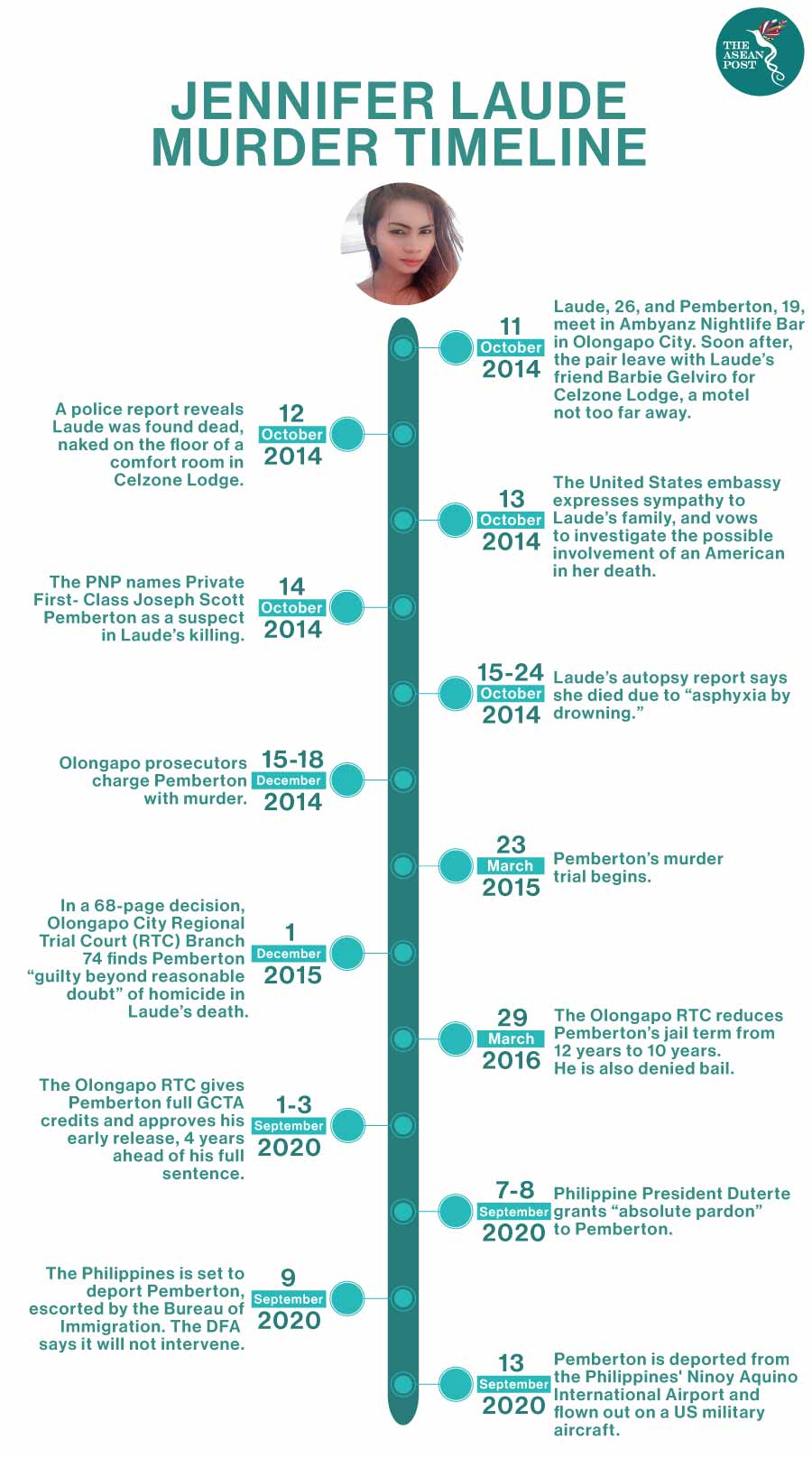 On a wider scale, Duterte's decision is aimed at enhancing relations with the US. Though the Philippine Department of Foreign Affairs Secretary Teodoro Locsin Jr. clarified that the US did not request for Pemberton's release. Such a move is seen as part of a bigger deal between the two countries involving "the Visiting Forces Agreement, American arms sales to the Philippines and the South China Sea," amidst the unrelenting maritime assertiveness of China. 
Justice Relegated 
According to CenterLaw's Executive Director Rommel Bagares, the president's turnaround is considered "a new rapprochement… that the Philippines once again welcomes US support in its campaign to protect its rights in the South China Sea."  
Despite these claims, Duterte's pardon indicates that justice for Laude's family has been relegated for the sake of an imprudent and even unwarranted geopolitical signalling. Whatever the real reasons behind Pemberton's premature release, that fact that it is an unsolicited goodwill does not automatically guarantee Duterte any political favours from the US; only growing resentment from the Filipino public. 
Moreover, his decision sets a precedent that may weaken the Philippines' position in the renegotiation of the VFA, particularly on criminal jurisdiction, and any future agreements with the US.  
In effect, the case reflects the dominant predilections of a Philippine president in managing bilateral relations to serve a political agenda that may undermine institutional arrangements. 
In the long term, such a presidential decision made on behalf of the country might cause more harm than good to its national interests. 
This story was first published by the Asia Media Centre on 23 September, 2020. 
Related Articles:
Marine Pardon Can Get US Vaccine For Philippines