The COVID-19 pandemic has severely affected businesses and the economy in general. Millions around the world have lost their jobs amid the crisis. Great debts and financial constraints have left many desperate for help. Unfortunately, some criminals see this as an opportunity as they prey on people's fears and anxieties while taking advantage of the situation.
Earlier this month, a Vietnam Veteran from Chicago, United States (US) who was awarded a Purple Heart for combat injuries in the war told the media that he fell victim to two scammers. The con artists walked away with his cash and enough personal information to put him at risk of future financial crimes. The senior citizen said the scammers told him that they could get him a US$10,000 grant – money purportedly available because of the coronavirus crisis.
This isn't the first time such a crime has been reported. In virus-hit Southeast Asia where COVID-19 has ravaged livelihoods, alarms have been raised over an increase in phishing and online scams. 
The pandemic has accelerated the adoption of a digital culture worldwide. People are more dependent on the internet to work, communicate and entertain themselves as they stay indoors over virus fears. Therefore, it has become easier for many of them to fall prey to cybercrimes.
Cybercrimes
Last April during its initial virus lockdown, Philippine authorities warned citizens of an increase in online fraud as more people were taking to the internet to pay their bills and to purchase groceries. 
Government official, Karlo Nograles said that the cybercrime division of the National Bureau of Investigation and the central bank had reported a "100 percent increase in phishing... and warned everyone to be cautious when it comes to [their] bank details." 
"We encourage everyone to please double-check and verify these requests for donations," he added.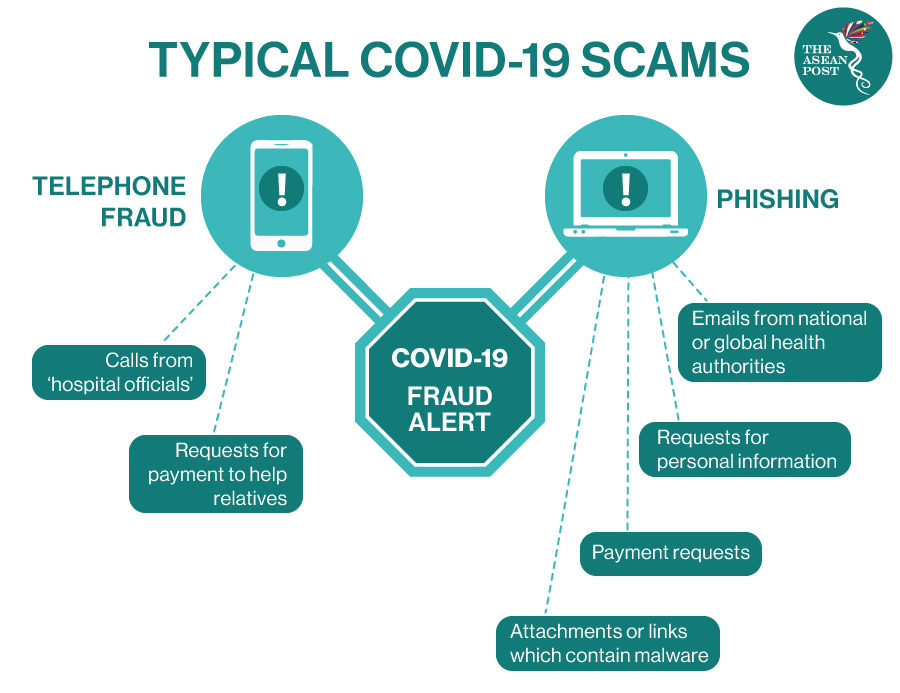 Whereas in Thailand, it was reported in May that there was a rise in online recruitment scams promising jobs abroad that never materialise. Many of them would typically appear on social media platform Facebook and Line, a popular chat app.
Thailand's Department of Employment (DOE) said that there had been more than 1,500 complaints in the past three years about overseas job postings, involving payments of more than THB100 million (US$3.2 million) to fake recruiters. The DOE's director-general, Suchat Pornchaiwiseskul said the method of recruiting people to work overseas has moved from using agents to approach job seekers to using social media. 
It was reported that an estimated 8.4 million workers in Thailand may lose their jobs due to the COVID-19 pandemic. Desperation to earn an income in times of crisis may perhaps lead victims to fall prey to these recruitment scams. 
According to Interpol, as surgical masks and medical supplies are in high demand, some social media accounts and email addresses claiming to sell these items have sprung up online. However, instead of receiving the promised masks and supplies, victims have seen their money end up in the hands of the criminals involved in the scam instead.
Similar scams have also been reported in fellow ASEAN member state, Malaysia. According to local media, an online trader who wanted to make a bulk purchase of face masks last April lost RM108,300 (US$25,865) after being duped by a non-existent supplier. 
It was reported that scams involving the online sale of face masks during Malaysia's partial lockdown period, which came into force on 18 March has resulted in RM18 million (US$4.2 million) in losses.
Deputy Home Minister Ismail Mohamed Said explained that there were five types of scams recorded during the country's lockdown, also known as the Movement Control Order (MCO). Apart from the online sale of face masks scam, also rampant were those involving non-existent loans, love scams, SMS (short message service) scams and Macau scams. 
"In some cases, the identity of the caller or scammer could not be determined, or the person had used a telephone number belonging to another individual or account to make the call. There are also scammers operating from abroad," said the Malaysian minister.
Cybercriminals are going to great lengths to make as much profit as possible using the COVID-19 pandemic as a lure, stated FraudWatch International, an internet security organisation.
Some of the recommendations by FraudWatch to minimise the chances of falling victim to scams include looking out for spelling and grammatical errors, refraining from providing personal information to parties whose legitimacy is unclear and to be suspicious of every published COVID-19 special offer, especially on social media.
Related Articles:
Digital Fraud On The Rise In ASEAN