A recent analysis by discount code portal CupoNation Indonesia found that Indonesia ranks low in Southeast Asian countries in terms of fibre optic internet connection speeds, which heavily depends on a country's infrastructure, geography, and many other factors. Being able to only provide a mere 200 megabytes per second (Mbps) to its internet users, Indonesia is placed fifth place out of six countries, only managing to outperform Cambodia.
The sad fact is that this comes as no surprise. In spite of the fact that we're only a few months into 2019, there have already been numerous reports that Indonesia is "lagging" behind other countries when it comes to internet speeds. 
According to the Speedtest Global Index, as of March 2019, Indonesia is placed 118 out of 139 countries for its mobile internet speed of 10.51 Mbps, and 111 out of 178 for its fixed broadband speed of 16.65 Mbps. In February, Opensignal - a London-based company that specialises in mapping wireless coverage - found that in terms of the best 4G speeds offered in each country, Indonesia ranked 68 out of 77 countries with an average of 18.5 Mbps during off peak hours.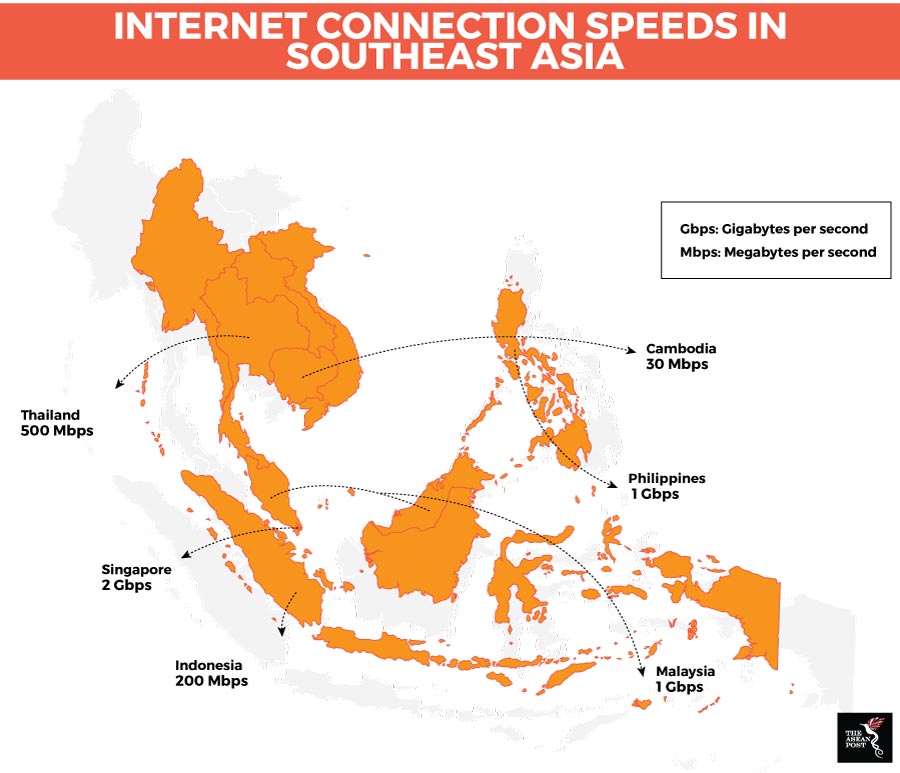 Source: CupoNation Indonesia
5G
The current state of affairs, however, does not seem to have hampered Indonesia's spirits. According to a recent report, Indonesia intends to tap into the fifth generation of internet network frequency (5G) soon after the World Radiocommunication Conferences (WRC), slated to take place in Egypt this October.
"The conference that is held every four years decides a frequency band of a technology. We are waiting for the WRC event," said Director General of Resources and Equipment of Post and Information Technology (SDPPI), Ismail, at the Qualcomm Forum in Jakarta on Tuesday, 23 April.
The implementation of the advanced digital cellular network would not, however, be arranged for public consumers immediately and will instead be used by the industry sectors first. The commercialisation of the latest network would depend on telecommunication operators in the country, such as Telkomsel, XL, Indosat, and Tri.
But will 5G address Indonesia's internet woes? 
According to Opensignal, it just might.
Opensignal's February report suggests that a reason connectivity may be suffering in the region is due to the congestion present in 4G. This assertion is based on the fact that internet speeds were found to fluctuate throughout the day, with the slowest speeds occurring between 5 p.m. to 11 p.m. when most internet users are online, and the fastest speeds occurring between 2 a.m. to 5 a.m. when few users are awake.
5G networks, however, provide the solution to internet congestion as it's built using new high bandwidth, high-frequency spectrum bands that help mitigate the daily cycle of congestion seen on today's 4G networks. These 5G services will support more simultaneous users at very fast speeds.
Need for speed
According to We Are Social's global digital report 2018, Indonesia came in third for the longest amount of time spent on social media at an average of three hours and 23 minutes a day, showing that they are no strangers to the digital world. 
Indonesia is also home to one of the largest populations in the world. We Are Social's Digital 2019 report states that as of January 2019, Indonesia is home to around 268.2 million people and at least 56 percent (150 million) of them are internet users. Top all this with the fact that a large number of Indonesians are young and it takes little thinking to realise the importance of providing reliable, quick internet speeds to Indonesians all over the country.
Indonesia just witnessed one of its – and possibly the world's – largest democratic elections. The winner is yet to be officially announced but it would say a lot about the next president if he fails to see the importance of the Fourth Industrial Revolution and the equally important task of getting the country ready for it.
Related articles: