While campaigning for the Indonesian presidential election is slated to begin soon, a report has revealed that millennials in Indonesia are disenchanted with the country's political establishment.
The report was based on internal research carried out by presidential candidate Prabowo Subianto's campaign team which shows that half of the country's millennials are unlikely to vote because they see politics as what Prabowo's running mate, Sandiaga Uno refers to as "too dirty and too boring."
"About 50 percent of millennials are pretty much disengaged, they are disenfranchised and not too interested in politics. We need to continue to work hard and pound the issues that are relevant to them and we need to convince them, otherwise, they won't come to the voting booth," Sandiaga was quoted as saying.
According to Syafiq Hasyim, a visiting fellow at the Indonesia Programme of the S. Rajaratnam School of International Studies (RSIS), Singapore; the millennial population in Indonesia currently forms about 34.5 percent to 50 percent of the total population. Syafiq defines millennials as those aged between 15 to 35 years old. The voting age in Indonesia is 17, although, anyone with a Kartu Tanda Penduduk (identification card) can vote.
Youth unemployment
Some of the "issues" that are apparently turning-off Indonesia's youth include corruption, the environment and unemployment.
While overall unemployment is at a low five percent, the situation for many of Indonesia's youth isn't as rosy, according to data from the World Bank.
Providing statistics for Indonesians aged between 15 to 24, the World Bank places their 2017 unemployment rate at 15.2 percent and while that is a significant improvement compared to 2015 where the unemployment rate was 16.7 percent, it is still an increase compared to the previous year (2016) where it was 14.9 percent.
The matter is further exacerbated when comparing numbers between the years prior to President Joko "Jokowi" Widodo's coming into office and those after. In 2014, when Jokowi took office, unemployment among the youth was at 15.2 percent before the jump a year after he became president. In fact, unemployment among the youth dropped to 14.9 percent in 2012, two years before Jokowi took office.
Prabowo and Sandiaga have taken note not only of the importance of the millennial vote but the fact that one of the core issues seems to be youth unemployment. In accordance, they have revolved at least some of their campaigning around this issue. In fact, as early as May, Prabowo hit out at a presidential regulation which will make it easier for local companies to hire foreign workers.
"There are no people in the world that want to open their doors to foreigners (in the way that we do)," he said when speaking to the Indonesian Trade Union Confederation (KSPI) on International Workers' Day on 1 May, 2018.
Analysts have agreed that his comments on foreign workers were politically motivated. Baiq Wardhani, a lecturer in International Relations at Universitas Airlangga, pointed out that foreign workers could be a hot issue for the 2019 campaign, adding that Prabowo clearly wants to attract more votes by using the issue and the negative reaction of many Indonesian people since Jokowi issued the presidential regulation.
Politics lecturer at Fajar University, Kardina Karim Hamado, agreed, saying that the intention was "purely" about the presidential election, for two reasons: the timing of his speech and the framing of it.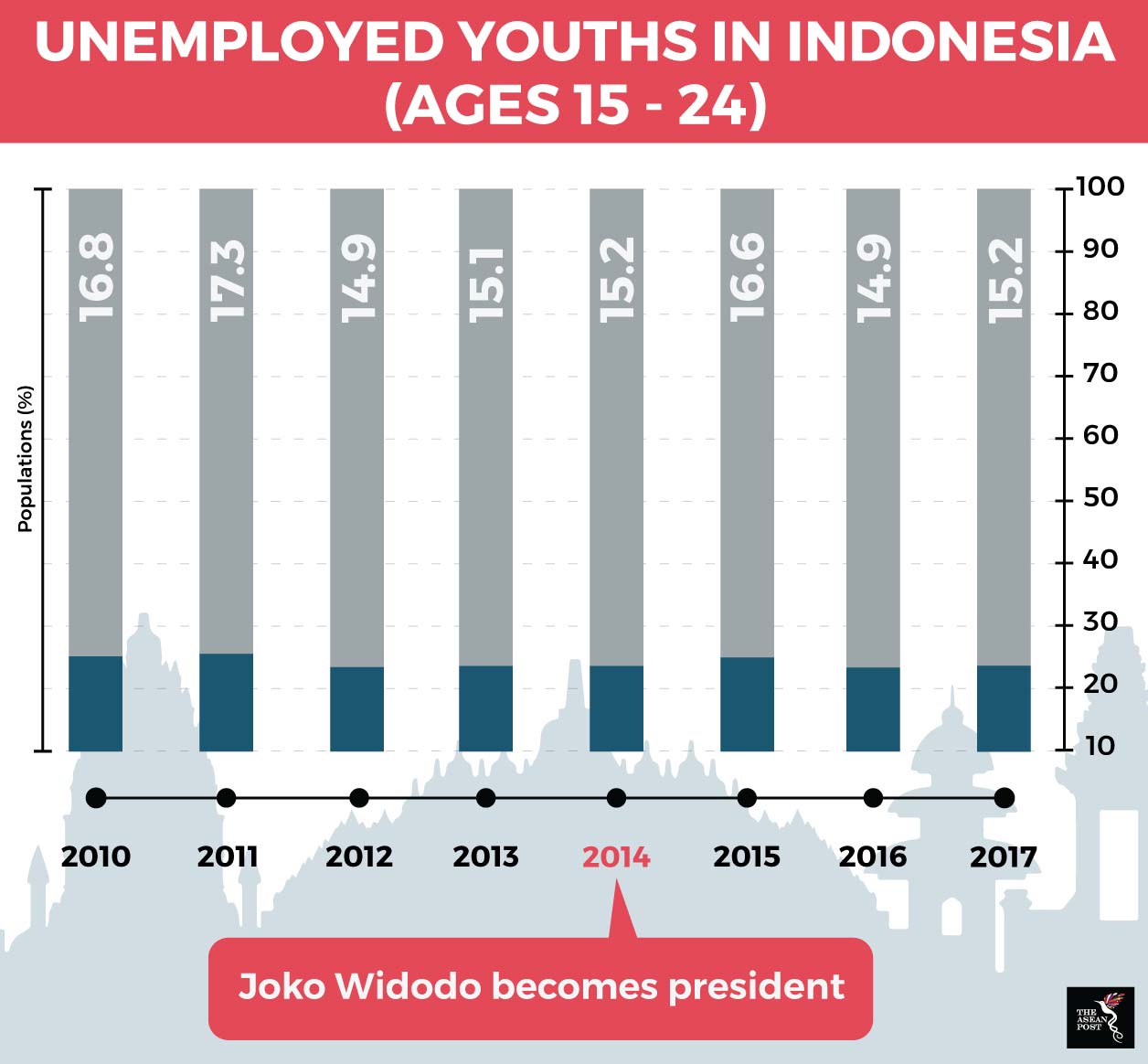 Source: World Bank
Winning over the youth
Syafiq writes that Indonesia's millennials will determine the direction of the presidential election due to the significant size of their demographic.
"The presidential candidates who are able to think, absorb and accommodate their aspirations would probably be well placed to win," he said. 
While Jokowi has attempted to make himself more relatable to the youth, analysts note that his 75-year-old running mate and conservative cleric Ma'ruf Amin raises questions as to the team's ability to win over younger Indonesians. On the other hand, Ma'ruf's conservatism may just be the ticket to get Indonesia's increasingly conservative population to support Jokowi's team.
Over on Prabowo's side, the once rigid army man has since taken on a more relaxed and approachable demeanour as well. His running mate, Sandiaga, who is the deputy governor of Jakarta is seen as a moderate. The young businessman is perceived to be more relatable to the youth as opposed to the 75-year-old cleric.
Polls have indicated that Jokowi is currently the more popular choice when compared to Prabowo but if the latter plays his cards right during his campaigning, he may just turn the tables on the Indonesian president.
This article was first published by The ASEAN Post on 16 November 2018 and has been updated to reflect the latest data.
Related articles:
Indonesian elections: Conservatism versus moderation