Air travel is said to be the safest mode of transportation compared to trains, cars and motorcycles; therefore, it is highly publicised when a crash occurs. 
The world has recorded numerous aviation disasters and mysteries since time immemorial – from the disappearance of Amelia Earhart in 1937, to hijacked American Airlines Flight 11 of the 9/11 (11 September) attacks, and to the unsolved mystery of Malaysia Airlines Flight MH370.
Over the weekend, the world was once again shocked by another incident which adds to the long list of aviation disasters. 
On 9 January, an Indonesian budget airline plane with 62 passengers on board including 10 children, crashed into the Java Sea just minutes after it took off from Soekarno-Hatta International Airport in Indonesia's capital city of Jakarta.
The Sriwijaya Air flight SJ182 was bound for Pontianak on Indonesia's section of Borneo island – around an hour and 30 minutes flying time – but it plunged into a steep dive just four minutes after it left the airport. 
According to FlightRadar24, the plane reached an altitude of nearly 11,000 feet (3,350 metres) before dropping suddenly to 250 feet. It then lost contact with air traffic control.
Although the cause of the crash is still unclear, the plane was said to have taken off amid a heavy monsoon season rain, following a bad weather delay. Nevertheless, the plane was a 26-year-old Boeing 737-500, a workhorse model with a good safety record. 
Search teams have already found aircraft parts and human remains. The plane's black boxes – cockpit voice and flight data recorders that could be key to explaining why the plane slammed into the Java Sea – have been located, but are yet to be recovered.
Plane Crashes
The Sriwijaya Air flight SJ182 crash is the first fatal crash for the airline since it began operations in 2003. Nevertheless, Indonesia has long suffered a string of deadly plane crashes in recent years.
As of 2019, according to the Aviation Safety Network, the United States (US) has had the most air accidents since 2010, followed by Russia, Canada, Mexico and Indonesia. In the case of number of fatalities – Russia has the highest number of air crash fatalities, followed by Indonesia.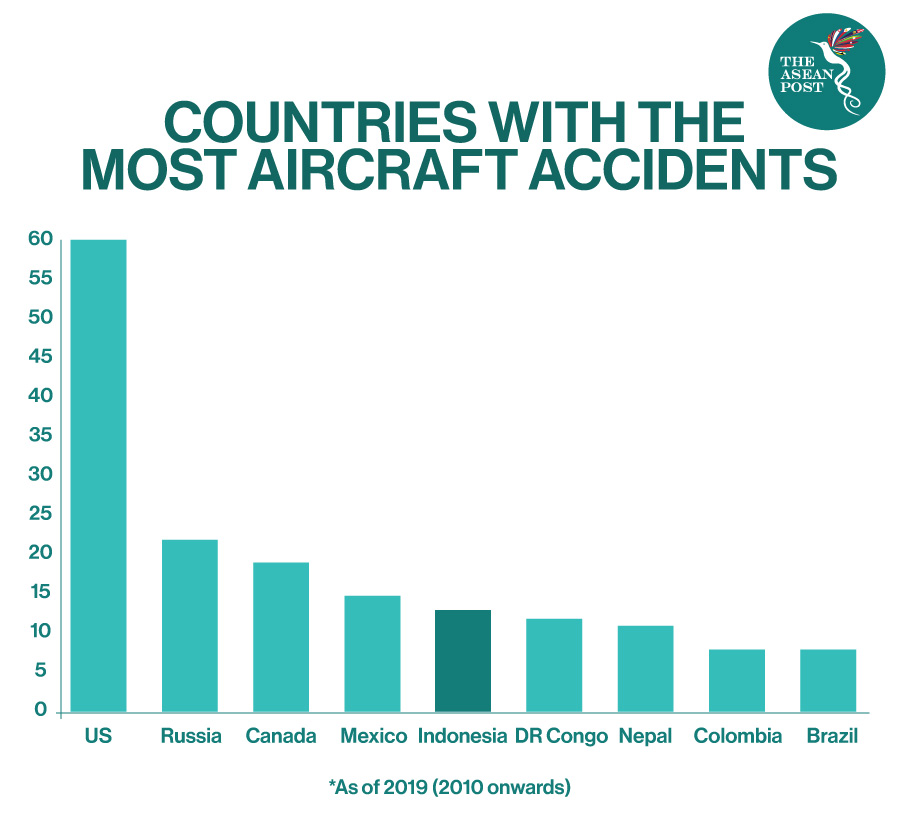 The deadliest air disaster in Indonesia's aviation history was the 1997 crash of an Airbus A300B4 operated by the country's national carrier, Garuda Indonesia. Flight 152 left 234 people dead when the plane crashed in a smog-shrouded ravine in North Sumatra, just short of Medan's airport.
A more recent and devastating aviation accident was the crash of Lion Air Flight 610 in October 2018. The plane crashed into the Java Sea less than 15 minutes after taking off from Soekarno-Hatta International Airport. It was the second deadliest air disaster in the country's history as 189 people died in the accident.
Poor Aviation Safety?
The populous archipelago relies heavily on air transport in order to connect its thousands of islands. The crash of Sriwijaya Air flight 182 is another blight on the country's already poor aviation safety record.
A recent Bloomberg article listed a few safety issues that have been linked to past aviation disasters in Indonesia which include poor maintenance, pilot training, communications or mechanical failures and air-traffic control problems. 
Indonesia is also said to be the worst place in Asia to take a flight, with 104 accidents and 2,353 related fatalities. 
Moreover, the US once banned Indonesian carriers from operating in the country from 2007 to 2016 because they were "deficient in one or more areas, such as technical expertise, trained personnel, record-keeping or inspection procedures."
Nevertheless, experts say that there have been many improvements in recent years.
"Engagement with the industry has significantly improved and oversight has become more rigorous," said Geoffrey Thomas, an aviation expert and editor-in-chief of AirlineRatings.com. He also added that there have been more frequent inspections, stronger regulation of maintenance facilities and procedures, and better pilot training.
At the time of writing, Indonesian divers are still searching the waters off Jakarta for black boxes that can perhaps determine what went wrong with the ill-fated Sriwijaya Air flight SJ182.
Our thoughts and prayers are with the families and victims of the crash.
Related articles:
Malaysia Airlines: A History Of Ups And Downs