Asia-Pacific has 422 million farmers, where most are smallholder farmers with less than 2 hectares (5 acres) of land each. These farmers face an uphill battle to access capital that makes it hard for them to boost yield, diversify into new crops or stay float when hit with a climate crisis. To maintain accessibility to the market, a long chain of middlemen prevails, which drives prices up and reduces profits for farmers. 
In Indonesia, the total land used for agricultural production has increased over the last decades now forming 32 percent of the total land area. Agriculture accounts for 14 percent of Indonesia's GDP and is the second biggest source of employment. A crucial sector in Indonesia, it is curious that 93 percent of the farmers are small family farms, and many of which still lives in poverty due to their limited access to the consumer market. 
According to a 2017 report by Asian Development Bank, for both red chilli and onions produce, consumers will pay double the price of production. In the chain of red chilli, there will be some 13 middlemen from farmers to min retailers before the produce ever reaches consumers. Many of these farmers also do not get the best price because they don't grade their harvest.
The fad of farm-to-table 
The "farm-to-table" trend is growing in Southeast Asia, mostly among chefs who put sustainability and local ingredients at their restaurants. The concept allows consumers to know where their food comes from and how it was handled. Changes in attitudes about food safety, food freshness, food seasonality and small-farm economics also influenced the trend's popularity.
Turning to local farmers is a sustainable option to reduce the environmental impact of flying ingredients around the world. Here, food travels a minimal distance while at the same time disrupt the conventional supply chain. Farm-to-table concept pumps money right back into local farms and improves the welfare of farmers by giving them the returns they deserve for their hard work.
Farm-to-table value chain is vital to take on the global challenge of providing adequate, safe and nutritious food supply and also provide a source of income for 38 percent of the region's 650 million population, who are employed in the agriculture industry.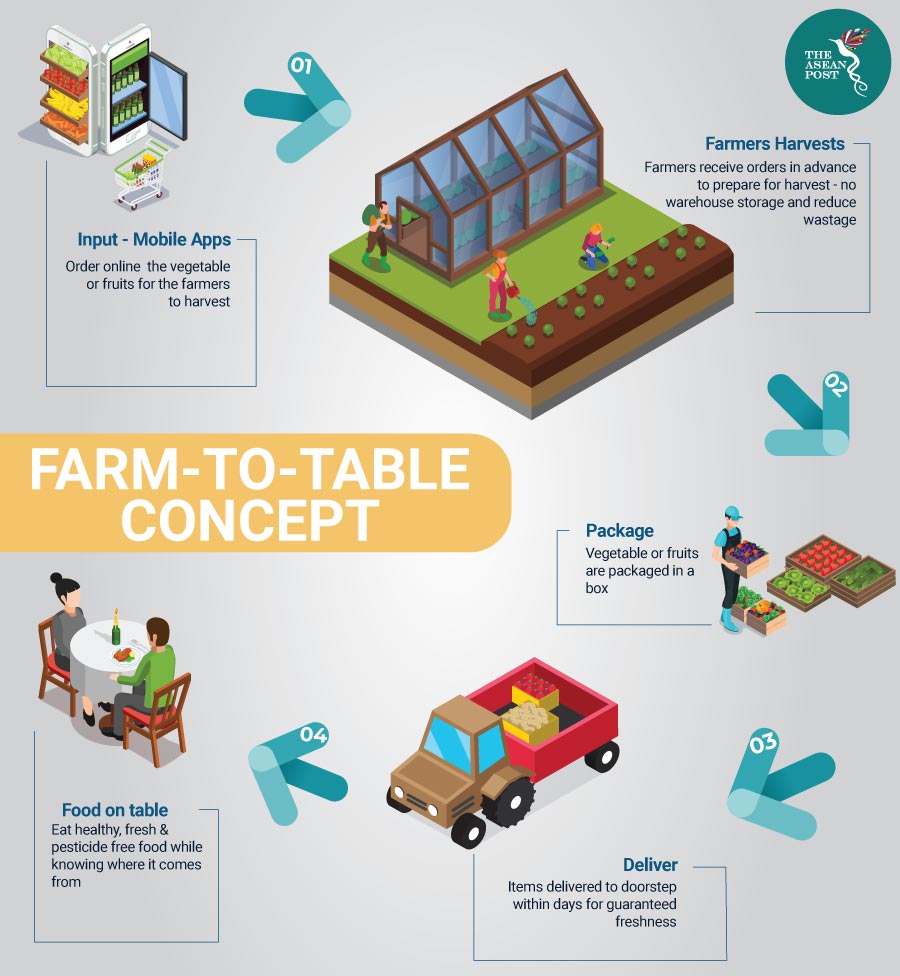 Source: Sayurbox
When farmers are certain their products can be sold, they can then increase production, which in turn reduces waste and ensures produce are harvested at the right time.
Though some would call it a supermarket jargon, in Indonesia, where there are still farmers with no access to the market and consumers, this concept can be life-sustaining. 
Disruptive innovations
Agricultural tech is one of the biggest opportunities for start-up innovation in the region. One start-up to use the farm-to-table concept is Sayurbox.
Founded in 2016, Sayurbox was an investment from Patamar Capitals ground breaking "Investing in Women Fund," for women lead businesses across the region. The start-up is an online platform based in Indonesia supporting rural farmers and fresh produce distribution.
Founder and CEO, Amanda Susanti said Sayurbox's focus is "on transparency and traceability, so everyone can really understand where their fresh produce is coming from," by having the farmers' profile tagged to each produce. 
Sayurbox initial aim was to cut the supply chain between farmers and consumers, with pesticide-free produce travelling from local farms to the table within one day. The start-up now has farmers from Tangerang, Bekasi, Bogor, Depok, Sukabumi and Bandung, with 8000 consumers across the Java island.
Another start-up to offer consumer control over their produce is iGrow. Their business model looks at the investment of seeds where consumers would buy these seeds and follow the plant's progress through an app on the smartphone. Once harvest day comes, consumers cash in on the returns. Currently, iGrow has planted over 10 million trees. 
Kedai Sayur is a start-up that disrupt the supply chain by empowering vegetable hawkers by way of connecting them with a network of daily produce distributors. 
TaniGroup's farm-to-table model are connecting farmers directly with SMEs and individual consumers. The agri-tech start-up is now working with more than 25,000 farmers in Indonesia to get them fairer rates for their crops. The group also operates a mobile-based online marketplace TaniHub, that helps farmers sell their produce direct to retailers, consisting of user base of 400 SMEs and 10,000 consumers. 
"Indonesia's farming sector still lacks a proper platform that connects farmers with buyers of their agriculture produce," said TaniGroup's co-founder, Pamitra Wineka. TaniGroup claims to have helped farmers grow their overall income by 60 percent, driven by sale volumes rather than price. 
Innovative solutions can improve the agriculture industry by creating jobs and ultimately help with the economic growth of Indonesia. The hope is also to create more awareness among farmers and consumers on sustainability. 
Related articles
Blockchain to revolutionise food production
CROWDE-funding Indonesia's farmers