Indonesia has a major plastic waste problem on its hands. At the moment, the country is second only to China when it comes to dumping plastic waste into the world's oceans. According to a Study by the University of Georgia, an estimated 3.22 million metric tons of plastic waste is tossed annually into the ocean surrounding Indonesia, while another 8.82 million metric tons of China's plastic waste also makes its way into the ocean.
The crisis of plastic waste isn't just limited to the ocean, but it has also affected Indonesian rivers. Data from Nature Communications revealed that four of Indonesia's rivers – Brantas, Solo, Serayu and Progo – rank among the 20 most polluted rivers in the world.
Last April, Bandung, Indonesia's third largest city witnessed the concentration of plastic waste so thick that locals there said it resembled an iceberg. The plastic waste problem became so drastic in Bandung that the army had to be called in to assist. This incident is emblematic of the scale of the plastic waste problem that Indonesia faces.
In Indonesia, plastic is everywhere. Aside from plastic bags, one can find everyday objects such as tables and chairs made from plastic too. This is probably due to the fact that plastic products are cheap to produce in the country. The ubiquity of plastic bags combined with the lack of awareness of how damaging plastic waste can be on the environment are probably among the reasons why Indonesia is facing this predicament.
Impact
All over the world, there is a growing movement to completely eliminate plastics from daily use. Studies have shown that the use and disposal of plastic has a detrimental effect on the environment.
In Indonesia, the effects are becoming more apparent as rivers and oceans become clogged up with plastic waste. The enormous quantities of plastic waste have also taken a toll on marine life as animals often get entangled in the plastic waste and die.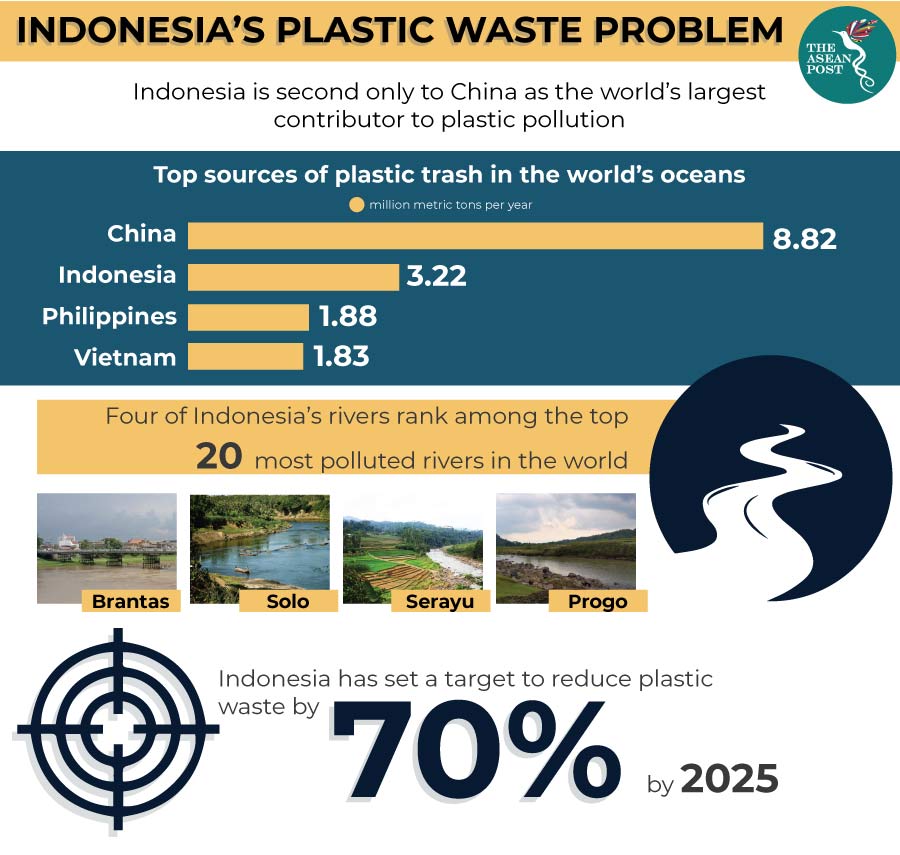 Meanwhile, the plastic waste choking rivers deprive local communities of their source of food and water. Clogged rivers also increase the likelihood of flooding which would be damaging to the surrounding communities.
Most plastic is non-recyclable and not biodegradable, meaning that it usually ends up in landfills – and Indonesia has plenty of them. The largest landfill in Indonesia is the Bantar Gebang landfill in Jakarta. Over 900 trucks operate there and deliver more than 5,000 tonnes of solid waste every day.
These landfills can be hazardous to the environment as plastic waste also releases harmful chemicals into the atmosphere. Initially, the landfills pollute the groundwater as chemicals seep into the ground and eventually make their way to rivers and lakes. Landfills also emit methane gas which is known to contribute to air pollution.
What can be done?
As countries are becoming more conscious of their contributions to climate change, Indonesia too needs to follow suit. Last year, the government there set a target to reduce plastic waste up to 70 percent by 2025. To achieve this target, the government said that it will contribute US$1 billion annually to the effort.
In 2016, Indonesia tried to reduce plastic use by introducing a US$0.02 tax on single-use plastic bags. Critics decried the move, saying that the charge was not high enough to deter consumers. Later that year, the country's retailers' association stopped charging for plastic bags citing lack of legal grounds.
This year, the Indonesian government has said that it is planning to introduce excise taxes on plastics producers. The exact figures haven't been revealed yet, but observers are not expecting it to have much of an impact on plastic use.
Meanwhile in India, New Delhi has introduced a ban on single-use plastic. Part of the enforcement there includes a fine of up to US$367 for those caught selling plastic with an additional three months jail for repeat offenders. Australia too has taken part in efforts to reduce disposable plastic bags. Single-use plastic bags are now banned in Western Australia, Queensland, South Australia, Tasmania, the Australian Capital Territory and the Northern Territory.
Globally, more than 60 countries have taken steps to ban or reduce the use of plastic.
The Indonesian government's actions in combatting plastic use and production has been relatively toothless compared to efforts elsewhere. If the country is serious about protecting the environment then it needs to take more drastic action. The government is aware how much Indonesia contributes globally to plastic waste pollution in the ocean and it is also aware that measures ought to be taken soon. However, the political will needed to address the problem is still lacking.