Everyone should count. Yet across the globe, 40 percent of all deaths and 25 percent of births of children under age five are unregistered - and therefore left uncounted in official statistics. 
When such a staggering proportion of the world's population still lives and will die, without leaving a trace on any official record, millions of individuals are left with inadequate access to human rights and protections, and societies are bereft of data we need to drive improvements in health for all.  
It's time to start counting everyone.
Birth registration is tied to invaluable rights and social protection. But globally, UNICEF estimates that the births of one in four children are still not registered - that's 166 million children who remain vulnerable to exploitation and unseen by systems of social protection. 65 million of these children live in the Asia Pacific. 
Data gaps about women, girls and other excluded groups are often particularly large: 45 percent of women in low-income countries have no way to legally prove who they are. 
When civil registration is incomplete, it's not only a plight for unregistered individuals across the globe - it's a public health crisis, depriving governments of crucial statistical data on births, deaths, and causes of death.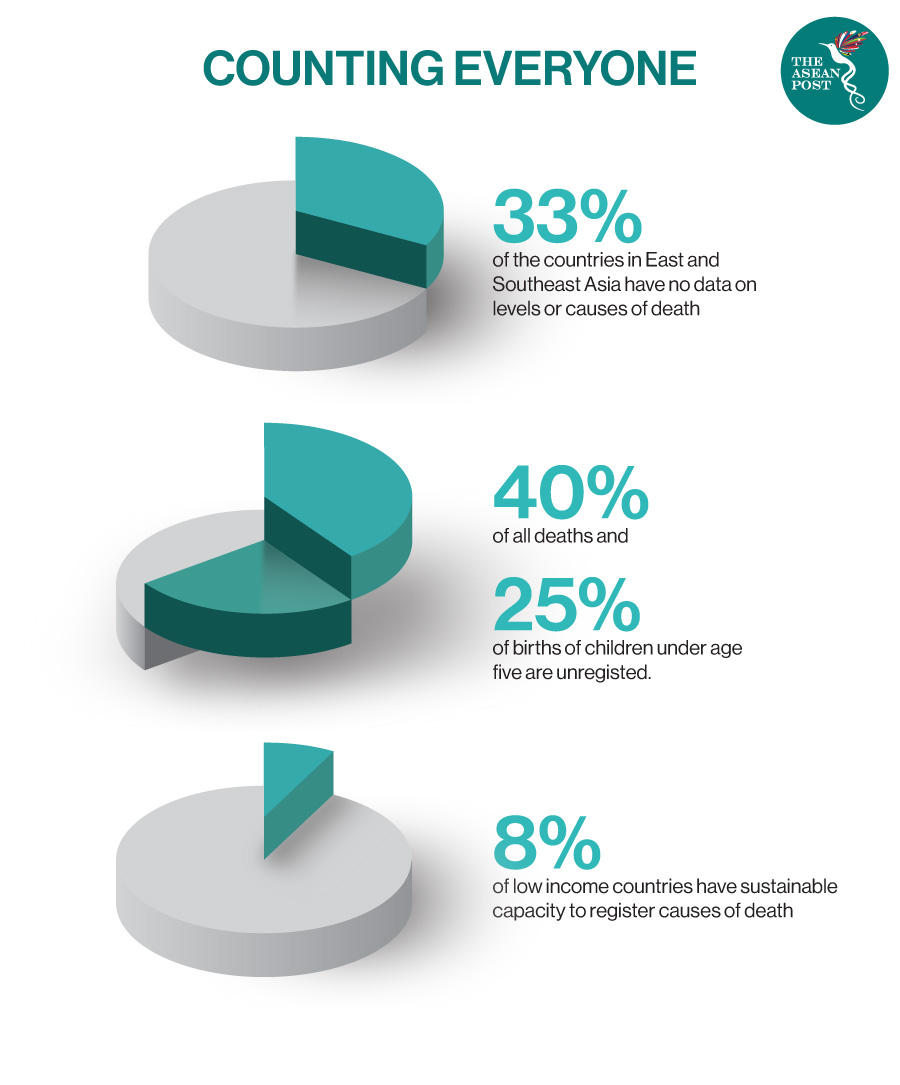 Most governments already have the mechanism needed: their civil registration and vital statistics (CRVS) system provides registration services, captures the critical data about vital events and furnishes it for use in public policy. Yet more than 110 countries worldwide - and just over half the countries in Asia and the Pacific - are still on the road to realizing the coordinated, digitized and universal CRVS systems needed to count everyone and provide timely, reliable statistics. 
In recent years, several efforts such as Bloomberg Philanthropies' Data for Health Initiative and the World Bank's Global Financing Facility, to name just two, have supported governments in several low- and middle-income countries, including in Asia to improve their CRVS systems. But more must be done. 
Here's why it matters. 
A robust civil registration and vital statistics system illuminates the lives of individuals and enlightens national policy. With a legal identity based on registration, and the means to prove it, children and adults can access basic services and protections - like education or protection from child marriage -and governments are able to account for the experience of their full population in public policymaking. 
When governments know the number of deaths within their borders and what has been causing them, they are equipped to formulate evidence-based responses and policies that can save lives -and also measure impact over time. 
The COVID-19 pandemic underlined the urgency for reliable health intelligence across the globe, and made clear that a person who is uncounted is unseen by their country's health systems. Too many countries struggle to produce a count of all deaths, known as total mortality, and to break it down by sex, age and location. How can a country's government adjust response efforts without a clear picture of mortality in different locales? 
There is a way forward. More than halfway through the Asian and Pacific CRVS Decade (2015-2024), advances in technology and innovative leadership mean that it's now possible to count every human life. Providing strong leadership and coordination for CRVS systems and investing in technical interventions to improve civil registration are important initial steps toward levelling the playing field so that everyone, everywhere counts.
Recent efforts by the governments of Bangladesh, Colombia, Rwanda, Sri Lanka, Vietnam and others have demonstrated the critical importance of political leadership, at the highest level, to institutionalize sustainable technical improvements to CRVS systems.
Digitization, changes to legal frameworks, decentralization, and empowering local registrars, health workers and other community leaders - all allow countries to harness the value offered by strong CRVS systems. 
Experience from the first six years of Bloomberg Philanthropies' Data for Health Initiative has demonstrated that CRVS improvements can happen rapidly. When driven by high-level political will and ownership, strong leadership by primary stakeholders and champions, and effective intersectoral coordination and collaboration, sustainable improvements and the benefits that accrue from stronger systems are arriving quickly.
Leaders and champions of CRVS are driving this progress. The coordination and governance structures they have established harness the power of each system's diverse set of stakeholders. We are excited to share their stories through #CountingEveryone: a new campaign highlighting the critical nature of coordination, governance and leadership to strengthen CRVS systems. 
With the Second Ministerial Conference on CRVS in Asia and the Pacific underway, we call on leaders across the region and globe to champion #CountingEveryone by prioritizing greater collaboration among the ministries, agencies and organizations involved in CRVS. The unique paths of recent champions in Bangladesh, Colombia and Rwanda prove that change is possible.
Counting every life is within reach for most governments. It's time to start #CountingEveryone for a more equitable, inclusive and healthier world.
The views expressed in this article are the author's own and do not necessarily reflect those of The ASEAN Post.