Indonesia is one of the world's most vulnerable countries to natural disasters, and every year the situation is getting deadlier.
Jakarta has been experiencing floods since the 1960s, however, the effects of climate change, sinking and rising sea levels, is endangering more lives each year. A total of 127 lives were lost in the floods of 2007 and 2013, while 66 people were reported dead in the first week of 2020.
Damage from annual flooding also occurs every year while the city is fast sinking at an average of 10 cm annually. With half the city already below sea level, the threat of freak floods is a constant worry. 
Conditions are continuously worsening because of natural disasters, construction as a result of unchecked development, and hazardous waste management.
While the actual economic damage from the recent floods has not been released, it can be estimated to be millions in US dollars. Not to mention the thousands of people with post-flood diseases (not just water-borne) such as diarrhoea, skin diseases, and respiratory problems. At least 190,000 people were infected with post-flood diseases in the 2007 floods. 
Greater Jakarta is overpopulated with 30 million residents as people across the country are forced to leave their homes and seek economic opportunity in the capital. Critics suggest that this is due to a lack of development in other regions of Indonesia.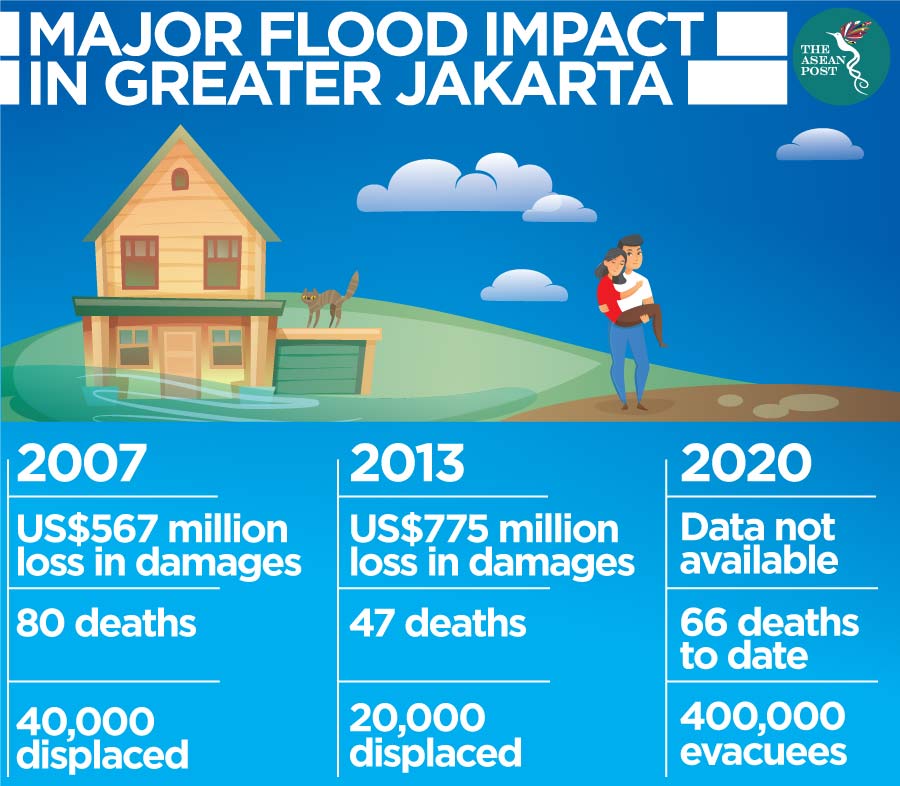 What will Jokowi do? 
While he was governor of Jakarta in 2013, President Joko 'Jokowi' Widodo was no stranger to managing flood disasters. Despite this, flood disaster management coordination between the central and regional governments is surprisingly poor. A recent statement by Jokowi indicates that he may not have a firm grip on the current situation. 
He informed local media that the same orders had to be repeated to multiple agencies to speed up rescue efforts, adding that, "I believe I don't have to repeat the order again."
Jokowi could soon be under the same unfavourable spotlight as Jakarta's current governor, Anies Baswedan, who will be facing charges of negligence and incompetence by the 2020 Jakarta Flood Victims Advocacy Team, a group of flood-affected victims seeking compensation for damages and health costs. 
The governor and his administration are in hot soup for cutting the flood mitigation budget by 26 percent to fund the Auto E Formula racing event. Ironically, at the time Anies argued that the substantial budget of US$115 million for the event was an opportunity to raise environmental awareness.
Even more concerning is Jokowi's lack of understanding to what is happening. "I was asked by the president, 'What was the main cause [for the floods and landslides]?' The first is land-use change: from forest area, especially conservation area, to plantation, agriculture and mining," said Doni Monardo from the National Disaster Management Authority of Indonesia (BNPB).
"Let's not make huge profit at the cost of huge loss of lives," he added.
"The awareness [of climate crisis] must be translated into correcting the fundamental paradigm and goals of our economic policies which have failed us [and helped] create ecological disaster with massive losses," said Khalisah Khalid, from the Indonesian Forum for the Environment (Walhi). 
She pointed out the president's plan to ease regulations and permits pertaining to environmental protection, such as impact analyses and building permits. This is in order to attract foreign investment in an effort to boost the country's sluggish economic growth.
Jokowi's tabled proposal to move the capital to West Kalimantan is another indicator that the president does not think the problem lies with governance.
For example, the Jokowi administration believes it could successfully relocate Jakarta with a budget of US$34 billion while more pressing projects like the giant sea wall to protect the city from rising sea levels and the plan to dredge the Ciliwung river more than a year ago have either stalled or remain unfinished.
As a multitude of factors have adversely affected millions, the government of Indonesia needs to re-evaluate its development plans for the sake of its people. 
Related articles:
New "Jakarta" may cause environment crisis