When a single building collapses and kills several people, it's a tragedy. But if it happens again within the span of only a few months, then it becomes a problem – one that needs to be paid serious attention to and addressed quickly.
In June last year, a seven-storey building collapsed in Sihanoukville, Cambodia. 28 people were found dead underneath the rubble after the building fell. 
Cambodia's Prime Minister, Hun Sen sacked the Deputy Director of the National Committee of Disaster Management, Nhim Vanda saying he failed to take responsibility for a Chinese-owned building under construction. Yun Min, the governor of Preah Sihanouk province, submitted his resignation while four people were arrested, including the Chinese building owner, the head of the construction firm and the contractor. A Cambodian landowner was also taken in for questioning.
This month, Cambodia greeted 2020 with a very similar calamity which happened on 3 January. 36 people were killed and 23 more injured after a seven-storey tourist guesthouse under construction in the coastal town of Kep – about 160 kilometres southwest of the capital Phnom Penh – collapsed; trapping workers under the rubble.
Six children and 14 women were among the dead. Officials did not explain why children were at the ill-fated construction site.
Kep Governor, Ken Satha said the owners of the building, a Cambodian couple, had been detained for questioning. This time, however, Hun Sen said no government officials would be arrested.
"Building collapses don't only happen in Cambodia...they happen elsewhere...including in the United States," Hun Sen was quoted as saying in local news reports.
Hun Sen is, of course, correct. Building collapses happen all over the world. Nevertheless, this does not mean that the matter should not be taken very seriously, especially when there is loss of life in such large numbers. And when these disastrous occurrences happen within months of each other, then it's time to look at the matter under a magnifying glass.
According to an Agence France-Presse (AFP) report on the incident, worker advocacy groups have pointed to low safety standards – raising the risk of accidents at construction sites which often serve as temporary homes for workers and their families.
Worker Ei Kosal told AFP on Saturday that he, his wife and two other women were having a meal on site when the building collapsed. Their two companions were crushed.
"I did not expect to survive... it's like I have just been reborn," Kosal said at a hospital.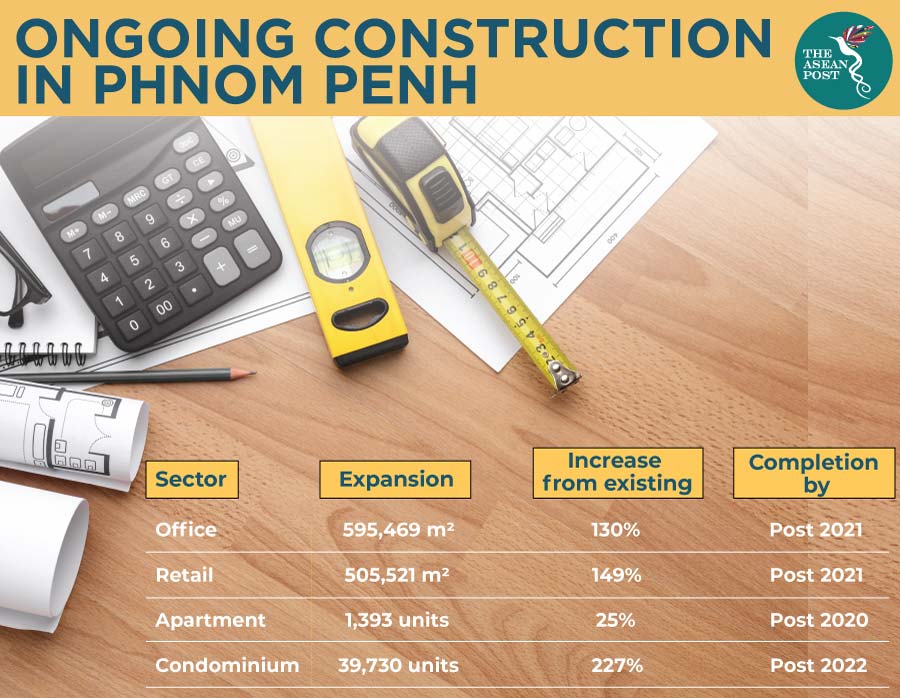 Construction boom
Cambodia is experiencing a construction boom, with hotels, high-rises and casinos springing up under little regulatory oversight. According to the International Labour Organisation (ILO), the tough and often dangerous labour is undertaken by an estimated 200,000 construction workers, mostly unskilled, reliant on day wages and not protected by any union rules.
According to Knight Frank's Cambodia Real Estate Highlights for the first half of 2019, by post 2021, office space supply in Phnom Penh will comprise of approximately 1,059,170 square metres (m²) of net lettable area (NLA), a 130 percent increase over the existing supply. The cumulative retail supply will reach an estimated 844,026 m² of NLA by 2021, an increase of 149 percent. An additional 1,393 apartment units have been identified within the development pipeline but are not due to complete until post 2020, reflecting a 25 percent increase. Phnom Penh's cumulative condominium supply is set to triple to 57,262 units by post 2022, reflecting an increase of 227 percent.
These numbers do not include Sihanoukville, which has seen rapid development since the mainland Chinese came in, nor does it include Siem Reap.
Development is certainly important and the fact that Cambodia is facing the possibility of losing its Everything But Arms (EBA) trade deal increases the need for the country to develop at a fast pace with China more than willing to offer a helping hand. However, this development must not come at the price of human life. 
Hun Sen has promised that families of victims would get US$50,000 each in compensation, while those injured would receive US$20,000.
Related articles:
Cambodia collapse: 36 dead, rescue called off