The LGBT+ community has always been made a scapegoat for natural or man-made disasters through the years. In 2005, one of the worst disasters to hit the United States (US) was hurricane Katrina, which killed an estimated 1,836 people. Maurice Mills, a local politician from the Democratic Unionist Party (DUP) received major backlash for claiming that the reason the state of New Orleans was severely affected by the hurricane was because God had decided to punish its gay community. This occurrence was not the first (nor will it be the last) time the LGBT+ community is blamed for a calamity.
With the new coronavirus pandemic affecting nations all over the world, some religious figures are accusing LGBT+ people for the pandemic.
"God's love shows it is urgent to repent, because the Bible teaches homosexuals lose their souls and God destroys LGBT societies," said pastor Steven Andrew of the USA Christian Church in a press release.
17 May marks the International Day Against Homophobia, Biphobia and Transphobia (IDAHOBIT) – which is a day to celebrate diversity and to raise awareness of the human rights of lesbian, gay, bisexual, transgender and intersex (LGBTIQ+) people. Interestingly, 17 May was chosen because it commemorates the World Health Organisation (WHO)'s decision in 1990 to declassify homosexuality as a mental disorder.
"LGBTIQ+ people still face serious challenges in their everyday life. With 69 countries still criminalising same sex relations, millions of lesbians, gay men and bisexual people live in fear of being who they are and showing whom they love," stated the United Nations Development Programme (UNDP). It was also reported that transgender people are subjected to punishments in at least 26 countries and experience unprecedented levels of violence.
This discrimination, stigma and hate towards to the LGBT+ community can be widely seen in a few ASEAN state members, where same-sex sexual activity is illegal – and punishable up to death.
Homophobia In ASEAN
According to media reports, lawmakers in Indonesia are pushing legislation that would force LGBT+ people into government-sanctioned rehabilitation centres to "cure" them of their sexual orientation or identity. In the draft, known as the "Family Resilience Bill", the legislation would also compel family members to report them if they do not readily submit to rehabilitation.
Jessica Stern, the executive director of human rights group, OutRight Action International, said that the legislation would amplify "the mounting persecution and hate" experienced by the LGBT+ community in the archipelagic nation.
Although homosexuality is not technically illegal in Indonesia as it is not mentioned in the country's criminal codes, same-sex relations are frowned upon in the Muslim-majority nation. In Aceh, a semi-autonomous conservative province in Indonesia, public flogging is carried out as a form of punishment for homosexuals.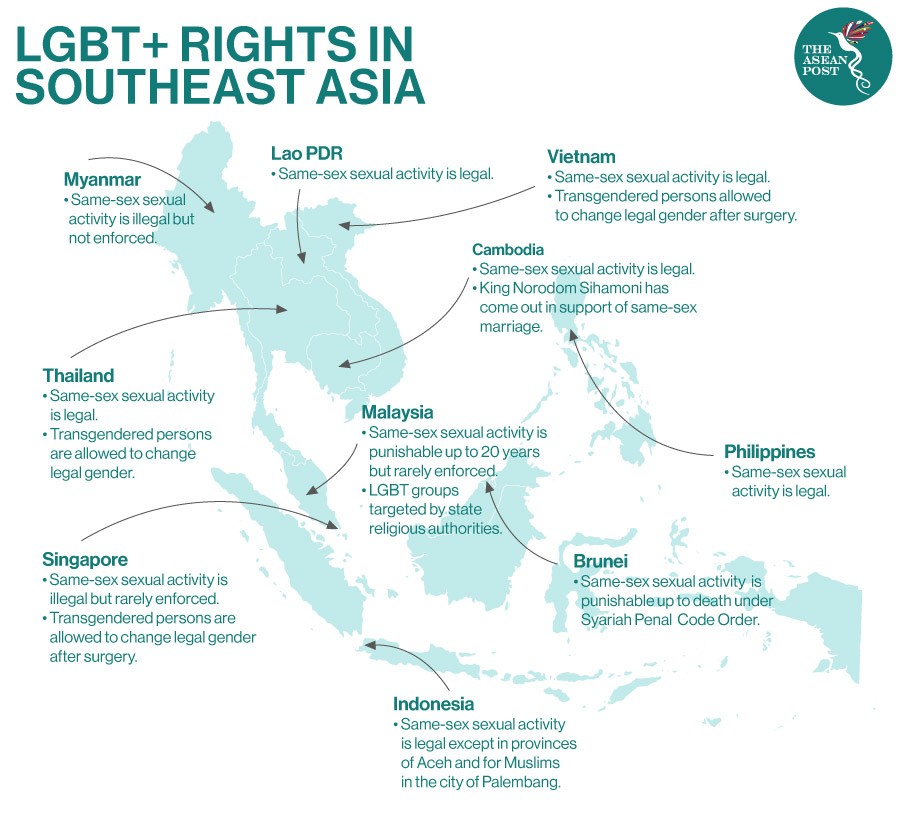 ASEAN member states that have criminalised homosexuality include Singapore, Malaysia and Brunei. Singapore recently rejected appeals to overturn its gay sex ban, whereas neighbouring Malaysia has reported a number of assault cases against trans women and homosexuals over the years. Unfortunately, some have even been murdered, based on a publication by the Human Rights Watch (HRW) that was released last year titled 'The Deceased Can't Speak for Herself: Violence Against LGBT People in Malaysia'.
Brunei is deemed as "the country that has the most worrisome state of rights for LGBT people in Southeast Asia" said OutRight Action International. The country has even implemented capital punishment including "death by stoning" for those caught indulging in homosexual acts. Nevertheless, after an international outrage – Brunei currently has a moratorium in effect on the death penalty.
"Deepening Inequalities"
The current health crisis is having a disproportionate impact on the LGBT+ community. As half of humanity are under some form of lockdown, LGBT+ people face an elevated risk of domestic and family violence and "increased social isolation and anxiety", according to the UNDP.
"LGBTI people are often exposed to additional stigma, discrimination and violence, including when seeking medical services – and perhaps saddest of all, within their own families during lockdowns," said Michelle Bachelet, the UN High Commissioner for Human Rights.
Based on a report by the LGBT Foundation – a charity delivering advice, support and information services to LGBT people – one of the implications of COVID-19 on the community is access to healthcare. LGBT people are said to be more reluctant to access healthcare and may delay or even avoid getting treatment due to fears of encountering homophobia, biphobia and transphobia.
This can be seen currently in South Korea. The country is facing dozens of new COVID-19 cases just days after the government began easing restrictions in early May. The new cluster is apparently linked to nightclubs in Itaewon – mainly gay clubs according to local media. Authorities estimate that around 5,700 people may have been exposed to the virus.
This has triggered a "firestorm of online harassment and intimidation targeting LGBT people" in South Korea, said the HRW. Hostility against LGBT+ people could possibly lead to reluctance in coming forward and getting tested.
Other impacts of the coronavirus on the LGBT+ community as cited by the LGBT Foundation include the inability to access confidential support, increased financial issues and health problems such as HIV that could raise the risk of COVID-19 infection.
This year's theme for IDAHOBIT is "Breaking the Silence", which is more appropriate than ever. The UNDP has urged nations across the world to break the silence when it comes to the stigma and discrimination faced by the LGBT+ community.
"People and their rights must be placed front and centre in the COVID-19 response and recovery," stated the UNDP.
Related articles:
Hate And Discrimination In A Pandemic World