Emphasising peaceful development, Chinese President Xi Jinping used his speech at today's 70th National Day military parade in Beijing to remind the world of its rise as a global superpower.
"There is no force that can shake the foundation of this great nation," Xi said.
"No force can stop the Chinese people and the Chinese nation forging ahead."
For the past 70 years, this has largely been true – and ASEAN has learnt to live with that.
The People's Republic of China was created on 1 October, 1949 when Communist forces under Mao Zedong defeated the Nationalist Party led by Chiang Kai-shek in a civil war.
After Mao's pro-market successor Deng Xiaoping liberalised the country's economy in 1978, China enjoyed rapid socio-economic development and its growth rate of nearly 10 percent a year – the fastest sustained expansion by a major economy in history according to the World Bank – lifted more than 850 million people out of poverty.
Economic partner
While it has historic links dating back centuries, ASEAN-China dialogue relations in the modern era started in 1991 when Malaysia invited Qian Qichen, China's then Foreign Minister, to attend the opening session of the 24th ASEAN Ministerial Meeting. 
Since then there has been a steady stream of cooperation in trade, investment, defence, education, tourism and other areas.
ASEAN and China signed a framework agreement to prepare for the ASEAN-China Free Trade Area (CAFTA) in 2002, and two-way trade blossomed after the treaty came into effect in 2010.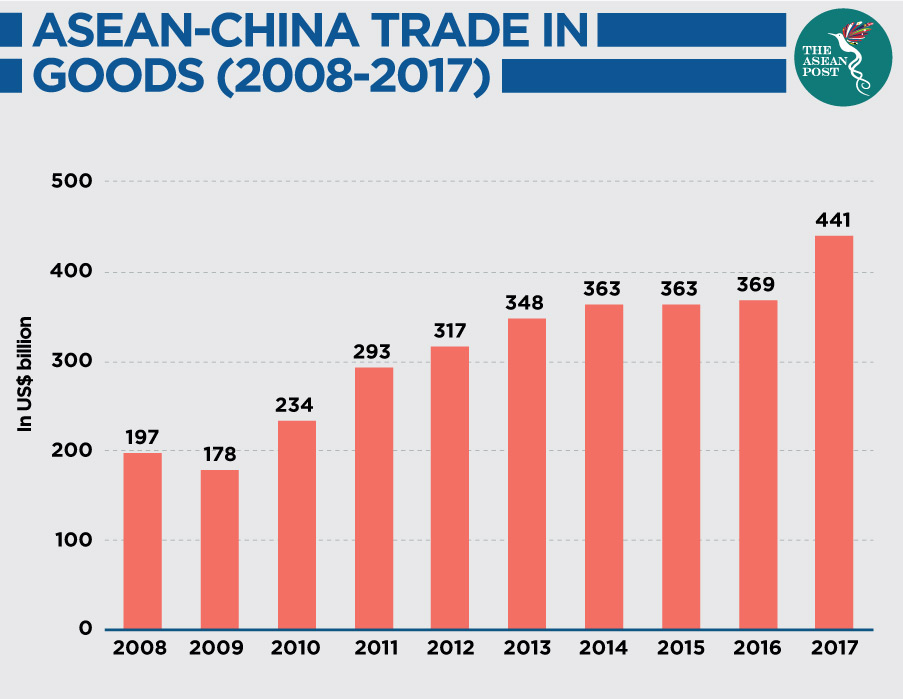 China has been ASEAN's largest trading partner for over a decade, and bilateral trade reached a record high of US$587.87 billion last year according to China's Ministry of Commerce.
The fastest growing domestic market in the world, China has been a significant source of exports for ASEAN. In 2017, 14 percent of ASEAN's exports headed to China, the largest among all its trading partners.
China is also ASEAN's third-largest source of foreign direct investment (FDI) after the European Union (EU) and Japan, and mutual investment has grown 22 times since 2004.
But there are shadows over these strong numbers.
Tensions
Unveiled in 2013 by Chinese President Xi Jinping as an ambitious plan to connect Asia, Europe and Africa, the Belt and Road Initiative (BRI) has played a crucial part in bringing China and ASEAN closer together.   
The biggest infrastructure project the world has ever seen, China is offering trillions of dollars of financing, loans, manpower, engineering consultancy and other advisory and professional services as part of the BRI – which has come under criticism over fears of hegemony and high debt repayments.
China claims most of the South China Sea as its sovereign territory, a resource-rich area which four ASEAN countries – Brunei, Malaysia, the Philippines and Vietnam – are also disputing. 
The United States (US) Energy Information Agency estimates there are 11 billion barrels worth of oil and 190 trillion cubic feet of natural gas under the South China Sea, and China's construction of military and other installations on artificial islands and reefs there makes the enforcement of a code of conduct all the more important – especially with one-third of global trade passing through the sea.  
Stating that there was no evidence that China had historically exercised exclusive control over the area, in 2016 the Permanent Court of Arbitration said China had violated the Philippines' sovereign rights and caused environmental damage by building artificial islands in part of the sea claimed by the latter.
China called the ruling by the United Nations (UN)-backed international tribunal as "ill-founded", providing ASEAN no doubt as to their position on the bargaining table and China's disdain for such courts.
Way forward
The US Navy has been sailing the South China Sea for years in a blatant challenge to Chinese claims over the area, and in a commentary in the state-run Global Times last month, Wang Yinghui, an associate professor with the National Security College at China's National Defense University, stressed that peace and stability can only be maintained in the area without the intervention of external powers.
"China has not backed off in the face of the US flexing muscles and remains firm in safeguarding its territorial integrity and sovereignty (and) ASEAN countries have not been estranged from China as a result of the US trying to drive a wedge," said Wang. 
Indeed, countries in the region have increasingly realised it would be against their interests to side with the US to balance China, and on the contrary, have been working even closer with the latter. 
Antagonising or alienating China, be it with harshly worded statements about their actions in the South China Sea or by introducing economic sanctions, will serve ASEAN no use.
"China does need to calibrate its relationship better, building more trust and giving more benefit to the region, but this can only happen in the context of an established and growing relationship," opined Steven Wong, Deputy Chief Executive of Malaysia's Institute of Strategic and International Studies (ISIS) in a bi-monthly publication by Singaporean think-tank ISEAS–Yusof Ishak Institute last year. 
"Whatever tests and challenges the ASEAN-China relationship face, little is to be practically gained from a distancing from each other…"
Related articles:
Experts agree COC will take time