Lung cancer killed nearly 1.8 million people globally in 2018, of which 61.4 percent of deaths occurred in the Asia Pacific region according to data compiled by the International Agency for Research on Cancer (IARC). The data also revealed that 59.3 percent of the world's new lung cancer cases are also to be found in the same region. Across ASEAN member states, the Global Cancer Observatory recorded a total of 113,105 new cases of lung cancer last year. Lung cancer also claimed 100,656 lives in the region in 2018.  
Smokers have a higher risk of getting lung cancer, which accounts for at least 80 percent of all lung cancer cases. However, environmental factors such as air pollution, occupational exposure and secondary smoking also contribute to the risk. 
Early detection
The Malaysian Study on Cancer Survival 2018 cites that the five-year survival rate for lung cancer across all stages is just 11 percent. According to Dr Anand Sachithanandan, consultant cardiothoracic surgeon at Subang Jaya Medical Centre in the state of Selangor in Malaysia, lung cancer is the worst performing of all cancers, with the median of survival after diagnosis a mere 6.8 months. 
Unfortunately, lung cancer is asymptomatic, resulting in at least 80 percent of late stage detection. Dr Anand emphasises the need for early detection of lung cancer, "The goal of treatment for early-stage cancer is curative, where we hope to cure the patient." Screening leads to early detection, meaning earlier treatment with greater options and increased chances of survival. 
Immunotherapy
The new era of biomedical discovery is changing the way many cancers are treated. There are currently three mainstream treatments for cancer; surgical removal, radiation therapy and chemotherapy. But advanced clinical trials and studies have shown that checkpoint blockade and adoptive immunotherapy are two examples of the newest treatments.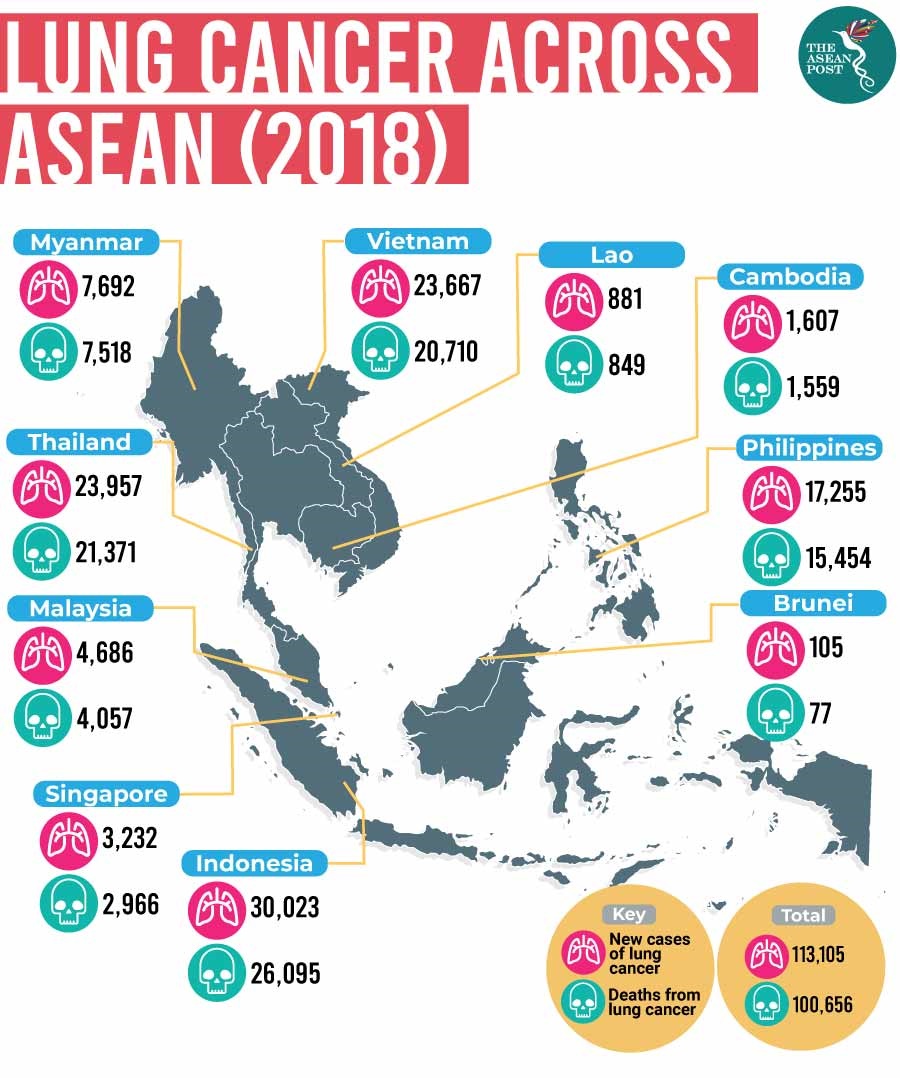 Source: International Agency for Research on Cancer (IARC), Global Cancer Observatory 2018
Immunotherapy harnesses the patient's own immune system to fight harmful intruders like cancer cells. Merck Sharp & Dohme (MSD) is leading the research of immunotherapy with over 1,000 trials, including more than 600 trials that combine the drug pembrolizumab with other cancer treatments. These trials cover over 30 tumour types including lung cancer. MSD claims pembrolizumab is a first line therapy for a subset of metastatic non-small cell lung cancers where patients can have access to the drug even before receiving chemotherapy. 
"Immunotherapy, especially pembrolizumab, has significantly and positively changed the lung cancer treatment landscape," said Dr Kong Hwai Loong, a medical oncologist at Icon SOC Singapore at Paragon Medical Centre.
In 2018, Singapore's Health Sciences Authority approved pembrolizumab in combination with chemotherapy, as a first-line treatment for patients. According to Dr Kong, two other immunotherapy drugs, nivolumab (Opdivo) and atezolizumab (Tencentriq), are also available in Singapore for lung cancer treatment.
Pembrolizumab was also approved in Malaysia recently where the majority of suitable patients receive immunotherapy as their first line treatment. 
At the War on Cancer Asia 2019 Summit held in Singapore last March, MSD's President for Asia Pacific, Dorthe Mikkelsen pointed out the importance of collaboration between all parties involved in healthcare, including governments, physicians, patients and other stakeholders "to expand patients' access to various innovative treatments available, such as immunotherapy which benefits patients and the community as a whole."
"Improving lung cancer outcomes require many policy interventions, including for prevention programs, rapid diagnosis and referral pathways and investments in high-quality care," explained Dorthe. MSD is engaging with stakeholders to address access and reimbursement for their immunotherapy drug. 
An investment
Cancer can also burden the healthcare system due to an ageing population and the adoption of cancer-associated lifestyle behaviours. ASEAN healthcare spending is forecasted to reach US$740 billion in 2025 and this rise would hurt the economy and healthcare standards of the region. 
"In the case of many types of lung cancer, immunotherapy has shown better results in trials than the standard of care and this reflects the value that these medicines can deliver in both clinical and economic benefits to the patient and the community," said Dr Alena Reznichenko, Pan Asia Pacific Medical Lead Oncology-Global Medical Affairs, MSD in response to a question from The ASEAN Post. 
The cost of treatment is still a key issue around immunotherapies and the long-term cost is a major consideration for many patients. In Singapore, the cost of immunotherapy treatment ranges from SG$7,000 (US$5,200) to SG$15,000 (US$11,000) every three weeks, depending on the dosage, commented Dr Wong Seng Weng, medical director and consultant medical oncologist at The Cancer Centre in Singapore. 
Since treatment is an investment, a more effective intervention will likely benefit patients and bring value to the health system. MSD turned to biomarker testing to help "predict which patients will respond to treatment, thereby managing the healthcare budget efficiently." 
With immunotherapy treatments, the overall survival rate for lung cancer patients can improve. This, in turn, benefits the healthcare system and the broader society. But physicians and healthcare providers need to help patients understand the potential benefits, harms, side effects and costs of drugs not subsidised by the government to allow patients to make an informed decision about treatment options. 
Governments and the private sector also need to take the opportunity to rethink the system to improve access to innovative treatments, while investing in technologies that enhance survival rates and lessen the duration for treatments. Developing guiding tools for prevention, early diagnosis, screening and treatment is also essential.
Related articles:
Silicon Valley start-up grail sees hope for cancer blood test
The potential of digital healthcare