Looking for a job in renewable energy? Malaysia might be just the place for you.
The International Renewable Energy Agency (IRENA) this week named Malaysia as the region's biggest solar photovoltaics (PV) employer with a total of more than 54,300 people working in the industry last year – up from 40,300 in 2017.
Malaysia are sixth globally in the list of top solar PV employers while the only other ASEAN country to make it into the top-10, Vietnam, is in ninth spot. Indonesia and Thailand are the biggest employers in the liquid biofuels sector while the Philippines is ASEAN's biggest wind energy employer according to the IRENA report titled 'Renewable Energy and Jobs – Annual Review 2019'.
The report states that the various renewable energy sectors such as solar PV, hydropower, liquid biofuels and wind energy hired 11 million people globally in 2018 – a rise from the 10.3 million recorded in 2017. Offering 3.6 million jobs in 2018 – or a third of the total renewable energy workforce – the solar PV sector is the industry's top employer.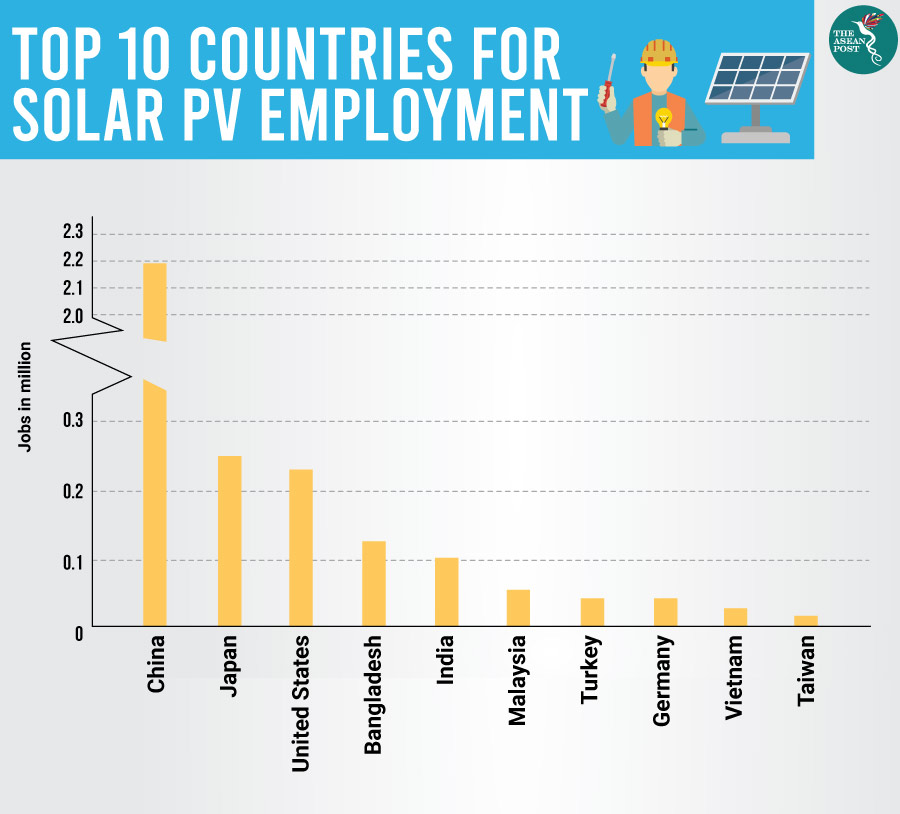 Source: IRENA
Countries like Malaysia, Thailand and Vietnam were responsible for a greater share of growth in renewables jobs last year, allowing Asia to maintain a 60 percent share of renewable energy jobs worldwide.
Using data from the Sustainable Energy Development Authority (SEDA), IRENA noted that foreign direct investment (FDI) has turned Malaysia into a major solar PV manufacturer for export markets – and around 17,000 of Malaysia's solar PV jobs are in component manufacturing. Overall, IRENA estimates Malaysia's renewable energy workforce to have grown from 87,400 jobs in 2017 to 98,500 in 2018.
While renewable energy industries have remained relatively concentrated in a handful of major markets such as China, the United States (US) and the European Union (EU), Southeast Asia has emerged as a key exporter of solar PV panels. Vietnam hosts solar PV facilities owned by 11 different manufacturers, Malaysia has nine and Thailand six.
Key Malaysian policies 
Progress in Malaysia's green energy has been made possible by the government's concerted efforts to develop the industry.
In his speech at the 25th ASEAN Labour Ministers Meeting last November, Malaysia's Prime Minister Dr Mahathir Mohammad said that there was a need to raise awareness on green jobs as well as up-skilling, reskilling, grading and certification on related programmes. He pointed out that employment in ASEAN's green economy grew by 3.2 percent in the previous two years compared with its overall economic growth of five to six percent – making for almost 1.4 million new green jobs created during that period.
The country is yet to reap the fruits of the Green Technology Master Plan which was approved by the Malaysian Cabinet in October 2017. This roadmap is aimed at helping the sector achieve US$43 billion in revenue and creating more than 200,000 green jobs by 2030. The country's then Energy, Green Technology and Water Minister told Malaysian media that green technology is the fastest growing sector in the country and his ministry would help those involved with Islamic financing – which provides lower interest rates.
Another key initiative by the Malaysian government is the Green Technology Financing Scheme (GTFS) which was introduced in 2010 to provide easier access to financing for green entrepreneurs. Up until October 2017, the scheme channelled US$810 million to more than 302 green projects with the potential to generate US$1.56 billion worth of investment, create over 5,000 jobs and prevent emissions amounting to 3.513 million tonnes of CO2e (carbon dioxide equivalent).
Low-carbon economic growth
Employment opportunities are a key consideration in planning for low-carbon economic growth, and as the IRENA report notes, governments have prioritised renewable energy development to not only reduce emissions and meet international climate goals but also in pursuit of broader socio-economic benefits.
"Beyond climate goals, governments are prioritising renewables as a driver of low-carbon economic growth in recognition of the numerous employment opportunities created by the transition to renewables," said Francesco La Camera, Director-General of IRENA. 
"Renewables deliver on all main pillars of sustainable development – environmental, economic and social. As the global energy transformation gains momentum, this employment dimension reinforces the social aspect of sustainable development and provides yet another reason for countries to commit to renewables."
Related articles:
Vietnam sets its sights on solar