The COVID-19 pandemic has brought chaos to the world. The virus has negatively affected livelihoods and the global economy since it first emerged in the city of Wuhan in China's Hubei province. To date, more than 2.5 million people have been infected with the virus and over 180,000 have succumbed to the deadly outbreak. Governments across the world are scrambling to contain the new coronavirus. Drastic measures have been implemented such as travel curbs, border controls and citywide lockdowns. These strategies have been adopted by numerous countries including a number of ASEAN member states. Currently, it was reported that half of humanity are under some form of virus lockdown.
Philippines' President Rodrigo Duterte declared the country to be under a state of public health emergency on 9 March followed by a partial lockdown on Metro Manila on 12 March. The lockdown was then extended a few days later, placing the entire island of Luzon under an "enhanced community quarantine". It was reported that curfews have been imposed and citizens are required to have passes that allow them to go out on certain days. 
As of 22 April, the Philippines reported 6,710 COVID-19 cases with 446 fatalities. The country currently has the third highest number of infections in Southeast Asia after Singapore and Indonesia.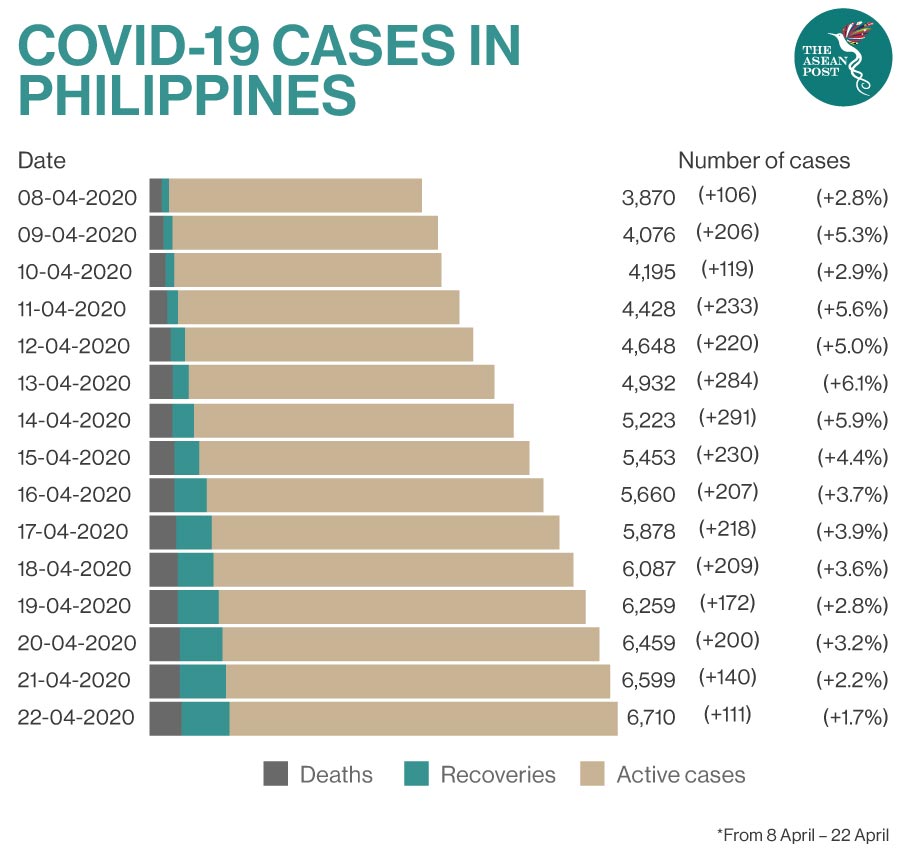 The archipelagic country of 106 million is reported to be facing problems with lockdown violators. According to media reports, an estimated 120,000 Filipinos have been arrested or warned for flouting rules. 
In early April, Rodrigo Duterte told security forces they should shoot dead anyone causing trouble in areas under lockdown due to the virus. 
"My orders are to the police and military, also village officials, that if there is trouble or the situation arises that people fight and your lives are on the line, shoot them dead," said Duterte in an impromptu national address.
"Instead of causing trouble, I'll send you to the grave," he added.  
Despite criticism from organisations such as Amnesty International Philippines, National Police Chief, Archie Gamboa said that his officers would not begin shooting troublemakers dead, referring to the president's statement.
"Probably the president just overemphasised on implementing the law in this time of crisis," he explained. 
Nevertheless, it was reported that a few days later, a 63-year-old man was shot dead by Philippine police for refusing to follow the COVID-19 restrictions, becoming the first fatality as a result of the lockdown. 
Another Martial Law?
A one-page Philippine Air Force (PAF) internal memo ordering personnel to "prepare for strict implementation… (of an) extensive enhanced community quarantine" was leaked online and circulated on social media on 17 April, the same day it was issued. The Armed Forces of the Philippines (AFP) have confirmed the legitimacy of the document. 
After a reported upsurge of cars on Manila's roads, President Rodrigo Duterte warned citizens in a televised speech that a martial law-style enforcement would be implemented if they do not comply with the lockdown. 
"I'm just asking for a little discipline. If not, if you do not believe me, then the military and police will take over," said the president.
"The military and police will enforce social distancing at curfew... It's like martial law. You choose," he added.
Nevertheless, the AFP said it is only natural for the military to prepare for a possible "martial law-like lockdown".
"This (is a) natural reaction of the AFP to prepare and deploy when it becomes necessary," said AFP spokesperson Brigadier General Edgard Arevalo, adding that there was no reason to be "alarmed". 
According to local media, Police Chief Archie Gamboa said that President Rodrigo Duterte was referring to the implementation of rules in terms of arrests, when he likened the option to martial law.
"When he says martial law, it means the president would like to emphasise that we would really make some arrests. I think the public has to show they can behave so this does not follow through. If it does, it will be the full implementation of the law. We won't issue warnings, we'll go straight to arrests," Archie Gamboa explained to local reporters. 
Filipinos are not unfamiliar with the consequences of martial law. The conversation of the possibility of a martial-law style enforcement brought bitter memories of human rights abuses under President Ferdinand Marcos from 1972 to 1981. Current president, Rodrigo Duterte has also imposed martial law himself on Mindanao in the south of the Philippines which was only lifted in early 2020. 
Nevertheless, Brigadier General Edgard Arevalo assured the public that should the government enforce a martial-law like lockdown, "… your armed forces of today are very much well-versed on international humanitarian law. We are also abiding with the provision of the constitution."
Senator Francis 'Kiko' Pangilinan told the media that the Philippines' government should prioritise the implementation of measures to quicken aid distribution to those hit hardest by the pandemic rather than looking into a possible martial law-type lockdown. 
"You have 75 percent of people who lost their jobs, who are not earning anything today, who are going hungry..." said the senator, adding that martial law is not the answer, delivery of cash assistance is. 
His sentiment is also shared by Dr Jean Encinas-Franco, a political-science professor at the University of the Philippines, who believes that martial law-type enforcement would not work as no country which has appeared to be successful so far in flattening its coronavirus curve resorted to using the military. 
The country has seen a slight plunge in infections in recent days, reporting 111 cases on 22 April, a decrease in number from 140 and 200 new cases on 21 April and 20 April, respectively.
"We have flattened the curve but what we want is to crush the curve to ensure that we have really controlled the spread of the virus," said Eduardo Ano, interior secretary and vice-chairperson of the National Task Force for COVID-19 in the Philippines.
Related articles:
Duterte tells police to shoot dead troublemakers