Thailand legalised the use of marijuana for medicinal and research purposes in December 2018, granting usage for patient treatment and research and industry activities only. The bill allows the use of cannabis or marijuana and kratom which is a local plant with opioid properties native to Southeast Asia region. 
Half a year into the new ruling, the number of patients who have applied for the medical marijuana amnesty is expected to exceed 50,000. Patients who have registered are allowed to possess certain amounts of the herb extract, but only if they have a prescription or doctor's certificate. 
The new law is a modification to the 1979 Narcotic Drugs Act that categorises marijuana as a class-5 narcotic, banning its use and possession while those attempting to gain profit from the cultivation and trade in marijuana can face punishment of up to 15 years imprisonment as well as heavy fines. 
Marijuana was ubiquitous in Thailand before the 1934 ban, and further criminalisation has given the plant its taboo status. Bhumjaithai Party's Anutin Charnvirakul is a proponent of marijuana and its medical benefits, and has said that, "Marijuana has more positive than negative."
Debate on medical benefits
The claimed wonders of medical marijuana include the treatment of various conditions such as Parkinson's, asthma, insomnia, autism and even cancer. The validity to these claims is however, split.
The debate usually surrounds the two main polarising ingredients in marijuana, which are Tetrahydrocannabinol (THC) and cannabidiol (CBD). Both substances interact with the cannabinoid receptors found in the human body and brain, but they differ dramatically in their effects. THC is the main psychoactive constituent which produces the "high" factor of the drug, while CBD shows promise for medicinal purposes and will not get users high as they experience relief from discomfort.
However, THC is also known to relax blood vessels with the benefits of treating chronic pain, spinal injury or multiple sclerosis. This is fitting as marijuana from Thailand is known globally for its high THC content and typical sativa effects.
Although there are good examples of the effects of medical marijuana, the literature is divided as there is no conclusive evidence yet to support the safety and efficacy of cannabis as a form of medical treatment for major illnesses.
To date, there have been no studies validating the claims of unprocessed or raw marijuana being able to treat medical conditions.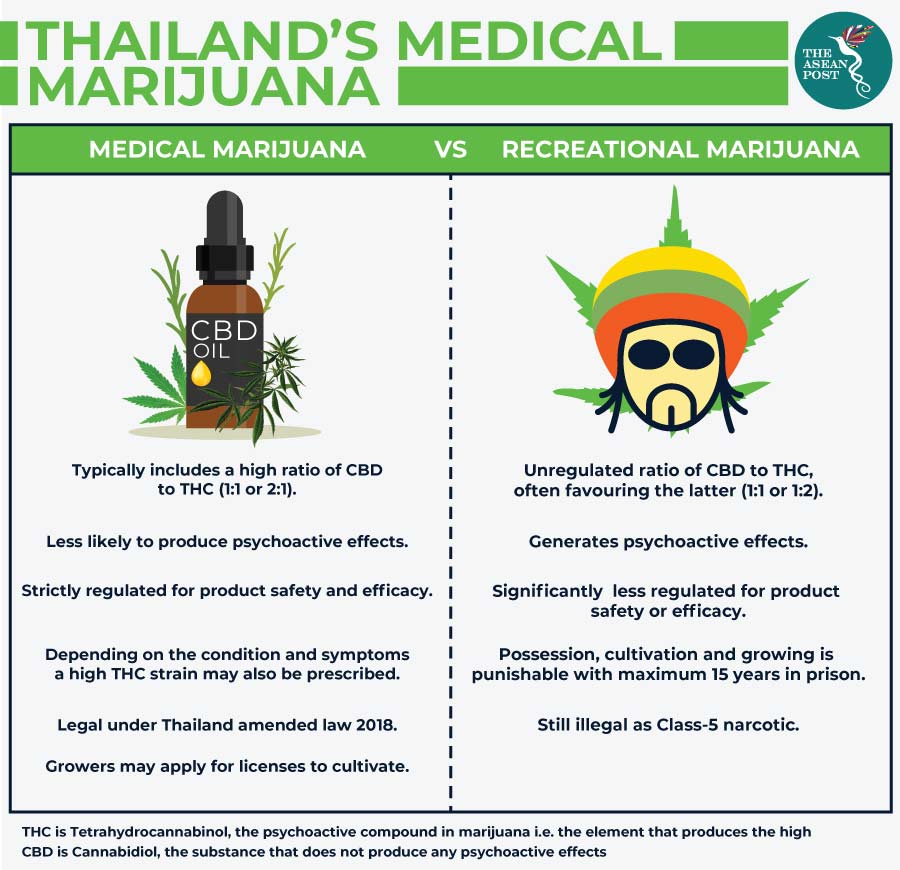 Strict cultivation
The first facility was opened in Panthum Thani province, north of Bangkok in February, initiated by the Government Pharmaceutical Organisation (GPO), and costing 100 million baht (US$3.2 million). The indoor farm covers at least 100 square metres and is installed with aeroponic systems, scanners and gadgets, all under heavy security.
Thai government agencies monitor and control production and cultivation within the country and only official licensed agencies are allowed to grow hemp in the tribe-development zones in Chiang Mai, Chiang Rai, Nan, Tak, Mae Hong Son and Phetchabun provinces. 
Tight regulations around cultivation have ultimately push up costs of the medicine. Dr Surachoke Tangwiwat, deputy secretary-general of the Food and Drug Administration (FDA), has approved 175 medical staff early this month and added the list to doctors and pharmacists who have been given the right to prescribe marijuana-based medicines. 
The first batch of 2,500 bottles of sublingual allergy drops contain five millilitres (ml) of oil and will be distributed to patients as early as July. 
Implications on drug policies
Thailand's move to legalise marijuana is a game changer for drug policies across ASEAN, which are some of the harshest in the world. In Malaysia and Singapore, users or those found in possession of cannabis, risk up to 10 years in prison. In Indonesia, smugglers are executed. 
A 2018 survey run by yougov.com found that the majority of Singaporeans and Malaysians believe marijuana had medicinal value, but less than half support legalisation. In Malaysia, the medicinal value of marijuana is being considered by the government. Singapore has allowed for the use of pharmaceutical cannabinoid products as potential therapeutic care to manage seizures and epilepsy but only under strict frameworks and regulations. Still, the country stands firm with their position that cannabis should remain an illicit drug.
Early this year the Philippines acknowledged the advantages of medical marijuana in treating chronic or debilitating medical conditions such as arthritis, epilepsy and multiple sclerosis. 
Marijuana still cannot be sold over the counter, or administered in its raw form. Yet, Thailand must ensure efforts are taken to counter the concerns of exploitation of the law by some irresponsible parties.
The potential for Thailand's legal marijuana is endless, from developing a marijuana export trade to boosting its medical tourism. The country is very optimistic about the future. And that optimism is not misplaced as marijuana is becoming a multitrillion-dollar industry.
Related articles:
Thai pro-marijuana party in high demand