Southeast Asia's medical tourism industry has experienced rampant growth in the recent years driven by quality healthcare delivery services, competitive rates and reputable medical expertise. Among the popular destinations in ASEAN (Association of Southeast Asian Nations) for medical tourism are Thailand, Singapore and Malaysia. Over the years, these countries have taken various initiatives to strengthen their capabilities and improve in terms of infrastructure (including hospital facilities) to capture a share in the medical tourism market.
What drives medical tourism in the region?
Demographics transition towards an increasingly globalised, ageing and chronically ill population have increased the need for healthcare treatments globally. The lack of specialised treatments in the home country has driven people to look for medical treatment elsewhere. Insurance portability also allows consumers to port their benefits with another insurer of their choice which enables them to enjoy health benefits provided by hospitals in other countries in a more cost-effective way. Technological advancements, the rise of social media and customer-focused services are making information more transparent to consumers as consumers are more willing to seek and pay for elective treatments overseas due to enhanced connectivity and the ease of travel.
Rhenu Bhuller, a partner at Frost & Sullivan, said medical tourism will continue to be an attractive sector mainly in Thailand, Singapore and Malaysia. She said Thailand and Malaysia will continue to see growth due to cost-effectiveness, but Singapore will struggle as costs become prohibitive. Singapore will, however, continue to be a preferred destination in specialised areas such as cancer and cardiology, at least in the short term, but the volume patients will continue to look towards Thailand and Malaysia.
"Thailand continues to be at the forefront of medical tourism in Southeast Asia, holding about 50 percent of the patient share. However, Malaysia is gaining ground as a cost-effective, quality option although from a market size perspective it comes in after Thailand and Singapore," Bhuller told The ASEAN Post via an email reply. Both Thailand and Malaysia are expected to grow between eight percent and 12 percent in 2017. Thailand is stepping up efforts to tap into the growing Chinese market, while in Malaysia, Indonesians remain the main contributor to the growth as Penang and Kuala Lumpur will continue to be hubs for medical tourism. More Singaporeans will cross the border for cheaper healthcare services in Malaysia that are reimbursed under MediShield Life. According to Singapore's Health Ministry, MediShield Life is a basic health insurance plan, administered by the CPF (Central Provident Fund) Board, which helps to pay for large hospital bills and selected costly outpatient treatments such as dialysis and chemotherapy for cancer.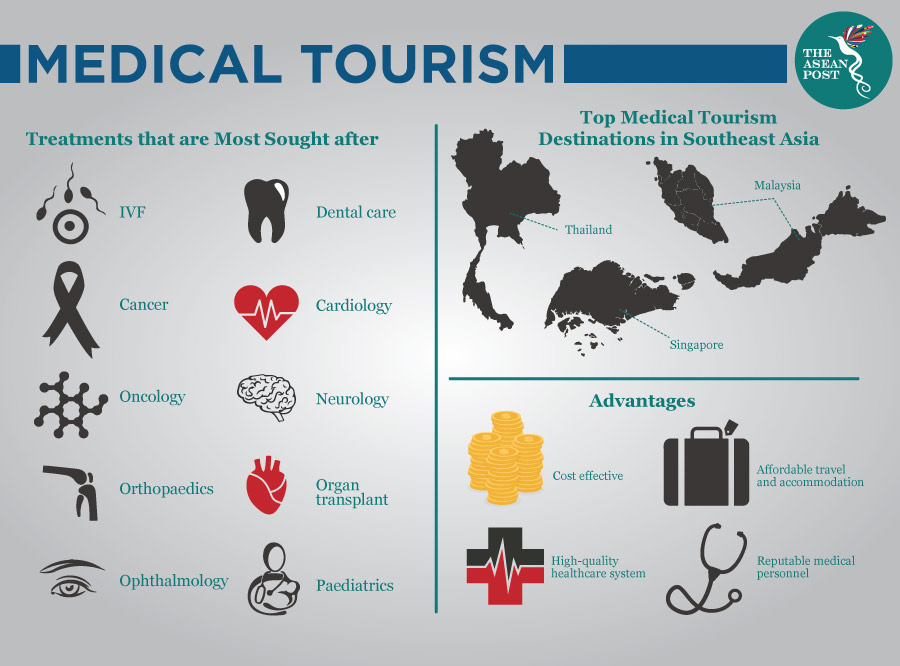 Malaysia
Malaysia has gained the reputation of being one of the most preferred medical tourism destinations in the region as healthcare services in Malaysia are competitively affordable and of world-class standards. Malaysia's Health Ministry has set a mandate and stringent regulations to ensure that the local healthcare industry upholds a high standard of care and patient safety. The MHTC (Malaysia Healthcare Travel Council) CEO Sherene Azli said Malaysia's medical tourism industry is expected to achieve a revenue of 310.4 million dollars (RM1.3 billion) while the nation is expected to host one million medical tourists in 2017. In 2016, the revenue from medical tourism was recorded at 238.8 million dollars (RM1 billion) from an estimated 900,000 medical tourists.
"Malaysian medical tourism is experiencing a 30 percent growth year-on-year. Malaysia has a high-quality healthcare system with affordable pricing and healthcare that is highly accessible. On average, medical travellers' contributions to the economy are double that of the regular tourists. A foreign patient spends 239 dollars (RM1,000) per visit.," she added. The top six treatments sought by medical travellers are cardiology, oncology, orthopaedics, in vitro fertilisation, dental care and cosmetic surgery. Most are from the ASEAN region with Indonesians and Singaporeans making up the bulk of medical tourists while the Chinese and Indians are not far behind.
The MHTC is an agency set up in 2009 under the Health Ministry to facilitate and promote Malaysia's healthcare travel industry. As a coordinating agency, the MHTC strives to facilitate the focused development of the healthcare travel sector in Malaysia, which includes building strategic public-private partnerships domestically and abroad in a bid to create easier access to Malaysian healthcare for international patients. Malaysia is also witnessing increasing interests in wellness and disease prevention treatments from health tourists. Revenues from medical services and tourist activities including the costs of accommodation, shopping and transportation are set to grow by 30 percent to 1.19 billion dollars (RM5 billion) in 2017. This includes tourism expenditure such as hotel costs, shopping and transportation by travellers.
Singapore
Singapore is one of the top medical tourism destination in Asia and the most-sought-after by international patients. According to the STB (Singapore Tourism Board), international patients come to the country each year for a whole range of medical care from health screenings to high-end surgical procedures in specialities such as cardiology, neurology, oncology, ophthalmology, organ transplants, orthopaedics and paediatrics. In 2013, medical expenditure generated from travellers was 618.4 million dollars (S$832 million). Twenty-one hospitals, medical centres and medical organisations in Singapore have obtained the JCI (Joint Commission International) accreditation to-date.
Healthcare providers in the country are continuously innovating themselves and embracing new medical technology to strengthen their medical capabilities. Over the years, the STB has worked closely with private healthcare providers to expand their reach in key target markets and profile Singapore as an advanced medical care destination.
Thailand
Medical tourism in Thailand is also thriving due to the low-cost yet high quality medical treatments offered by hospitals in the country. Medical tourists usually select Thailand as their preferred medical tourism destination for procedures like cosmetic or plastic surgeries, dental, cardiac, orthopaedic, infertility treatment, bariatric surgery, ophthalmology and eye surgeries. Among the leading private hospitals in Thailand are the Bumrungrad International Hospital, Bangkok Hospital Group and Samitivej Hospital.
Medical tourism continues to thrive in ASEAN
Medical tourism in Southeast Asia is booming as the demand for healthcare services is increasing. The region is expected to be a top medical destination as its healthcare providers are offering cost-effective, high quality medical services. Some of these healthcare providers are well-known and have already established a good reputation worldwide for providing high quality facilities, medical services and infrastructures which are on par with the more developed economies. Deloitte in a report also said that the growth in average annual healthcare spending between 2014 and 2018 is expected to be around 11 percent of GDP (gross domestic product) in ASEAN but with highly varied rates among the individual countries, indicating that there is still room to grow in order to turn Southeast Asia into the top destination for medical tourism in the world.