In early May, Muslims across the globe will be celebrating Ramadhan. During this holy month, Muslims will abstain from a number of things from sun up to sun down, most notable of all will be any form of food or drink. 
One of the main reasons Islam requires its followers to undergo this month-long fast is to remember the pains and troubles of the less fortunate who may not be able to afford a single meal everyday let alone three meals a day. Many of these less fortunate souls live across Southeast Asia where poverty is still very much a problem. And, yet, that's not the saddest part of the story.
A 2017 report by the World Health Organisation (WHO), United Nations Children's Fund (UNICEF) and World Bank Group revealed that more than half of all stunted children, almost half of all overweight children and more than two-thirds of all wasted children live in the Southeast Asian region. What makes this so frustrating is the amount of food being wasted in the region at the same time.
According to the United Nations Food and Agriculture Organisation (FAO), roughly one-third of all food produced for human consumption gets lost or wasted every year. This equals to approximately 1.3 billion tonnes yearly. The FAO website also shows that Asia is one of the biggest culprits. Rabobank Singapore CEO Mark Van Binsbergen says that South and Southeast Asia alone is responsible for roughly 25 percent of the world's food waste.
If we were to zero-in on certain countries in ASEAN, the picture doesn't get much better either. According to a study by the Economist Intelligence Unit, Indonesia is the world's second largest waster, binning almost 300 kilograms (kg) of food per person each year.
The story is similar for the rest of the region as well. In Malaysia, during Ramadhan last year, the Solid Waste Management and Public Cleansing Corporation (SWCorp) recorded a total of 615,000 tonnes of food waste. In Singapore, according to the National Environment Agency (NEA), 763,000 tonnes of food waste was generated in 2018.
Shopping malls' contribution
In November 2016, Plaza Merdeka in Sarawak, Malaysia earned its place in the country's Book of Records for cooking up the "Biggest Bowl of Sarawak Laksa". The Sarawak Laksa was the equivalent of 1,500 bowls of laksa. All of this was thrown away.
In the same year, according to the NEA, 225,000 tonnes of waste was disposed by 172 shopping centres. This was out of a total of 245,000 tonnes of waste generated overall at these malls, meaning most of the waste was not recycled.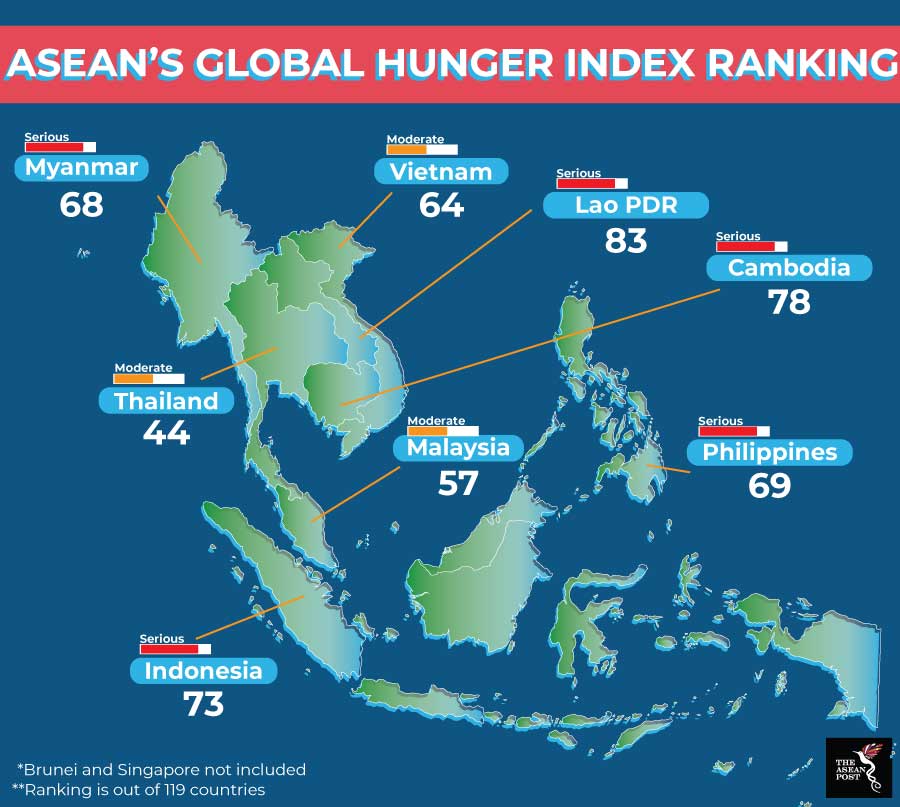 Source: Global Health Organisation 2018
Not all bad news
While food waste continues in most parts of the world including Southeast Asia, it would be ignorant to assume that countries are not aware of the problem and aren't trying to remedy it. 
Great news coming out of Singapore is that The Food Bank Singapore and Compass One mall have entered into a partnership in an attempt to do their part in combating food waste. Compass One will be the first mall in Singapore to officially pledge its support for The Food Bank Singapore's Food Wastage Reduction and Fight Hunger Movement. Tenants of the mall in Sengkang will be encouraged to donate excess unsold cooked food they deem suitable to the food rescue programme.
Nonetheless, the fact that many in the region are still going hungry while literally tonnes of food is being wasted has not stopped ceasing to be a fact. It is hoped that in the near future, Southeast Asians will address the imbalance between wasted food and hunger.
Related articles: