A report by the International Crisis Group (ICG) this week pointing out that Myanmar's Shan State is one of the world's largest producers of crystal methamphetamine is hardly surprising.
There have been record seizures of meth in the last two years in ASEAN countries and the surrounding region – 1.6 tonnes in Indonesia, 1.2 tonnes in Malaysia, 788 kilograms (kg) in Thailand, 1.2 tonnes in Western Australia and 0.9 tonnes in Melbourne – all of which is thought to have come from Shan State.
Authorities in the region seized more than 25 tonnes of crystal meth in 2017, nearly all believed to have been produced in Myanmar. And with the Brussels-based ICG estimating that seizure rates are below 10 per cent, total production could be a staggering 250 tonnes.
"These record seizures are evidence of the scale of the problem rather than of any genuine success in addressing it," the report says. "Despite massive seizures, prices of crystal meth have remained stable, a clear indication that they are a small proportion of total volumes."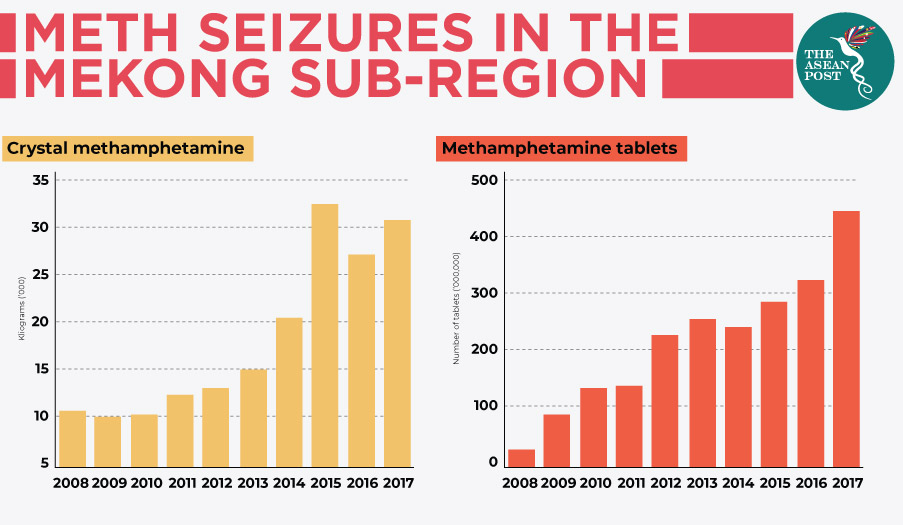 The troubled Shan State has long been a global drug producer and was the world's main source of opium and heroin – it is now second to Afghanistan.
Shan State's massive methamphetamine manufacturing and trafficking business thrives on its proximity to supplies of precursors – the chemicals needed for drug production – from across the Chinese border and huge local and regional markets for the drugs.
The report claims that China, where most chemicals needed to make meth comes from, has almost never intercepted shipments crossing its border with Myanmar. ICG also called for China to "crack down" on the illegal trade of precursors across its southwestern border with Shan State.
High-level corruption and safe havens controlled by army-backed militias or non-state armed groups are other factors which facilitate this illicit and lucrative drug trade.
In the Mekong sub-region which includes Cambodia, south-west China, Lao PDR, Myanmar, Thailand and Vietnam, the meth trade's total value is estimated at over US$40 billion a year.
ASEAN's tough stance on illicit drugs
Although other parts of the world have seen a shift in drug policies towards decriminalisation or legalisation, ASEAN has always stood firm in its zero-tolerance approach towards illicit drugs and its aspiration of a Drug-Free ASEAN.
However, Southeast Asia remains one of the world's largest methamphetamine markets and its rising amount of seizures prove that the "War on Drugs" is not achieving its desired results.
ASEAN has admitted as much, and during the 6th ASEAN Ministerial Meeting on Drug Matters (AMMD) in Vietnam last October, ministers from the 10 member countries acknowledged the continuing threat from the production and trafficking of illicit drugs in the region and the multiple record seizures of illicit drugs since 2017.
China reaffirms cooperation
Despite the alleged collusion between Myanmar and China in closing one eye to the regional smuggling networks as mentioned in the ICG report, Chinese officials insist they are cooperating with ASEAN to eradicate the illicit drug trade.
During the 5th ASEAN Senior Officials on Drug Matters - China Coordination Meeting in Brunei last August, a top Chinese narcotics control officer reiterated China's commitment to the ASEAN and China Cooperative Operations in Response to Dangerous Drugs (ACCORD) mechanism.
Stating that China will continue to strengthen its intelligence exchange and law enforcement cooperation with ASEAN countries, Wei Xiaojun, deputy secretary-general of China's National Narcotics Control Commission, said China has always closely cooperated with ASEAN to eradicate illicit drugs.
"At the bilateral level, China maintains a high level of cooperation with almost all ASEAN countries in intelligence sharing, joint drug enforcement operations, personnel training and exchanges," he said at the meeting.
"In 2017, we organised law enforcement or forensic training courses for over 100 foreign drug enforcement officers from ASEAN countries.
"With the framework of ACCORD, China has participated in activities for years and has contributed to its development," Wei said, adding that China since 2014, has contributed US$50,000 to ACCORD channelling the funds through the United Nations Office on Drugs and Crime (UNODC) regional centre every year.
The ASEAN Work Plan on Securing Communities Against Illicit Drugs 2016-2025 released by the ASEAN Secretariat in June 2017 noted that the drug situation in the region is worsening due to the reported proliferation of methamphetamine and new psychoactive substances (NPS), calling for member states to adopt a more holistic approach to overcome the challenges posed by illicit drug trafficking.
Though it recognised the need to address the continuing threat posed by the production and related distribution of illicit drugs from the Golden Triangle, the Work Plan merely stated it would "collaborate on information gathering and enhance regional cooperation to address this threat."
Stronger language and action from ASEAN is needed to stem the drug trafficking problem, and a re-think of its current policy in the "War on Drugs" will help ensure Shan State and Myanmar end its unenviable reputation as the epicentre of the global methamphetamine supply.
Related articles:
Myanmar seizes 20m pills in 'Golden Triangle' drug bust