In recent years, same-sex relations, activity, and marriage have been legalised in a number of countries (nationwide or some parts) such as in Argentina, Australia, Canada, France, Germany, and New Zealand, among others.
A rainbow flag, which is a symbol of lesbian, gay, bisexual, transgender, and queer (LGBTQ) pride and LGBTQ social movements, would be waved at pride parades carried out in different parts of the world.
However, despite the increased visibility of the pride movement, LGBTQ+ people are still facing persecution and discrimination that would sometimes lead to violence. In some countries which include a few ASEAN member states, same-sex relations and cross-dressing are illegal and even punishable by law. 
In some conservative Southeast Asian countries, homosexuality is still a taboo. Last year in Singapore, a bid to overturn a law that criminalises gay sex was dismissed by its High Court with the judge saying that the law was "important in reflecting public sentiment and beliefs" in Singapore.
Whereas in Indonesia, home to the largest Muslim population in the world, traditional religious mores tend to disapprove of homosexuality and cross-dressing. Although homosexuality is not punishable by Indonesia's national law, it is still frowned upon. 
Moreover, at the local level, homosexual or transgender Muslims can be fined or punished under provincial laws against homosexuality and cross-dressing. For instance, Indonesia's province of Aceh has a shariah-based anti-homosexuality law that punishes anyone caught having gay sex with 100 lashes.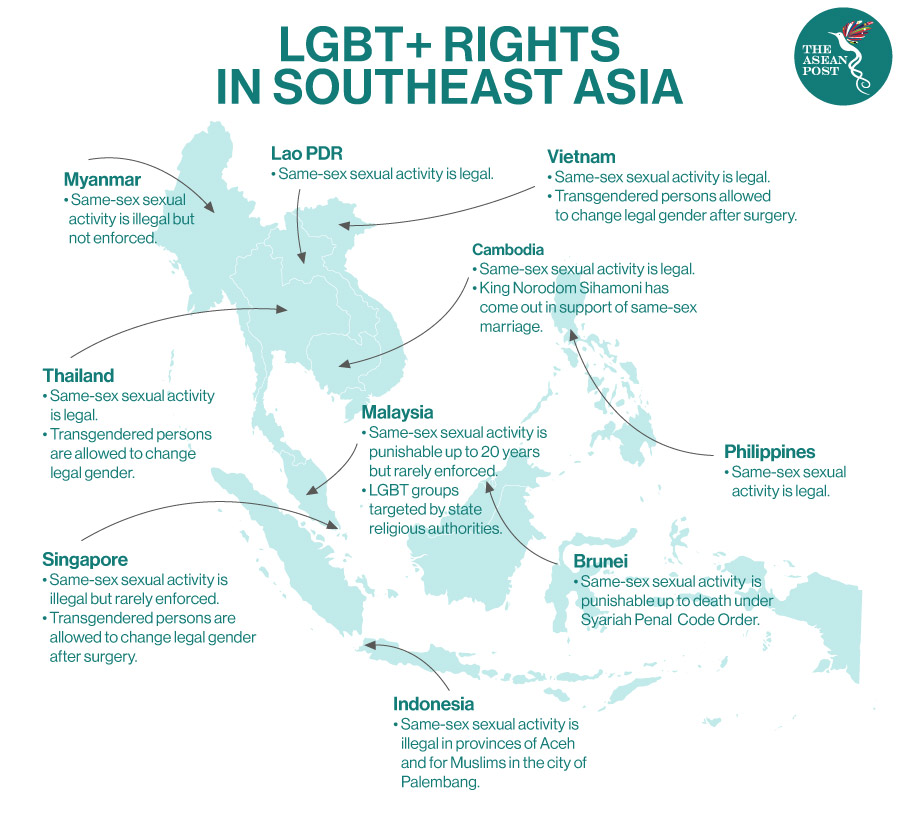 Malaysia's LGBT Issue
In Malaysia, where sodomy is a crime with laws strictly enforced, it was reported that the government is considering amending the Shariah Courts (Criminal Jurisdiction) Act – also known as Act 355 – to enable heavy penalties to be imposed on the LGBT community. 
At the moment, LGBT people face three-year imprisonment, a fine of RM5,000 (US$1,236), and six strokes of the cane, under the Act.
"Seeing the situation in the country now involving the LGBT group, the government might consider amending Act 355," said Ahmad Marzuk Shaary, Deputy Minister in Prime Minister's Department (Religious Affairs). "By doing this, the government hopes it would prevent them from committing more offences," he added.
The minister's comment was met with criticism from rights activists and local public figures, especially that it came as Malaysian premier Muhyiddin Yassin called on ASEAN countries to consider enacting stronger laws against hate speech at the first ASEAN Digital Ministers Meeting, days after.
"I wonder whether Muhyiddin is serious about his speech if he has done nothing to contain such speeches (as those by Marzuk), even if it is done by two of his strongest coalition partners," said Lim Lip Eng, a Member of Parliament of Malaysia for the Kepong constituency.
"As the Malay proverb goes, 'seperti ketam menyuruh anaknya berjalan betul' (like a crab teaching its child to walk straight), Muhyiddin has to walk the talk and must not only pay lip service to his international counterparts," he continued.
Salim Bashir, president of the Malaysian Bar also commented on the issue, saying that the LGBT community deserved to be treated equally and with respect, without the fear of being harassed or threatened.
"Meting out harsher punishments through legislative amendments is not a solution and this may result in heightened discrimination towards the LGBT community," explained Salim Bashir. "The Malaysian Bar urges the deputy minister to get his priorities in order, especially during these difficult times brought about by the COVID-19 pandemic."
The Socialist Party of Malaysia (PSM) echoed Salim Bashir's sentiment, calling on the government to focus on the coronavirus outbreak instead, which the country has reported over 180,000 cases so far.
"What is the government trying to achieve by putting out sweeping statements and announcing actions against the LGBT community?" the PSM said in a statement. "Shouldn't they be focused on the COVID-19 pandemic instead?"
Nur Sajat
Although the LGBT issue has long been a heated debate in Malaysia, it is now back in the spotlight just as celebrity entrepreneur Nur Sajat Kamaruzzaman – whose gender has been a subject of debate for years – is being investigated by the Selangor Islamic Religious Department (JAIS) for allegedly insulting Islam or causing Islam to be insulted either by mocking or blaspheming the faith and its associated practices and rituals.
Nur Sajat stands accused of dressing as a female at a religious event, an act said to have brought contempt to Islam. 
On 6 January, a video showing Nur Sajat in tears while being handcuffed went viral on social media. She claimed that she was assaulted by the state religious officers during the investigation process, causing bruises all over her body.
"Long story short, I was treated unfairly even though I gave testimony and cooperation to the JAIS. As a human being who has cooperated, I was instead remanded in a temporary detention centre in Kuala Kubu Bharu," she explained.
"I deserve to be given human rights to live like other humans too."
"I am deeply saddened and disappointed with this incident as it has affected my business and mental health," a caption on her Instagram post reads.
Nur Sajat continues to be hounded by authorities and some in the public over her gender identity. 
Last year, Nur Sajat was in another controversy when she performed the "umrah" or minor pilgrimage in Saudi Arabia wearing female attire. Nur Sajat was heavily criticised on social media after photos and videos of her performing the pilgrimage went viral.
Related Articles:
Indonesia Court Rejects Bid To Outlaw Extramarital Sex