Investigations are underway in the Philippines of establishments and other businesses that not only cater solely to Chinese nationals, but are also rejecting local Filipino customers. Just recently on 6 May, presidential spokesperson Salvador Panelo told the press that Labor Secretary Silvestre Bello III will be asked to begin a probe on the matter.
"We have to investigate that, if that is true. We cannot allow that to happen. They cannot be discriminating against Filipinos. It's a public business and therefore it should cater to all," said Panelo during a news briefing at the Philippines' Malacañang Palace.
He had also urged any Filipinos who encounter such Chinese-only establishments to file a complaint with the Department of Trade and Industry (DTI) or the local government of the area where the business is located. His comments followed that of Senator Panfilo Lacson's earlier call for the closure of Chinese-only businesses, saying Filipinos are "being treated like second-class citizens in our own land."
Lacson also said allowing Chinese nationals to put up small and medium enterprises (SMEs) in the Philippines could deprive Filipino entrepreneurs of opportunities and markets.
The matter had come to light following allegations in April that a food park named China Food City was catering only to Chinese nationals and that, despite being located on Filipino soil, Filipinos were not allowed to enter the place. Apparently, the food park has all its signage written in Chinese, including their menus, and almost all of its employees are Chinese except for a few Filipinos supposedly hired to help with the language barrier.
The matter quickly went viral on social media and, naturally, many Filipinos expressed outrage on social media at the alleged discrimination. 
"Being racially discriminated against in your own country. Just great. Just freaking great," said one Facebook user, while another added "Di niyo pa ba napapansin?? Nabenta na tayo sa China," (Can't you see?? We're being sold to China.)
The Chinafication of the Philippines 
It is yet to be confirmed whether China Food City is indeed prohibiting local Filipinos from patronising it, but Chinafication in the Philippines has been an ongoing concern for some time.
In November, a report quoted Philippines Trade and Industry Secretary Ramon Lopez as saying that the construction of a 305-hectare integrated steel manufacturing plant in Mindanao, is expected to generate 50,000 jobs for Filipino workers.
Set to be completed in six to seven years, the project will be carried out in three phases, and will consist of a port, an integrated steel mill with a capacity of 10 million tons, as well as an industrial park.
The fact, however, that Chinese steel company named Panhua Group will set up the US$3.5 billion investment project at the PHIVIDEC Industrial Estate of the Misamis Oriental-Special Economic Zone in Mindanao raises the question of who will end up getting the 50,000 jobs. The statistics of population versus unemployment between China and the Philippines, just further highlights that concern.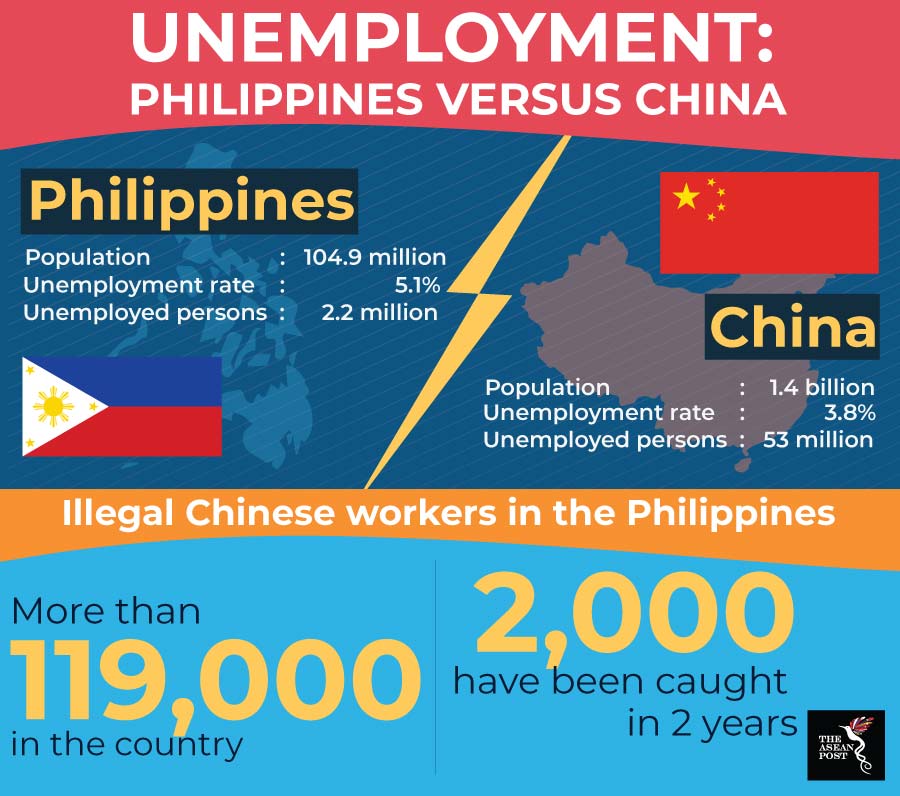 Source: Trading Economics
Why Filipinos should worry
In November, reports surfaced that the Senate labour committee in the Philippines was looking into the proliferation of presumed illegal workers from China. According to the reports, numbers had risen around Metro Manila to a degree that did not match official employment numbers from the Department of Labor and Employment (DOLE).
The Senate panel learned that the number of Chinese from the mainland entering the Philippines as tourists before obtaining short-term special permits to work in online gambling operations numbered in the tens of thousands. At a hearing of the Senate Labor Committee, Senator Joel Villanueva expressed alarm and indignation after immigration and labour authorities admitted that more than 119,000 "tourists", were able to skirt labour regulations to gain temporary employment in the country. Senator Franklin Drilon, a former labour secretary, put the number even higher and said there could be as many as 400,000 Chinese working for gaming operators and other outsourcing companies that mostly service clients from China.
Here are a number of reasons why Filipinos should worry if something is not done soon to end the apparent Chinafication on their home soil. First, is the fact that many Chinese are coming into the country to work. Secondly, more jobs are being created but there is a likelihood that those jobs will be taken up by Chinese. And thirdly – and perhaps most important of all – is the alleged gall of some Chinese-owned businesses refusing to serve local Filipinos. 
If these worrying trends continue, it is likely that Filipinos may end up being treated like immigrants in their own country. Let's just hope that it does not come to that.
Related articles:
The making of new Chinese colonies