Indonesia's president Joko "Jokowi" Widodo has done it again. Not only has he managed to hold on to his position for a second term, he beat his old rival Prabowo Subianto with an even bigger margin than he managed in 2014. This time around, Jokowi garnered 55.5 percent of the votes against Prabowo's 44.5 percent, according to the final ballot count announced by the election commission (KPU) early last Tuesday.
Jokowi and his vice-presidential candidate Ma'ruf Amin received 85,607,362 votes, or 11 percentage points more than the 68,650,239 votes cast for Prabowo and his running-mate Sandiaga Uno, said KPU commissioner Evi Novida Ginting Manik after an extended plenary meeting. 
The presidential election victory, however, is seen by some observers as only winning the battle and not the war. Many had expected Jokowi to win and he must now prove to Indonesians that they made the right choice in granting him a second and, by law, a last term as president. The president now has just five years to fulfil all his promises made to the people. 
Unfulfilled promises
Back in 2014, Jokowi (like all would-be presidents around the world) made several campaign promises. Observers all over Indonesia have taken note of the promises he kept and the ones he didn't. Jokowi now has the golden opportunity to go down in history as a man who kept his word. 
Perhaps the unfulfilled promises that disappointed observers the most were the issues of human rights and graft eradication. While both were certainly big promises to make, Jokowi made them regardless, and so - at the very least - strong advances towards fulfilling those promises must be seen.
In October last year, the Commission for Missing Persons and Victims of Violence (KontraS) was quoted by Indonesian media as accusing Jokowi of putting human rights on the backburner. In its evaluation report, KontraS noted that Jokowi had failed to carry out most of his own 17 priority human rights programs.
Based on the Jokowi administration's "Nawa cita" (nine priorities) document, KontraS said Jokowi's administration has 17 programs or promises relating to human right issues. KontraS noted six programs were not fulfilled and 11 promises were incompletely finished.
"His administration failed to accomplish most of its initial commitments about human rights," KontraS commissioner Yati Andriyani was quoted as saying.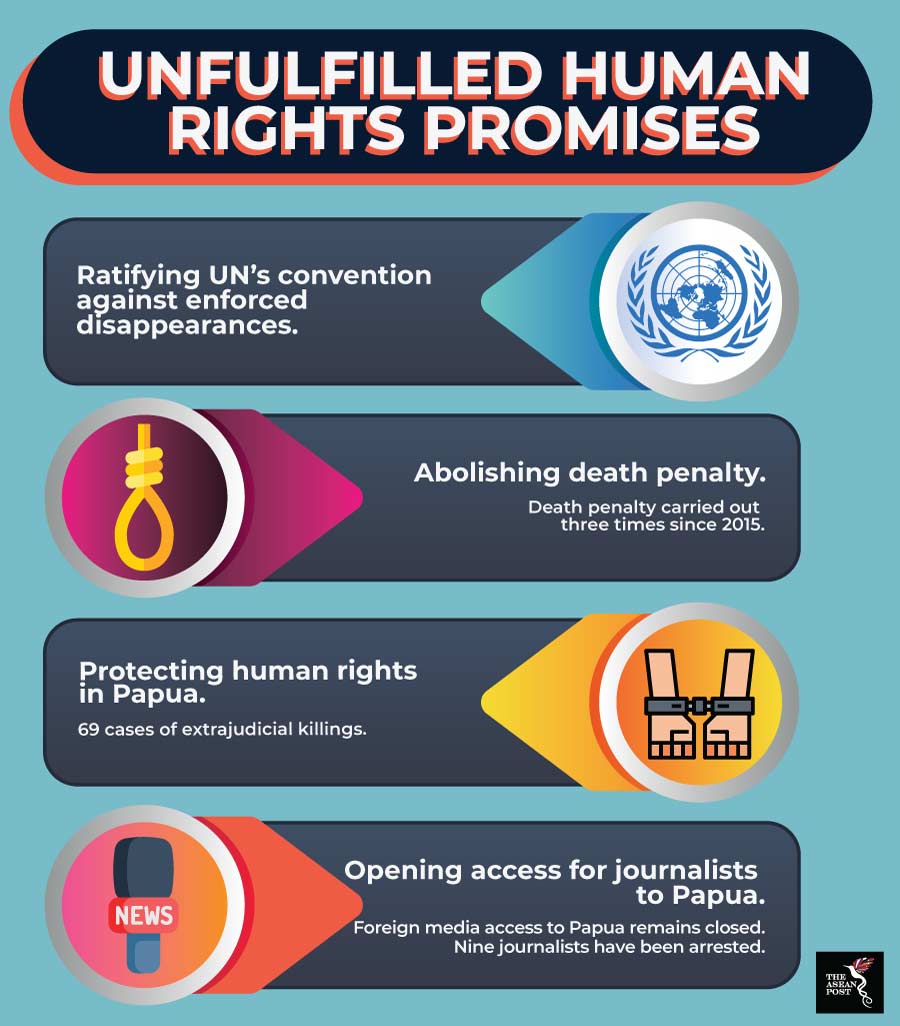 Source: KontraS
The situation in West Papua has gotten especially bad after militants there killed more than a dozen workers and security staff who were building the Trans Papua Highway back in December 2018. The military's response was swift and forceful, leaving many humanitarian issues in its wake. 
"The United Nations needs to ensure that humanitarian supplies including food, water, and medicines reach areas of West Papua which are presently blockaded by the Indonesian military," said Jacob Rumbiak, spokesperson for the United Liberation Movement for West Papua.
Corruption
In January, Transparency International released the results of its Corruption Perceptions Index (CPI) 2018, which looks at the perception of corruption in 180 countries. The index is often highly anticipated and is used as a drawing point to gauge a country's (or even a region's) level of corruption. Based on Transparency International's score scale, 100 is very clean and zero is very corrupt.
Most of the region, as expected, did not perform too well with the exception of Singapore. In Indonesia's case, the country did manage to gain one point to earn 38 points as opposed to 37 in 2017. However, this score is still dismal and worrying, and pales in comparison to neighbouring Malaysia which scored 47 in both, the 2017 and 2018 indexes. 
The fact that Indonesia has not done well in eradicating corruption is especially unfortunate considering the fact that one of the main reasons Jokowi was elected in the first place was because he was seen as a clean politician, especially during his time as governor of Sukarta and later, Jakarta.
"We feel disappointed with the incumbent president, because we put high expectations for him," Jakarta-based NGO Indonesian Corruption Watch political corruption division coordinator Donal Fariz told local media back in April. "He focused on his infrastructure agenda rather than how to build the legal system or better anti-corruption institutions."
Today, Jokowi is perfectly placed to leave a good mark on Indonesia. He has won his second term and, as Indonesian law dictates, does not have to worry about competing for a third term. On top of that, because Indonesia has not changed its president, there isn't as much economic uncertainty to worry about. Jokowi should realise why Indonesians chose him over Prabowo and among those reasons is possibly because they believe that he is the man who will ensure the country respects human rights and has little to no corruption. Jokowi's next five years will determine how he goes down in history, let's hope he chooses wisely. 
Related articles:
Papua massacre shines light on forgotten conflict