The coronavirus crisis has resulted in devastating impacts on livelihoods and the world's economy. The International Monetary Fund (IMF) stated that the pandemic is pushing the global economy into its deepest recession in a century. "The Great Lockdown" – as the IMF calls the global downturn – is the worst since the Great Depression of the 1930s.
As it was with other recessions and past financial crises, unemployment tends to rise quickly, and often remains elevated during said tough times. Millions of people have experienced retrenchment, furlough and salary cuts amid the COVID-19 pandemic. Back in April, the Asian Development Bank (ADB) warned that around 68 million jobs could be lost in Asia due to the crisis.
Throughout history, unemployment among youths aged 16 to 24 has always been the highest in an economic downturn, followed by prime-age workers (25 to 54), and finally older workers. Nevertheless, recent data in the United States (US) has shown a different pattern as the economic downturn has slammed young workers hard just as it has around the world, and even in Southeast Asia. The next most severely affected group in the US is older workers.
The same pattern can also be seen in a few ASEAN member states.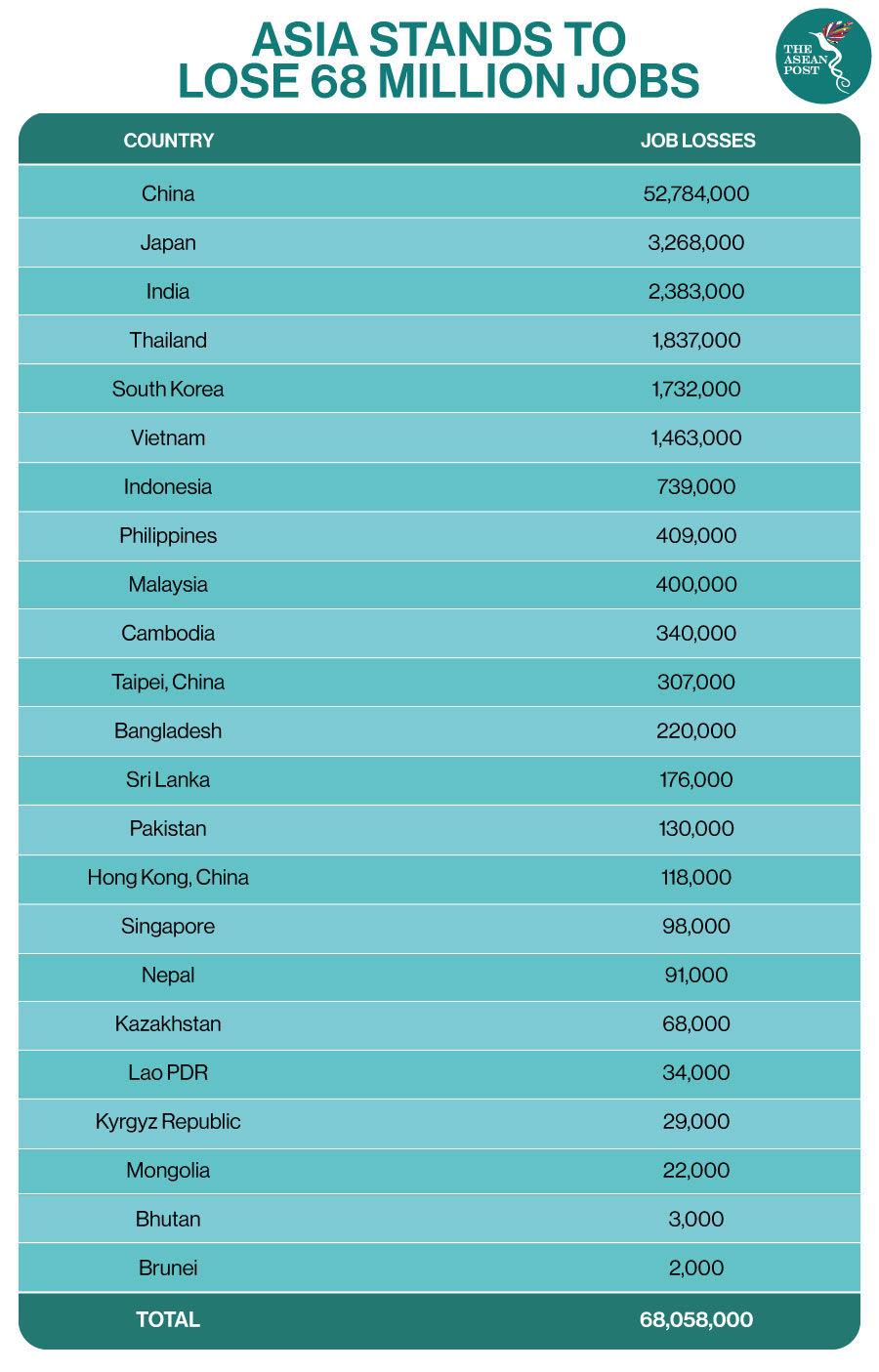 In the case of Malaysia, it was recently reported that older workers, particularly those aged 45 and above are now less likely to find employment in the weak labour market following the coronavirus crisis. A report by the country's Employment Insurance System revealed that a total of 18,397 Malaysians in that age group have lost their jobs so far this year.
"Employers are now focused on a person's skills and experience in assisting business recovery, rather than age," said Shamsuddin Bardan, executive director of the Malaysian Employers Federation (MEF). "The younger generation has an advantage, especially those who are more agile, flexible and IT-savvy compared with older workers. They are generally digitally savvy and can accept new forms of employment such as the gig economy and e-commerce platforms," he added.
In neighbouring Singapore, experts say the looming recession will hit more experienced employees hardest as they are often perceived as inflexible and unable to quickly adapt to fast-moving work environments compared to younger workers. Data from 2019 showed that six months after being laid off, 76.3 percent of those in their 30s found another job, compared to 65.8 percent of workers in their 40s and 52.2 percent of those in their 50s.
Other than that, the coronavirus pandemic has also forced older workers into involuntary retirement. Shamsuddin Bardan said that those closer to retirement age may be among the first to be retrenched to ensure younger employees can continue contributing to the company.
Ageism
Age discrimination has long tainted labour markets despite legal prohibitions. A big question mark looms on whether ageism in the workplace will worsen in a post COVID world.
Gerontologist Robert Butler who coined the term ageism defined it as a process of stereotyping and discriminating against people because they are old.
A 2020 study titled, "Ageism in the Workplace" published by human resource (HR) firm Randstad looked at the prevalence of ageism in the workplace in Singapore and found that 31 percent of young respondents avoid any interaction with mature workers. In addition, 57 percent of all respondents feel that they have fewer training opportunities as they get older. 
The study also revealed that the mean age the 1,052 locally-based respondents think that they will reach career stagnation is 48 years old.
Megan Ching from Singapore University of Social Sciences (SUSS) said that poor attitudes about older workers and their ability to learn, adapt and work make them an exposed group in a COVID-19 economy.
In her article titled, "Older workers vulnerable to rising tide of retrenchment as ageist mindsets persist," she explained that an ageist workplace typically assumes the older worker to be part of a homogenous group with outdated skills.
"They are viewed as less flexible, not technologically orientated and more expensive hires. Regardless of their individual abilities, older workers are stereotypically ranked lower in creativity, alertness, health, ambition, physical strength and productivity."
Nevertheless, Chan Chun Sing, Singapore's Trade Minister stated in March that authorities were aware of such concerns among older workers who are between 40 and 50 years, and that the island state was on track to see a doubling of job placements for this age group to 5,500 by 2025, mostly through redesigning, reskilling and recruiting, as reported by local media.
Related Articles:
ASEAN Youth Facing Unemployment