The World Economic Forum (WEF) recently released its 2020 Global Gender Gap Report. The report assessed the rate of gender parity and concluded that it would take another 99.6 years before gender parity is achieved. In other words, there remains to be a 31.4 percent gender gap globally.
The countries that fared best were mostly Nordic countries with Iceland ranking number one, followed by Norway, Finland, and Sweden.
Each country's performance was measured using a framework of four dimensions; Economic Participation and Opportunity; Education Attainment; Health and Survival; Political Empowerment. 
The dimension of Health and Survival is the highest performer, having closed 97 percent of the gender gap. This includes factors such as women's access to healthcare. 
The dimension with the largest gap remains in the Political Empowerment dimension at 25 percent. Nonetheless it is the most improved performing dimension of the four. This dimension measures participation of women in parliament and the number of women ministers in the country. 
While the dimension of Education Attainment is at an advanced stage of 96.1 percent, the dimension of Economic Participation and Opportunity is proving difficult to achieve. Gender gap in wages seem to be at a stall without even the highest-ranking nations making any substantial achievements. 
ASEAN Nations vary on the global ranks with Philippines at 16th and Myanmar at 114th.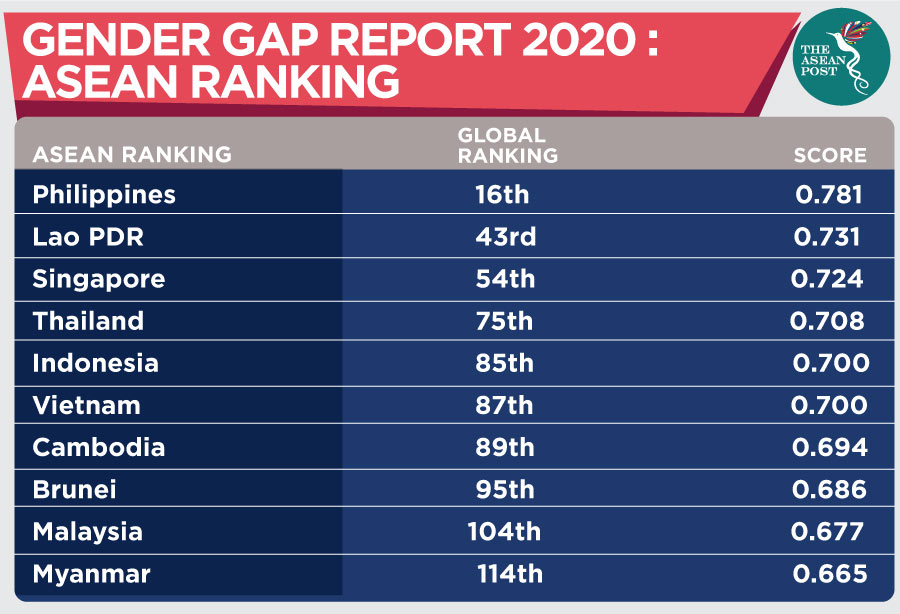 Despite accelerated improvement in previous years, Indonesia remains at 85th out of the 153 economies for a second year running. Indonesia still has one of the world's largest share of women in senior and leadership roles. Its failure to move up the ranks is due to a huge disparity of women in the labour market as well as income distribution.
Ranking at 87th globally, Vietnam is among the nine countries that have failed to close at least 97 percent gap in Health and Survival. This means that women in Vietnam are still not granted the same access to healthcare as men. Other large nations in this group include Pakistan, India, and China. 
Vietnam also holds the lowest representation of women in politics with only one woman in the cabinet of 25 ministers. Other factors within the framework remains unchanged since 2018.  
Malaysia and Myanmar are among the worst performing ASEAN countries, ranking 104th and 114th respectively. This puts both countries below a majority of Sub-Saharan African countries. 
Malaysia fell three ranks since 2018. Its best performance is in Education Attainment, in which it stands 86th globally. Malaysia ranks at 117th in Political Empowerment, of which it fared better than Thailand, Myanmar and Cambodia in ASEAN. 
Although Philippines fell eight ranks, it still remains Southeast Asia's best performing country at 16th globally. Its strongest performance was attained in Economic Participation and Opportunity, while its lowest rank is 41st for Health and Survival. 
At second best in ASEAN is Lao, which ranks top ten in the world for Economic Participation and Opportunity, having closed 83.9 percent of the gap, under this dimension it ranks third in the world behind Iceland. 
Singapore improved by 13 ranks, now at 54th globally. Its best performance is in Economic Participation and Opportunity at 20th worldwide, however it is 133rd in Health and Survival, falling behind majority of ASEAN countries. 
Vietnam fell 10 rankings at 87th globally. Its highest ranking is 31st for Economic Participation and Opportunity. Its fall can be attributed its poor performance in Political Empowerment, and Health and Survival, which ranked at 110th and 151st respectively. 
The report indicated an overall deterioration in Political Empowerment for the East Asia and Pacific region.
Separating the average by region, the WEF estimates that East Asia and Pacific will take another 163 years to close the gender gap, the longest compared to any other region including the Middle East and North Africa. 
Interestingly the study found that the "Role Model Effect" could be a factor that could accelerate improvement. In an analysis of the top eight performing countries, there is a positive correlation between women in politics and women in senior roles in the labour market. 
The report highlighted a major risk in the lack of representation and opportunity for women in future jobs. ASEAN could be at the forefront of this observation as it leads into the fourth industrial revolution.
Government and companies have the responsibility of implementing policies based on these findings to improve the conditions of women as we have observed in countries of higher rankings where there is an undoubted increase of social and economic gain.  
Related articles:
The gender gap in Indonesia's corporate world
'Too hard for girls': IT student defies Vietnam's gender norms