Asia, which houses 43% of the world's population holds only 13% of total global insurance premiums as of 2016, according to the 2017 UBS report, 'Shifting Asia'. Out of this 13%, ASEAN countries make up just 3.8%, according to the Asia Insurance Market Report 2016 by advisory firm Willis Towers Watson.
In the Southeast Asian region, this low insurance penetration rate is due to a range of factors, including low levels of financial education, lack of access to financial services, and fewer affordable insurance packages.
Insurtech is expected to transform this landscape by leveraging mobile solutions and big data to provide more informative, consumer-friendly platforms as well as tailored risk assessments in the long run.
The innovation of insurtech
'Insurtech' is defined simply as a portmanteau of the words 'insurance' and 'technology' according to financial education site Investopedia. It works by combining data analytics, artificial intelligence, and occasionally blockchain technology to create tools that bypass traditional insurers' methods of gauging risk, granting insurance coverage and processing claims.
Aggregators function by aggregating data from various insurance providers and providing an easy comparison for end users to make a decision on. The use of telematics in insurtech, on the other hand, relies on the use of devices to track data relevant to insurance underwriters, such as health metrics for health insurance, and driving habits for auto insurance.
By leveraging data to assess risks more efficiently, insurtech is expected to drive down the cost of premiums thereby increasing market penetration within Southeast Asia. Traditional insurance may sometimes impose a higher premium on applicants who fall within a particular risk category, rather than assign them a custom plan for their particular circumstances.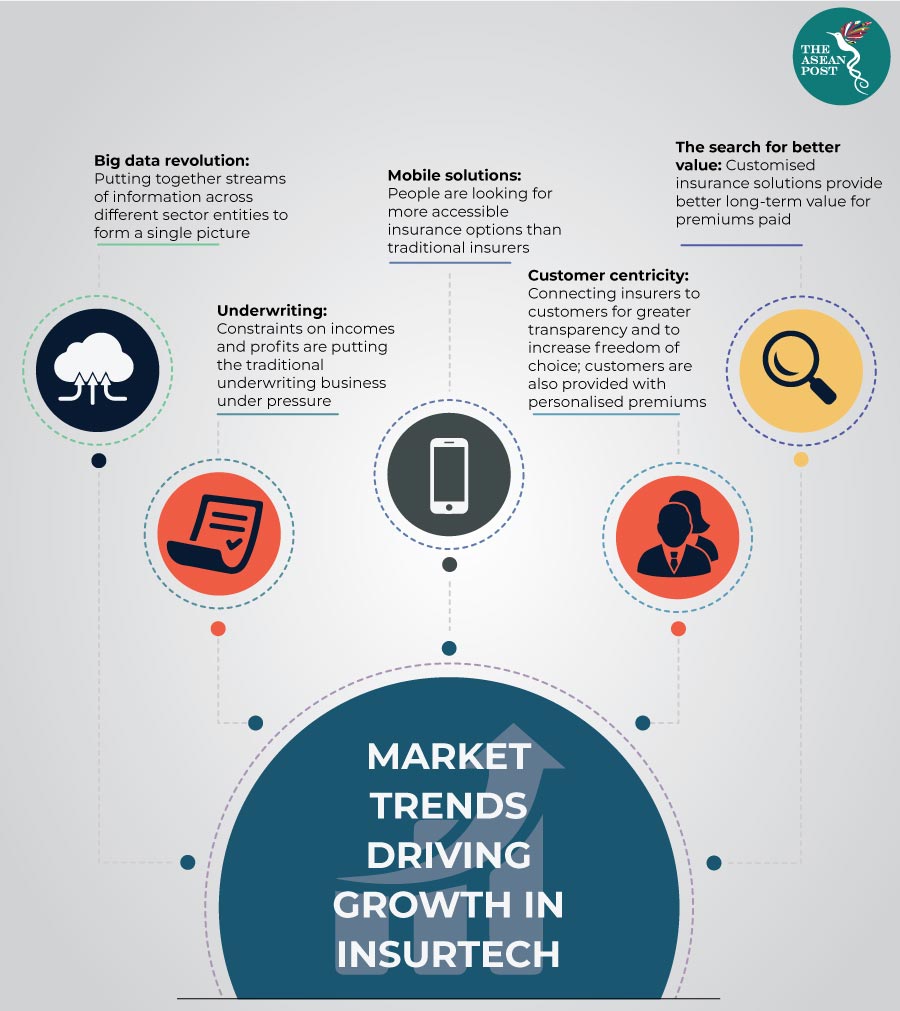 Southeast Asian governments have encouraged insurtech start-ups by introducing regulatory sandboxes for fintech start-ups with limited funding to test out unproven business models within existing regulatory frameworks.
Singapore's Policy Pal became the first graduate of the Monetary Authority of Singapore's regulatory sandbox in September 2017. Policy Pal now partners with traditional insurers to offer customers a one-stop hub for them to track all their insurance policies online. They have recorded 9,000 sign-ups as of March 2017.
Meanwhile, in October last year, Malaysia added Jirnexu to its regulatory sandbox so it could build an insurance e-commerce site selling insurance from multiple providers at once.
"We want to be working with at least 50% of the insurance market by 2019. Of course, this includes life, general and takaful," Lucas Ooi, Jirnexu director for insurance told Malaysian news agency, Bernama recently.
Thailand's more prominent insurtech startups have been focused on auto insurance so far, with insurtech start-up Claim Di simplifying lengthy claims procedures and AgentMate by Appman Co. providing mobile insurance tools for insurance agents to access claims from just about anywhere.
Meanwhile, market penetration for insurance is still very low in Indonesia and the Philippines. Only 2.1% of Indonesians had life insurance in 2016, according to the Asia Insurance Market Report 2016, and only 11% had a bank account.
In the Philippines, insurance penetration constituted just 2% of the population according to the same report. Although it has a few notable insurtech start-ups spanning health, motor and employee insurance, there remains plenty of room for insurtech to address the lack of insurance education and affordability among the population there.
On the other hand, insurtech has an even less pronounced presence in Cambodia, Lao, Vietnam and Myanmar according to George Kesselman, founder of InsurTechAsia, an initiative focused on building the regional insurtech ecosystem.
Market disruptors or market partners?
According to the same report, 'Shifting Asia' by UBS (2017); the traditional insurance system in Asia poses high barriers of entry for insurtech companies due to the traditional insurance company being in possession of proprietary data, proven methodologies for risk assessment and in-depth understanding of different industries. This can make things difficult for insurtech companies who have to play catch up to level the playing field.
Meanwhile, traditional industry people also need to be factored into the equation. Winnie Chua, co-founder of Malaysia's Policy Street estimates that 70% of gross written premiums (GWP) for life insurance policies in Malaysia are still dispensed by insurance agents, showing that the role of the insurance agent cannot be displaced quickly or entirely.
To adapt, certain roles might need to undergo some changes. Underwriters, for instance, might need to familiarise themselves with data analytics and algorithmic processes in order for their role to remain relevant, said Brian Dupperreault, chief executive of American International Group (AIG).
Going forward, it is likely that partnerships between insurtech start-ups and traditional insurers will be a more beneficial route to take than trying to outdo each other.
"Some may see us as competing with insurance agents, but we are introducing the hybrid model for customers. Customers can transact general insurance products on our app and buy life insurance products from insurance agents through our platform," said Val Yap, founder of Singapore's PolicyPal in an interview for the report, 'Shifting Asia' by UBS in 2017.
For traditional insurers, the way forward is to adapt to changing market conditions. According to Winnie Chua, only 28% of traditional insurers in Malaysia formed partnerships with insurtech start-ups in 2016 to explore the use of new technologies in their businesses. Yet this statistic is likely to change quickly as market conditions are resulting in the need for more personalised solutions even for existing insurance policy holders.
In the long term, it is possible for both, traditional insurers and insurtech start-ups to integrate their knowledge fields and reap shared benefits. For now, insurtech start-ups still need to develop solutions that fit the needs of the market they are catering for.