Tan Min-Liang, co-founder of one of the world's most recognisable gaming brands, Razer, has some exciting times ahead of him. His brainchild, founded in 2005, is now the premium brand for gamers worldwide. It is a company that has become synonymous with video game culture and has earned a loyal following amongst professionals and amateurs alike.
After 12 years, the company is finally on the cusp of launching an IPO in Hong Kong. Razer is expected to raise between 450 and 550 million dollars – and they could be valued in the area of 4.5 billion dollars.
Humble beginnings
Razer came into existence as a subsidiary of kärna LLC in 1998. It was where Tan and his partner and co-founder, Robert Krakoff, came together to create the Razer Boomslang, a mouse targeted at elite gamers. Though kärna would cease to operate in 2000, Tan and Krakoff were able to secure the rights to the Razer brand in 2005. The Razer brand has become synonymous with gamer culture. Their imprint can be found everywhere from video game tournaments, IT shows, and even episodes of anime series. Tan himself has become something of an icon. He is a key figure in gaming mythos and has served as the inspiration for characters in a number of critically-acclaimed video games.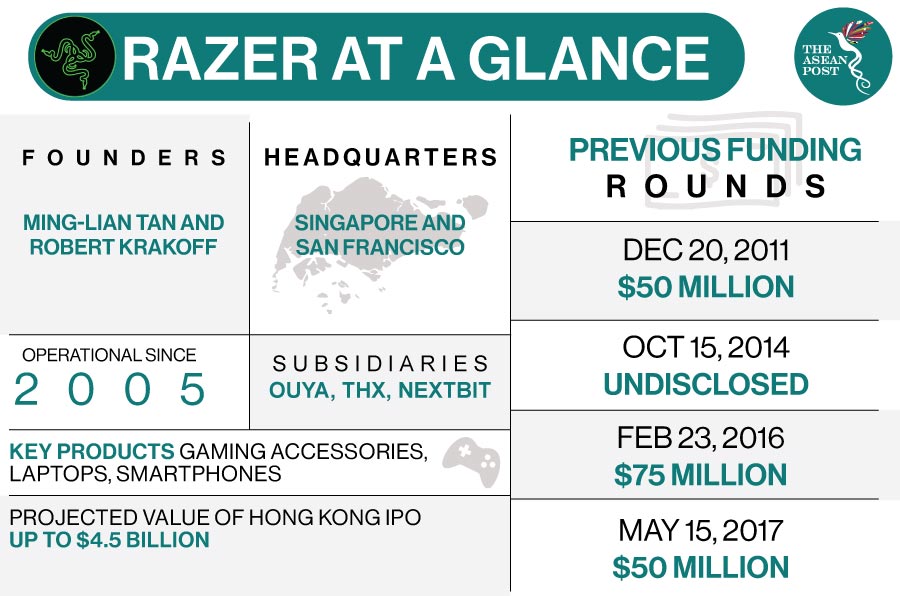 Building a global presence
Razer's brand has been embraced by millions of gamers worldwide. Their products, while not cheap, are what many amateur gamers aspire to own.
Since the launch of the original Boomslang, Razer has greatly expanded its product portfolio. They still produce gaming mice, but their core product offering permeates every aspect of the video game experience.
There is rarely a time when customers aren't able to find a Razer accessory for their gaming needs. The company providers everything from Xbox and Playstation controllers, mechanical keyboards, laptops, and headsets. Their tagline of "For Gamers. By Gamers" is instantly recognisable to those with an interest in video games.
They've recently also entered the mobile phone market with the Razer Phone. Marketed as the ultimate phone for gamers, the Razer phone packs powerful performance capabilities, an ultra-sharp wide screen display, and a 4,000 mAh battery.
Looking toward the future
It would be a safe bet to say that Razer is going to continue to lead the way in the area of gaming peripheral innovation. However, though they are still the most recognisable brand name, there are those who are also starting to challenge them – including a Singaporean rival brand called Armageddon.
Razer is another great success story for Southeast Asian technology firms. It is another company that shows ASEAN creativity, business acumen, and an ability to penetrate the global market.
Tan has used his celebrity to attempt to create positive change in his home of Singapore, as well. He recently made headlines by responding to Singapore's Prime Minister Lee Hsien Loong's lamentations about the inconvenience of e-payment solutions in the island nation. After promising to propose a solution within two weeks, Tan mobilised his team and created a 36-page proposal about how they could help tackle the problem. This has been taken into consideration by the Singaporean government.
Related articles:
Liquid society - Women at work, speak up!
ASEAN Roundup: October 30 - November 5, 2017
Competition and influence of USA and China in Southeast Asia