Artificial Intelligence (AI) has been implemented in many major industries since the term was first coined in the 1950s. Specific applications of AI include expert systems, natural language processing (NLP), speech recognition and machine vision. In Southeast Asia where e-commerce is a big and booming business, online retailers have embraced the adoption of AI applications such as chatbots to improve the customer experience for shoppers online. 
In recent times, accelerated by the COVID-19 pandemic, many industries around the world are finding ways to increase efficiency and lower operating cost, including automating their customer support and call centres – for every imaginable business operation. 
One of the ways AI could be of assistance in automating customer service is through the use of chatbots. A chatbot is a domain-specific conversational interface that uses a messaging platform, social network or chat solution for its conversations. Chatbots can come in a simple form, where keywords are scanned from customers' inquiries to deliver pre-packaged answers, while more sophisticated chatbots are powered by AI and machine learning (ML). 
AI chatbots can use natural language processing to create responses and conversations and actively learn from interactions they have with customers. 
According to Gene Alvarez, managing vice president at research and advisory company, Gartner – by 2020, 25 percent of customer service and support operations will integrate chatbot technology. He said that chatbots "should enrich the customer experience, help the customer throughout the interaction and process transactions on behalf of the customer."
Natural Language Processing
Natural language processing (NLP) is essentially a form of AI that focuses on analysing the human language to create advertisements and can even help with texting by providing spell checking, autocomplete and autocorrect functions. Other than that, NLP can assist companies in aggregating and analysing feedback such as in social media, reviews, and contact forms among others – turning it into actionable insights that can help improve businesses. Today, chatbots have made live agents unnecessary as the first point of communication for some customers. 
The demand to automate support services has been growing rapidly. Nevertheless, the technology available to organisations and businesses wanting to build machines to understand human speech is limited. 
Curtis Matlock, CEO of Proto, a Canada-based market-leader in AI Customer Experience (AICX) solutions for emerging markets told The ASEAN Post that most available NLP engines were, "English-based or built English first. When you adapt these with pre-processing steps into character-based languages such as Thai, Chinese or Japanese, the accuracy is reduced significantly."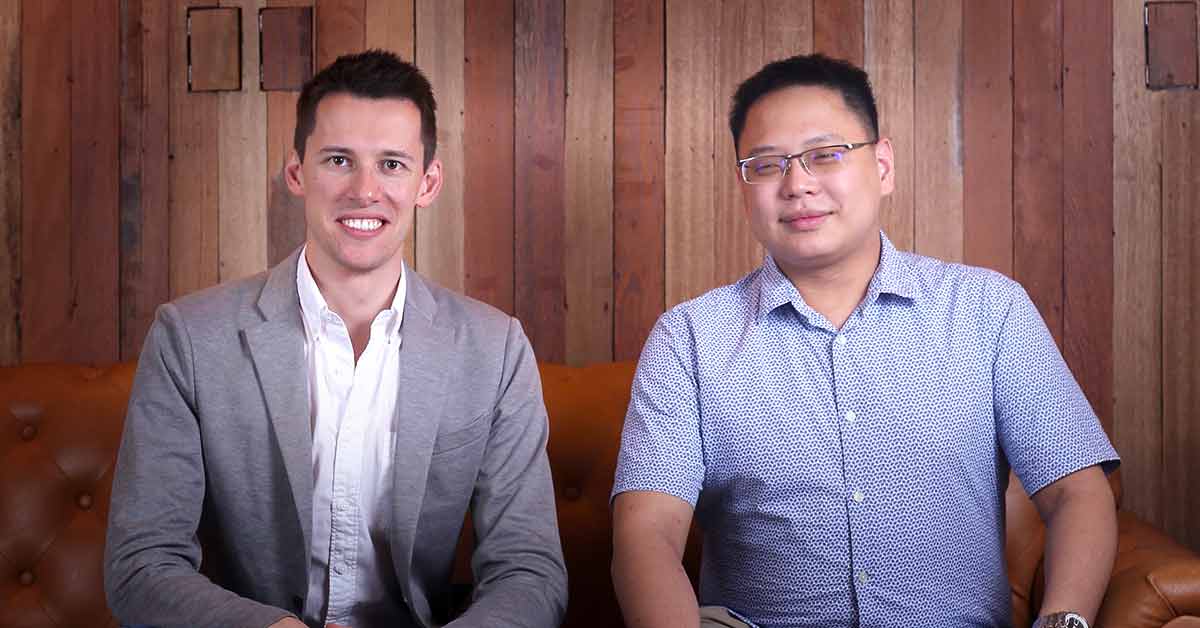 Proto's HermesAI™, the company's natural language processing engine has raised the standard for conversational AI in non-English markets. It enables chatbots to understand phrases with two or more languages such as 'manglish' in Malaysia or even 'chinglish' (slang for spoken or written English that is influenced by the Chinese language).
Malaysia And Beyond
It was reported that Petroliam Nasional Berhad (PETRONAS), Malaysia's oil and gas company, was in search for an NLP engine that could understand 'manglish'. Manglish is an informal form of Malaysian English which features an English-based creole principally used in Malaysia. It is heavily influenced by the dominant languages in the multicultural country – Malay, Chinese dialects and Tamil. In addition, PETRONAS also wanted a customer support automation platform that is vertically integrated with an NLP engine for manglish – which is rather rare to find. 
PETRONAS' quest was realised by Proto, which has a vertically-integrated customer experience product suite and proprietary natural language processing (NLP) engine for non-English languages. 
Matlock explained that PETRONAS was looking for a range of best-in-class companies to develop an IOT (Internet of Things)-integrated automation-solution for their petrol stations' customer support and preventative maintenance needs under their TipTop program.
Proto was tasked with integrating with petrol station IOT sensors and communicating directly with dealers through WhatsApp, webchat and other channels with consumers.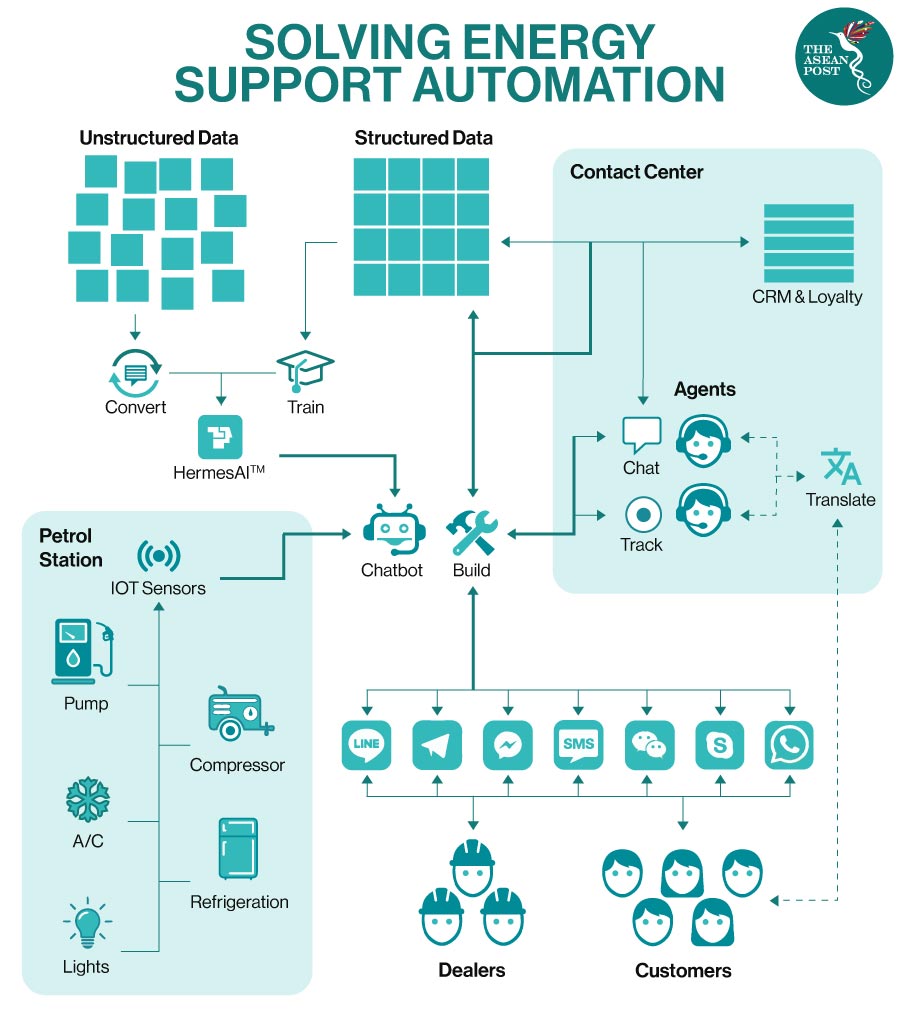 Proto which has been around for three years has assisted in boosting customer value and automation rates across numerous emerging markets with natural language processing. They have worked with Fortune 500 enterprises and government organisations around the world such as the Bangko Sentral ng Pilipinas (Central Bank of the Philippines), where the technology was procured via a competitive process with sponsorship from the Bill & Melinda Gates Foundation, Omidyar Network, and USAID.
Proto recently delivered multilingual educational chatbots to African health services during the COVID-19 pandemic, in order to fight misinformation.
"Unlike most chatbot vendors, Proto has its own Natural Language Processing engine. This allows us to rapidly refine the AI performance in niche languages across emerging markets," said Matlock. "So, during the COVID-19 crisis, we're applying this tech to health services in Africa that need efficient mass-communication solutions to deliver accurate information at this critical time."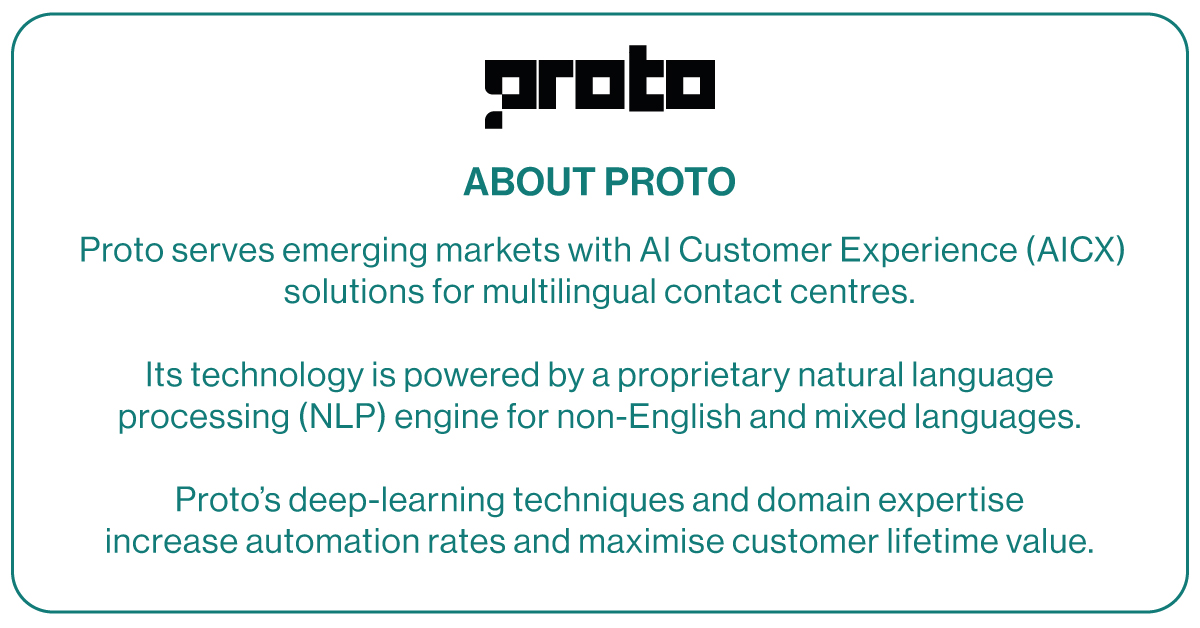 Related articles: