According to a study by global workspace provider Regus, 73,000 jobs under flexible working arrangements are tipped to be created come 2030. The study looked at flexible working in 16 key markets among which included Singapore. Professional, business support, public administration, information and communication, financial and property services are projected to account for 83.5 percent of the total value of the flexible working contribution to the economy by then, and between eight and 13 percent of all employment will fall into the flexible working category in most developed economies by 2030.
Regus expects that the contribution from flexible working arrangements will raise Singapore's economy to SGD54.8 billion (US$39.8 billion) by 2030, up from SGD27.3 billion (US$19.8 billion) currently.
An index published by the Urban Redevelopment Authority (URA) showed that rents in Singapore's central area have risen by three percent in the three months leading up to September 2018, the biggest jump since 2014. Data from the URA revealed that demand had continued to grow faster than supply for the fourth consecutive quarter, resulting in a fifth straight quarter of rental growth. But with demand accelerating, supply dwindling, and rents forecast to remain firm until at least 2022, Singaporean employers are looking at other options.
According to Tay Huey Ying, head of research and consultancy in Singapore for JLL, a prominent real estate services company; rising rents and shrinking leasing opportunities are driving a growing number of employers to explore the option of maintaining a small presence in the Central Business District (CBD) while relocating the rest of their operations outside.
It is important to note, however, that while flexible working could entail remote working, this is not necessarily always the case.
Industry 4.0
Regus' findings are coherent with another survey by recruiting firm Hays which polled 1,253 professionals and 951 employers. According to the survey, the lion's share of employers – 89 percent – said flexible working options are very important or important when it comes to staff attraction and retention. Of the professionals surveyed, 33 percent said flexible working options were critical to their remaining in employment. A further 63 percent said flexible working options were 'nice to have'. Just four percent said flexible work was not important to them.
Based on comments from former managing director of Hays Australia and New Zealand Nick Deligiannis, there seem to be two main catalysts behind the strengthening link between Industry 4.0, or the Fourth Industrial Revolution, and flexible working: millennials and emerging technologies which have made flexible working arrangements more accessible and transparent.
On millennials, Deligiannis claimed they are pursuing work-life integration rather than work-life balance and are happy for work and life to coexist – provided their employers allow them to utilise technology to work flexibly.
"Younger workers are also more willing to move from one work assignment or contract to another than previous generations and have higher levels of confidence when it comes to sharing and collaborating securely online," he said.
Hays believes that among the reasons flexible working conditions are in demand include living further from central business districts to access affordable housing, balancing ongoing caring responsibilities, ramping back up after parental leave or throttling back from full time work towards retirement.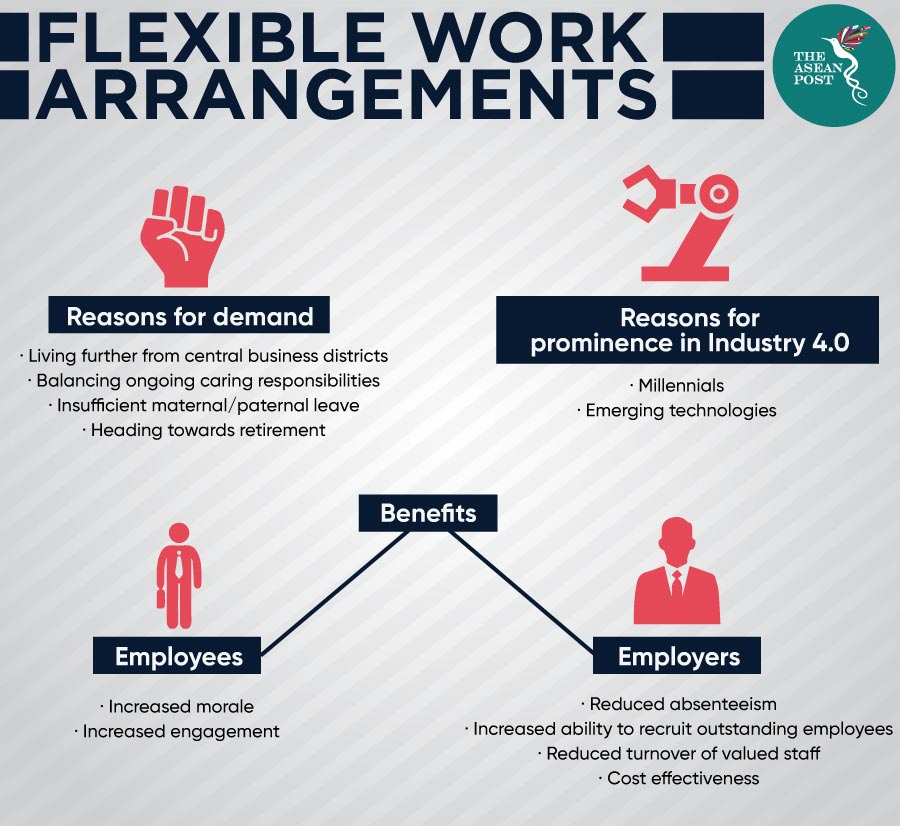 Motivating Singapore's workforce
Mercer's recent Singapore Employee Engagement Index 2018 made startling conclusions in its report on the city-state when it placed Singapore in second last place for work engagement in the Asia Pacific region. One answer to this could be in providing flexible work arrangements.
Another poll conducted by Hays in 2017 found that as much as 81 percent of candidates in Singapore say flexibility is a top consideration when weighing up a job offer and only three percent were unsure about how they would rate flexibility as a job-hunting consideration.
Lynne Roeder, Managing Director of Hays in Singapore says the poll results are a symbol of the generational change that is influencing the way candidates want to work.
Human resources expert Susan M Heathfield, who co-owns TechSmith Corporation, points out that flexible work could translate to increased employee morale, engagement, and commitment to the organisation, reduced absenteeism and tardiness, increased ability to recruit outstanding employees, and reduced turnover of valued staff.
"Flexible scheduling has become part of what employees are looking for in their comprehensive employee benefits packages. Your employees will love you; the employer will benefit from overall positive morale which is linked to increased productivity. Best? You will retain your superior employees," she said. 
As growth in the ASEAN region reaches new heights, employers will have to look at the best working arrangements going into Industry 4.0.
Nevertheless, with the current COVID-19 pandemic hitting countries across the world, many nations have called for flexible work arrangements and remote working to be conducted in order to contain the disease. 
"For Southeast Asian countries and companies, efficient telework is now a matter of Emergency Preparedness and reducing the chances of a virus outbreak," said Silvina Moschini, President and Founder of TransparentBusiness. 
As the impacts of the new coronavirus can be seen everywhere, this period of time appears to be crucial for employers to practice flexible work arrangements.
Related articles:
Motivating Singapore's unmotivated