Violence against women and children is the most prevalent human rights violation. Unfortunately, cases of gender-based violence – especially against women – is nothing new in Southeast Asia.
Based on a report by the United Nations University - International Institute for Global Health (UNU-IIGH) in Malaysia, intimate partner violence (IPV) is the most common form of gender-based violence, with 28 percent of women in the region having to deal with it.  
IPV is defined as physical violence, stalking or psychological harm by a current or former partner or spouse, according to the Centers for Disease Control and Prevention (CDC) in the United States (US). However, the exact figure of incidents of domestic violence is hard to obtain given the nature of the problem. Many cases of abuse involving a partner go unreported.
These ghastly acts of violence against women not only affect them on physical and mental levels but also damages their families and communities as well as stalls development on many levels. 
Economic impoverishment, coupled with discrimination and inequality, increase women's vulnerability to violence, keeps them dependent on those around them and of course, limits their options.
Other consequences of violence against women include social and health problems. According to the United Nations (UN), "for females aged 15 to 44 years, violence is a major cause of death and disability. Rape, domestic and intimate partner violence are higher risk factors for women in this age-group than cancer, motor vehicle accidents, war and malaria."
Apart from that, there is also a significant economic cost when violence against women occurs. This comes in the form of increased medical and healthcare services costs as well as overall losses in productivity. Hence why violence against women and children can affect the economic development of a nation.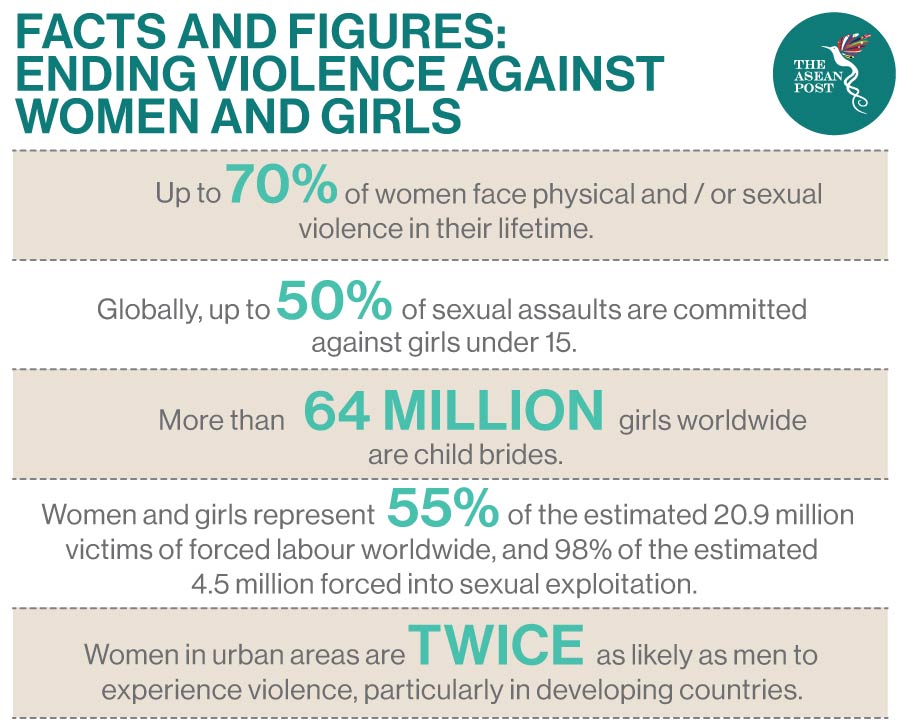 Violence In The Region
In some Southeast Asian countries, violence against women is a serious issue, particularly with regards to domestic violence, marital rape, child marriages and trafficking of women.
Despite having various policies and programmes, the implementation has been slow due to deep rooted cultural values and mentality, attitude and practices based on gender stereotypes which ultimately justify exploitative behaviour and violence against women. For example, in Myanmar, domestic abuse is regarded as a family matter and even if it is reported, police in the country usually fail to take action, said local lawyer and activist Hla Hla Yee.
Moreover, although many countries have criminalised the rape of women, some laws do not protect them against spousal rape.
Other than that, trafficked brides in Southeast Asia is still rampant. It was reported that in some rural areas of Vietnam, the disappearance of girls has become so prevalent that many villagers would assume that if a girl has been missing for more than a few days, she must already be on the other side of the border in China. Many of the women trafficked in the 'buy-a-bride' trade are often lost forever in the most populous country in the world.
Amid the current coronavirus crisis, the world has seen an increase in the number of reports of abuse. As cities go into lockdown, and citizens are urged to stay at home – victims of abuse are trapped inside their homes with their abusers, and have nowhere to go.
China's Hubei province reported a jump in the number of domestic violence reports during the lockdown in February, from 47 last year to 162 this year. Wan Fei, a retired police officer who founded a charity campaigning against abuse told local media that "according to our statistics, 90 percent of the causes of violence (in this period) are related to the COVID-19 epidemic."
Whereas in ASEAN member state Malaysia, the government there revealed in April that its welfare hotline recorded a 57 percent increase in calls since the country's partial lockdown was enacted in mid-March. Nevertheless, not all the calls received were related to domestic violence. Financial and marital issues were also reported. Women's rights groups in the country also received an increase in distress calls, with the Women's Aid Organisation (WAO) reporting a 44 percent increase in calls and enquiries between February and March, according to media reports in the country.
The fact that some people are living in fear for their lives not only because of the novel coronavirus but also abuse, is truly disheartening. 
Related articles: