Food delivery has seen an exponential increase in demand all across the region as ASEAN member states enforce partial or even full lockdowns on their citizens. No more is this more evident than in Malaysia, a country where eating out is a popular activity when it comes to daily meals. 
Even before the COVID-19 outbreak, food delivery services had affected the dining behaviour of Southeast Asians. In 2019, a joint research by Google and Singapore's Temasek Holdings found that the online food delivery market in the region achieved a gross merchandise volume (GMV) of US$5.2 billion
With Malaysia under a strict MCO (Movement Control Order) for nearly three weeks now, the availability of food delivery services is a welcomed comfort – especially for those who do not have the facilities or ability to cook their own meals.   
The likes of GrabFood and Foodpanda are currently experiencing a surge in orders with some restaurants reporting a 30 percent increase in orders during the initial phase of the MCO.
Hubert Jeaneau, Equity Research Analyst at financial services provider, UBS AG found that although China's demand for food delivery soared at the initial phase of the country's lockdown, the increase was short-lived. This was due to consumers' concerns that safety measures were not taken by riders or restaurants to ensure that there was no contamination in both, the contact and the consumption.
As a result, the demand for grocery deliveries increased rather than for ready-made meals. Some Malaysians have raised similar concerns over the safety measures taken by riders and restaurants. Riders on the other hand, are struggling to cope with the rising number of orders and protecting themselves.
"There's a spike in deliveries because everyone is getting food to the table. There have been lots of jobs, I haven't been able to eat lunch some days as there are nonstop deliveries, sometimes from 8am till 6pm," a GoGet driver who did not wish to be named told the media.
"I stay a metre away from the food and wait there till the person collects it. I'm supposed to wear a mask but it's too hard to find. I am scared of course, but I take safety precautions and when I go home, I shower straightaway and then sanitise everything," he added.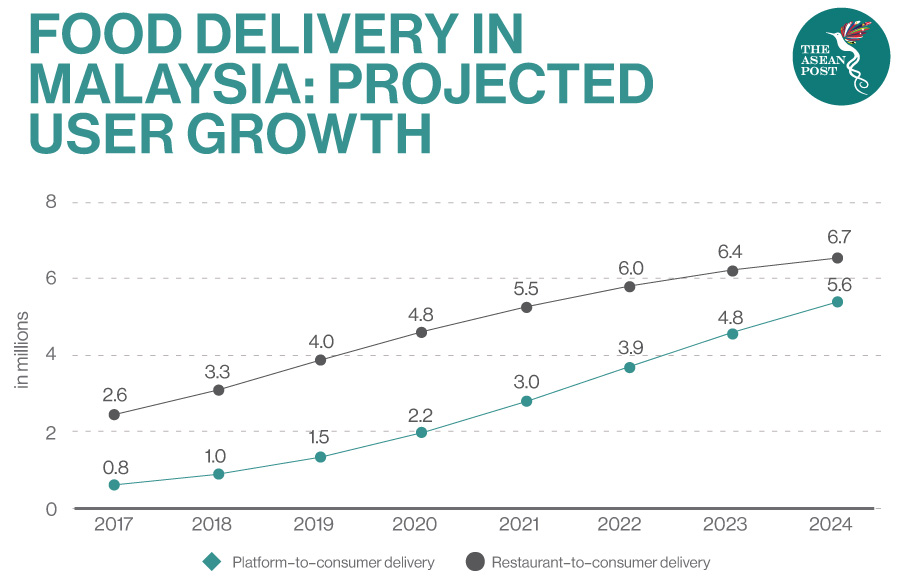 GrabFood and Foodpanda have both pledged to step up precautionary measures to help contain the spread of the coronavirus. One of which is to allow riders to drop off food without making contact with the customer – riders are usually required to make contact with the customer in order to ensure that no one has tampered with the food.
Grab has also provided free face masks, instituted hand sanitisation at stores, and has pledged to provide any of its delivery people who is affected by the coronavirus with financial assistance – RM1,000 (US$232) if they make contact with a customer who is COVID-19 positive on the job, and RM300 (US$68) if they are quarantined as a result of being exposed to the virus during a delivery.
Foodpanda has also introduced similar safety precautions for its riders with its Managing Director, Sayantan Das saying "that it is our duty and responsibility to also play a part in serving the nation." 
For McDonald's Malaysia, its McDelivery and drive-thru services have seen an increase of 19 percent since the start of the MCO. 
"At this time, we prioritise the safety and health of our crew and customers. We have separated pick-up points for McDelivery service riders and those from external delivery services," said Melati Abdul Hai, vice-president and chief marketing officer at McDonald's Malaysia. 
"While waiting for food to be prepared, riders are also made to practise social distancing by following the markers we made for each waiting spot in our restaurant," she added.
Despite the safety concerns, Malaysians have not wasted a moment to thank food delivery platforms along with the many restaurants and riders for their unending services and also their crucial role during these difficult times. Though dangerous, the continued operations of restaurants and food delivery services certainly provides an economic elevation for workers and businesses that would otherwise be experiencing intense hardships. 
"By operating during this time, riders are able to continue to earn an income to support their families," said Foodpanda's Das. "We also understand that small business owners might encounter some difficulties especially since people are restricted to go out. Hence by operating, we are able to help support our local restaurant partners."
Related articles:
Food Delivery On The Rise In ASEAN