Malaysia recently reported that it has banned the export of sea sand to other countries, citing environmental reasons. Malaysian Prime Minister Dr Mahathir Mohamad imposed the ban last year in October but the ban was never made public. Endie Shazlie Akbar, Dr Mahathir's press secretary confirmed the report, saying it was a move to clamp down on illegal sand smuggling. 
Water, Land and Natural Resources Minister Dr Xavier Jayakumar said that the sea sand export ban was to cut down on illegal sand mining and to protect Malaysia's shoreline and continental shelf to ensure enough supply of the commodity to satisfy domestic demand. Dr Xavier added that Malaysia's river sand can still be exported to other countries, though with the prime minister's approval. 
Most mined resource
The unprecedented urban growth of this century has seen cities expand at a pace and scale never seen before in human history. This rapid urbanisation drives the demand for sand, a key ingredient of concrete and asphalt as well as for land reclamation. Sand is now the most mined resource on earth which has been documented to cause widespread ecological devastation, as riverbanks, waterways and seabed are stripped of their foundations. 
The United Nations Environment Programme (UNEP) estimates that 85 percent of all mining activity in the world is for sand or gravel. It is a global endeavour, yet it is little-noticed and many mining activities are unregulated, especially those occurring offshore. Sea sand is mostly used for land reclamation, while river sand is a core component in construction materials like cement. 
Reclamation projects in Malaysia can be found in the states of Kedah, Penang, Perak, Melaka, Pahang, Kelantan and Johor, where massive reclamation work is underway for the Forest City development. 
The recent report covered by The ASEAN Post on the Penang South Reclamation (PSR), which is a three-island reclamation project south of Penang island, will involve sea mining and dredging activities. An estimated 189 million cubic metres of sand and rock are set to be hauled in to make the artificial islands measuring 4,500 acres.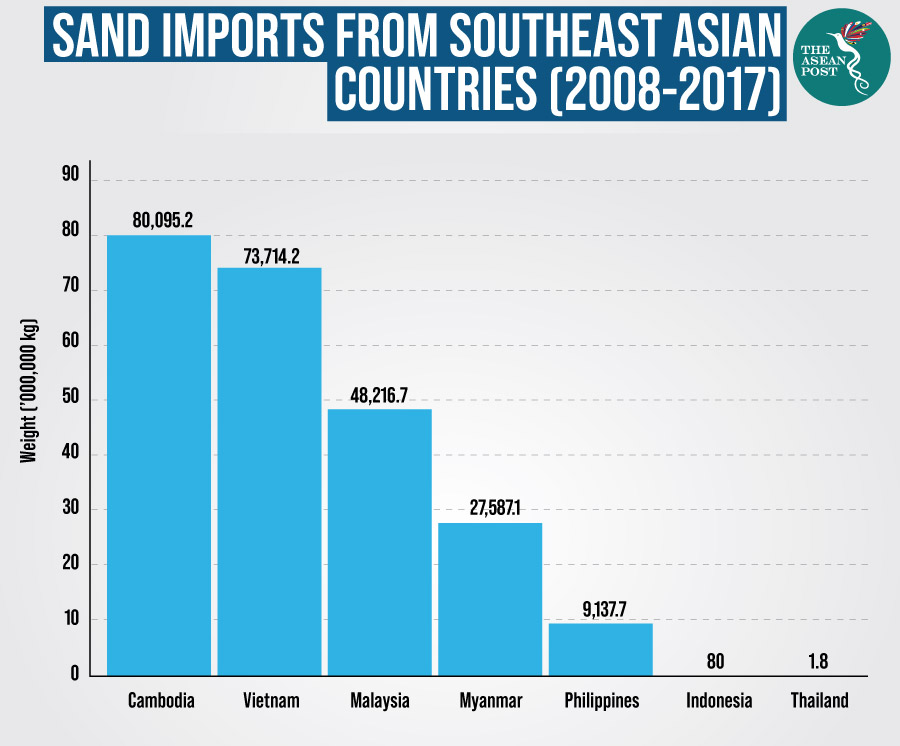 Source: UN-COMTRADE
According to SRS Consortium's project director Szeto Wai Loong, sand to be used for the PSR may come from two sources, Port Klang in Selangor and Perak, with the sand in Perak being dredged more than 20 nautical miles from the shore. The PSR is created as a land bank to fund the Penang state government's multi-billion-ringgit Penang Transport Master Plan (PTMP), where SRS Consortium is the project delivery partner.
There are 72 conditions which were imposed by the Department of Environment (DoE) in the approval of the Environmental Impact Assessment (EIA) report for the proposed PSR project. Among the conditions are pollution prevention and mitigation measures involving control and monitoring of dredging activities and offshore sand mining and waste management. 
The EIA report identified that a separate EIA is required for the activities of sand mining. However, according to the feedback provided by the Penang Forum – a coalition of non-governmental organisations (NGOs) based in Penang – on the EIA, the impacts on the environment and fishing activities from sand-mining and dredging activities should not be evaluated separately. The PSR project could adversely impact the livelihood of 4,000 fishermen in Penang along with over 6,000 more fishermen in Perak, due to sand mining of the coastal seabed.
Threat to biodiversity
Massive amounts of sand are mined for land reclamation projects, which have been documented to severely damage environments and ecosystems. Sand mining is damaging because it also aggravates the problem of coastal erosion, which is particularly severe in areas that are already experiencing serious problems caused by sea-level rise. In 2007, Indonesia announced its export ban of sand to Singapore, citing environmental concerns after the active sand extraction caused islands to start disappearing. 
Sahabat Alam Malaysia (SAM)'s publication titled, 'Impacts of coastal reclamation in Malaysia' outlined other impacts of sea sand mining and dredging operation on the coastal ecosystem, which includes the loss of the marine benthic ecosystem such as coral reefs, seagrass meadows and mudflats, destruction of the buffer zone, disruption in the food chain, coastal water pollution and an increase in siltation and turbidity. Dredging also destroys seagrasses, creates plumes of sediment that can drift for miles which suffocates fish and blocks sunlight from the remaining underwater vegetation.
As expressed in the DoE's condition for the PSR project, monitoring and controlling sand mining operations may promise better care for the environment, but can sand mining ever be sustainable?
"Sustainable sand mining is only possible if the quantities that are extracted are less than the quantities that are being replaced through the natural processes," said Debi Goenka, a Conservation Action Trust executive trustee, adding, "since this varies from month to month and depends on the currents and tidal factors, this is a tricky process and most sand miners do not bother to try and maintain a balance." 
The fact remains that the current demand of urbanisation requires an unsustainable amount of sand. Rather than minimising the overall impact of sand mining on the environment, long-term environmental protection is still the best option.
Related articles:
Feeding Singapore's hunger for sand