The media in Indonesia recently revealed that the Coalition for Safe Public Space (KRPA) had conducted a survey regarding women's safety on public transportation in Indonesia. The results of the survey showed that public transportation could be considered a very dangerous public place for women, with the frequency of sexual harassment occurrences coming in second place. In first place was the streets. 
The coalition, which consists of civil society groups concerned about violence against women, interviewed 62,000 people across Indonesia for the survey which was held to commemorate the 16 Days of Activism to Eliminate Violence Against Women, and highlighted how women are 13 times more vulnerable to sexual harassment on public transportation than men.
It was noted that most cases of sexual violence reported to the National Commission on Violence Against Women (Komnas Perempuan) happen in private. Nevertheless, Anindya Restuviyani, administrator of Hollaback! Jakarta (part of the coalition) said that sexual harassment on public transportation is the form of harassment that is most frequently ignored.
"This happens because sometimes people don't understand what they have experienced is sexual harassment, so they ignore it and people around them who witness the incident ignore it too. This will only strengthen the rape culture in our nation," Anindya was quoted as saying.
Most of the female respondents said buses (35.45 percent) and angkot or public minivans (30 percent) were the means of transportation where most sexual harassment took place. This was followed by the commuter line train service (KRL) with 17.79 percent.
"The harassment is not only physical - like being groped or having a man rub his genitals against a woman - but also verbal. There were 19 forms of harassment that the respondents experienced on public transportation," said Rastra, an activist with Lentera Sintas, which is also part of the coalition. Rastra, like most Indonesians, only goes by a single name.
He said female respondents also revealed that men masturbated near them on public transportation, stalked them, made racist comments, or secretly took their pictures.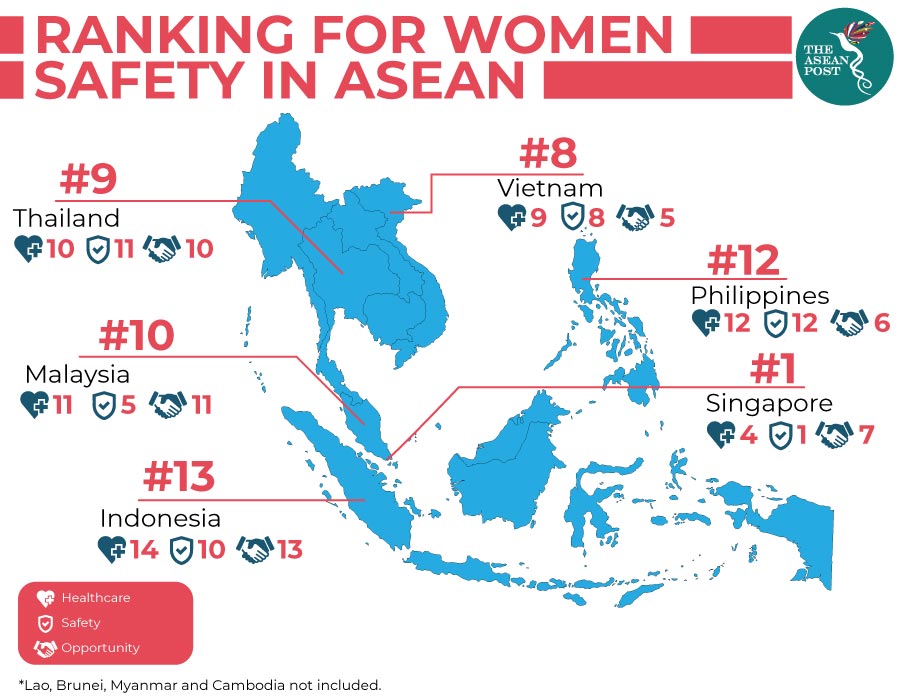 Dangerous country for women
The coalition's survey is not the only one which has revealed Indonesia as an unsafe place for women. Earlier this year, Singapore-based research company, ValueChampion also conducted a survey which placed Indonesia as the second most dangerous country for women in the Asia Pacific region after India. The Philippines is the third most dangerous. 
This makes Indonesia the most dangerous country for women in ASEAN.
According to ValueChampion, all of these countries were found to have subpar access to healthcare, lax laws regarding women's safety, poor access to family planning resources and overall inequality.
"Despite government interventions and attempts to enact laws that protect women's safety, deeply entrenched patriarchal attitudes either due to cultural or religious beliefs led to women fearing for their well-being more often than in other countries on our list," the report noted.
In Indonesia, despite laws prohibiting rape, domestic abuse and other forms of violence, a 2016 government survey found that around 33 percent of women between the ages of 15 and 64 experienced some form of violence.
Indonesia also continues to remain in the limelight due to its treatment of women. 
In November last year, school teacher Baiq Nuril Maknun's name was in the news after she was allegedly sexually harassed by her superior, principal H Muslim.
Baiq Nuril had recorded conversations between her superior and herself to be used as legal evidence. To the shock of many, the Indonesian Supreme Court in Jakarta overturned a 2017 acquittal from a lower court and convicted Baiq Nuril of recording and spreading indecent material under the country's electronic information and transactions law. In September, Baiq Nuril was sentenced to six months in jail and fined IDR500 million (US$34,000).
The case sparked criticism from activists and the public who argued that Baiq Nuril was the actual victim of sexual harassment. Executive Director of Amnesty Indonesia, Usman Hamid, said that instead of looking at the abuse carried out by Muslim against Baiq Nuril, the system focussed on criminalising her actions to redress the abuse. On 25 July, Baiq won a parliamentary pardon.
Incidences of sexual harassment have long been a plague in Indonesia. Data from the Indonesian National Commission on Violence against Women (Komnas Perempuan) shows that of the 259,150 cases of violence against women in 2016, some 3,495 were domestic sexual harassment and 2,290 were sexual abuse in the community or at the workplace.
It is hoped that the Indonesian government will look into all these statistics and surveys and realise that it is facing a serious issue that needs to be tackled immediately. Indonesia must become safer for its sisters, mothers, and daughters.
Related articles:
Indonesia is ASEAN's most unsafe country for women