Southeast Asia is home to over 245 million Muslims who observe the fasting month of Ramadan. The holy month is rooted in culture, faith and tradition and is dedicated to reflection and prayer, after which Muslims celebrate Eid-ul-Fitr with family, friends and of course, sumptuous food. 
Ramadan is usually a lucrative sales period for retailers, due to consumers actively purchasing food, gifts, apparels and decorative items in preparation for Eid. Posters, campaigns and online pop-ups are used in abundance to entice potential customers with attractive discounts and promotions. 
Preparations for Eid begins as early as the first week of Ramadan, where consumers are motivated by the tradition of buying new clothes and decorative items. Towards the end of Ramadan, consumers tend to stock up on groceries and ingredients to make traditional meals to serve family and guests on Eid day, and also for their upcoming open houses or parties.
According to research carried out by iPrice Group in 2018, consumption via online shopping increased greatly just a few days into Ramadan, evident in the double-digit growth experienced by online merchants in Indonesia and Malaysia. The large number of online purchases during this period also contributed to driving up the economies of the two countries.
Ramadan e-commerce trends
According to reports by Google and Temasek, the e-commerce market in Southeast Asia is forecasted to be worth at least US$102 billion by 2025. E-commerce companies are allocating bigger budgets for their marketing strategies to drive traffic to their websites and to maximise customers' value. The increasing e-retail options and payment methods with faster internet speeds are making it easier for more people to shop online.
The analysis by iPrice group suggests that Muslims in Malaysia and Indonesia, have unique consumer insights for Ramadan and the subsequent Eid-ul-Fitr festival. E-commerce websites recorded a traffic peak at 4 a.m., as soon as people woke up for their routine Sahur (pre-dawn meal) before they begin fasting for the whole day. By 5 a.m. traffic increased 105 percent in Malaysia and 345 percent in Indonesia. This surge of traffic spikes occurred on weekdays, as most people browse during work hours. However, Malaysia and Indonesia saw a dip in online activity during the Iftar (breaking fast).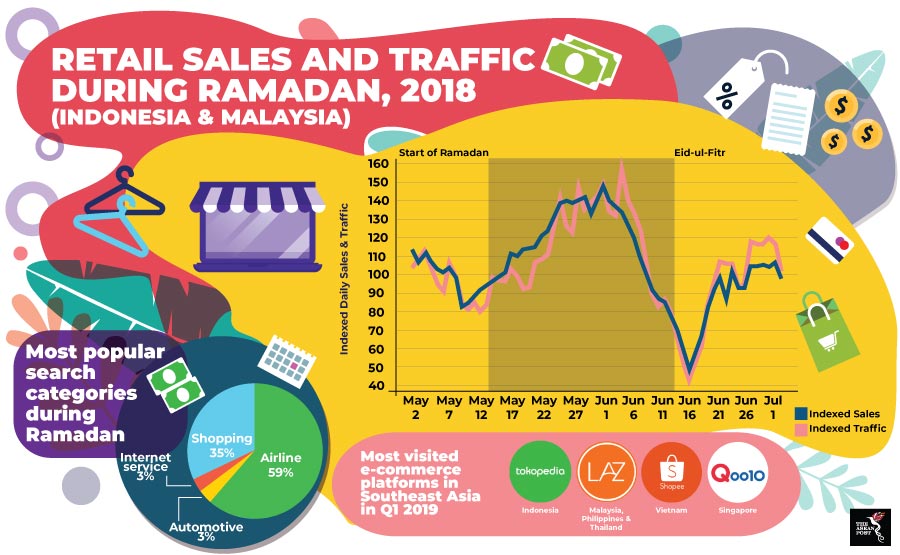 Source: Various
According to ShopBack Insight 2019, Indonesians are estimated to spend an average of US$83.41 online which is an increase of 74 percent from previous years. ShopBack Head of Business Development, Yolanda Margaretha is optimistic that the final transaction numbers for this year's Ramadan festive period will be double that of 2018's. In Malaysia online shopping transactions are expected to increase by 50 percent during Ramadan. 
Apparels and beauty products are some of the most sought-after items during Ramadan. The other categories with the highest purchases for this festive period are for airline tickets and home appliances, while toys and games are the best performing categories in Indonesia. 
Malaysians and Indonesians are expected to shop most during the 3rd week of Ramadan while a surge of last-minute shopping will usually occur at least three days before Eid. This is now possible as local delivery services in the two countries are now more advanced and can deliver products purchased within the same day. 
In Indonesia the last week of Ramadan is a "blackout period" where no packages are delivered around the time of Eid in preparation of the mudik, or homecoming. Online traffic will decline sharply on Eid and the following days. Celebrating the special occasion with family and friends tops the list of things to do during Eid, take precedence over shopping online. 
The allure of bazaars
While online shopping is picking up in Southeast Asia, there are some who still prefers to buy items at brick-and-mortar stores. Buying food and ingredients usually occurs during the last week of Ramadan to ensure that items are fresh to use. However, customers who wait too long run the risk of items being sold out. 
Anna K. a lecturer and part-time clothing trader prefers to buy her Eid items early just to avoid the large crowds and rush of last-minute shoppers. "I sell clothes at the bazaar, but I don't think I can tolerate the number of people who shop at the last minute. It's crazy."
Shopping early allows consumers to avoid large crowds and the rush. But the benefit of last-minute shopping is that sellers tend to offer bigger discounts to clear their stocks. 
In Kuala Lumpur, Malaysia, the Ramadan Bazaar that is usually located in Jalan Masjid India and Jalan Tuanku Abdul Rahman, had been re-located to the iconic Dataran Merdeka. Some traders blamed the new location as the reason for slow business, as it is far from the steady stream of customers available at the old location. Others commended the cleaner and better environment of the new bazaar that is fully air-conditioned to give customers a comfortable shopping experience.
In Indonesia, apparel companies were affected by the post-election riots of 22 May as the government there partly blocked access to social media. Some traders saw a drop of 60 percent in sales because of the online blockade. Due to the riots, many opted out from visiting the Jakarta Fair 2019 Bazaar. Ida Leman, an online entrepreneur said that "Ramadan this year is different because of the riots," adding that the government's restriction on social media hit her gross revenue by as much as 50 percent. 
In spite of everything, the shopping season during Ramadan is a major event on the retail calendar of these two countries.
Related articles:
Indonesia's digital economy sees rapid growth