Schneider Electric's extensive use of Industrial Internet of Things (IIoT) technologies in its factory in Batam has earned it the distinction of being one of the first two factories in ASEAN to join the World Economic Forum's (WEF) Global Lighthouse Network.
A French multinational company, Schneider Electric specialises in energy management and automation and has operations in more than 100 countries. The WEF's Global Lighthouse Network, meanwhile, is a community of factories which have successfully implemented Fourth Industrial Revolution technologies to drive financial and operational growth – with Indonesia's Petrosea factory in Tabang, Indonesia, the other ASEAN factory included in the latest list released last month.
Including the two new factories in ASEAN, the Global Lighthouse Network now has 26 factories operating in various industries across the globe. 
One of Schneider Electric's nine smart factories – the one in Batam – has developed a full range of Fourth Industrial Revolution solutions using the company's IIoT platform called EcoStruxure that was then shared with its stakeholders.
IIoT is a term used to describe the application of interconnected sensors and networks to create more efficient manufacturing processes in industry.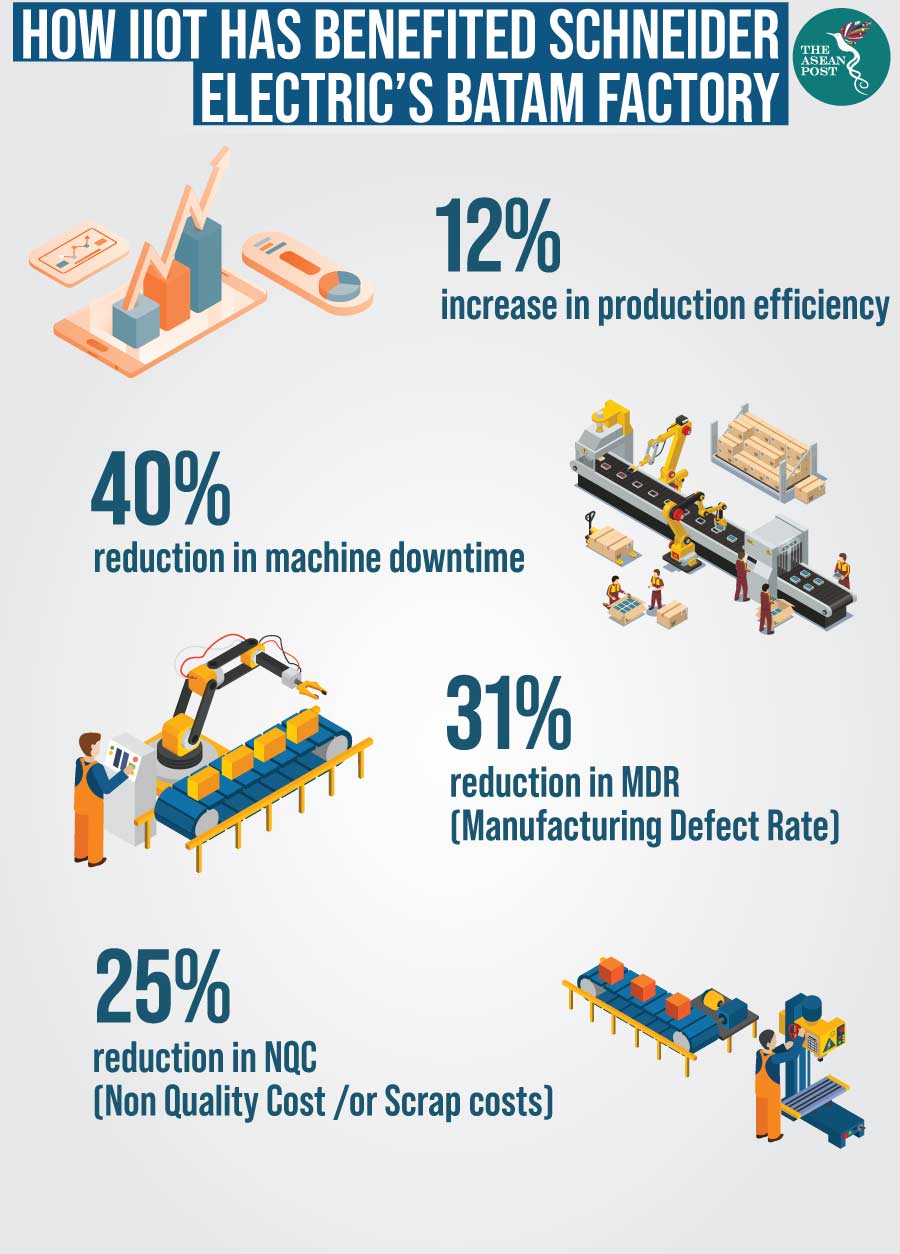 Source: Schneider Electric
Benefits
In Schneider Electric's Batam factory, this has translated into a 12 percent increase in production efficiency. IIoT also enables more predictive monitoring of machine performance, which in the Batam factory, has resulted in a reduced machine downtime of 40 percent through immediate alerts being sent to the appropriate people. 
"The technicians don't need additional time to find the root cause because access to IIoT data allows the operator to be alerted to the problem so that he can act quickly to fix it," Xavier Denoly, Country President Schneider Electric Indonesia told The ASEAN Post.
The ability to monitor the factory's machines' performances and parameters in real-time, and configure them to pre-empt possible issues before they occur, has also led to a 31 percent reduction in the factory's Manufacturing Defect Rate (MDR) and a 25 percent reduction in Non-Quality Cost/Scrap costs (NDC).
Showcase factory
For those that have started this journey towards digitalisation, the Batam factory aims to help them accelerate their respective digitalisation plans. 
More than 150 customers and partners from Indonesia, China, Singapore, Vietnam, Malaysia, Myanmar and Middle East have visited the factory, which is just one of Schneider Electric's smart factory showcases around the world which includes China, France, Philippines, North America and India.    
"We have hosted customers, partners, government officials and media in our showcase factories, where we demonstrate our IIoT knowledge and smart manufacturing technology best practices, and how we are embracing cutting edge technology and reaping the benefits of the Industrial Internet of Things right across our supply chain," explained Denoly. 
Important investment, government acknowledgement
While investment in IIoT is costly and its application in ASEAN factories is lagging behind global counterparts, the technology is essential in driving Industry 4.0. In Schneider Electric's case, the return on investment (ROI) in IIoT has varied from less than six months up to two years.
To give one specific example, the ROI of the deployment of EcoStruxure for one of their electromechanical production lines was less than six months thanks to a 46 percent reduction in wasted material and a 17 percent reduction in maintenance manhours – all of which took the company less than a month to implement.
Acknowledging the role Schneider Electric has played in advancing Industry 4.0 in Indonesia, the Batam smart factory recently received an award from Indonesia's Ministry of Industry as a "National Lighthouse for Indonesia". 
The Indonesian government has recently committed itself to driving Industry 4.0 across the country with its 'Making Indonesia 4.0' program, and the Ministry of Industry has signed a MoU (Memorandum of Understanding) with Schneider Electric's Batam factory as a partner to create awareness of IIoT among local industries. The partnership comprises training of key industries such as food and beverage, electronics, automotive, mining and textile in Industry 4.0 standards.
For the average employee in Schneider Electric and beyond, IIoT is helping them improve working conditions, increasing productivity, freeing up more time to focus on the strategic tasks that support the company's growth and to make better decisions based on real-time data.
Related articles:
Digitalising ASEAN's manufacturing sector
Fulfilling ASEAN's digital destiny