Many ASEAN citizens would consider moving to Singapore for better opportunities. This was what the recent RGF International Recruitment's Talent in Asia 2019 report found when it compiled data via a targeted survey completed in March. The survey gathered responses from more than 3,500 job seekers and candidates across six ASEAN countries as well as India, mainland China, Japan, Hong Kong and Taiwan. It also gathered responses from 10 industry sectors.
According to results from the survey, 35 percent of Thai job seekers would like to relocate to Singapore, 33 percent from Malaysia, 25 percent from Vietnam, 27 percent from the Philippines, and a whopping 38 percent from Indonesia. Based on these numbers, Singapore was the top pick for all five countries.
This probably comes as no surprise considering the leaps and bounds that Singapore has made compared to its other ASEAN counterparts. The country has consistently been placed high up in most positive rankings involving the region including education, innovation and environment for children.
"Favourable market conditions and technological innovations have resulted in positive growth for Singapore's economy," RGF noted in its report.
The very fact that Singapore has developed so well compared to other ASEAN member states, however, may also spell bad news for ASEAN citizens looking to make the move to the Lion City. 
Despite the fact that most employers noted that their biggest challenge when it came to hiring was a shortage of talent, they also placed industry knowledge and experience as their top priorities when looking for new hires. 
Healthcare and Life Sciences as well as Technology, Internet and Communications were the industries that were looking for talent the most in the country. Considering the fact that Singapore consistently comes out tops in most education and innovation surveys for the region, it seems unlikely that the rest of ASEAN would be an attractive target market for the country went it comes to recruitment. 
On top of this, despite the majority of Singaporean employers having stated that expansion was part of their plans for 2019 (57.9 percent), Singapore also had the highest number of employers who said they planned to downsize their workforce (26 percent).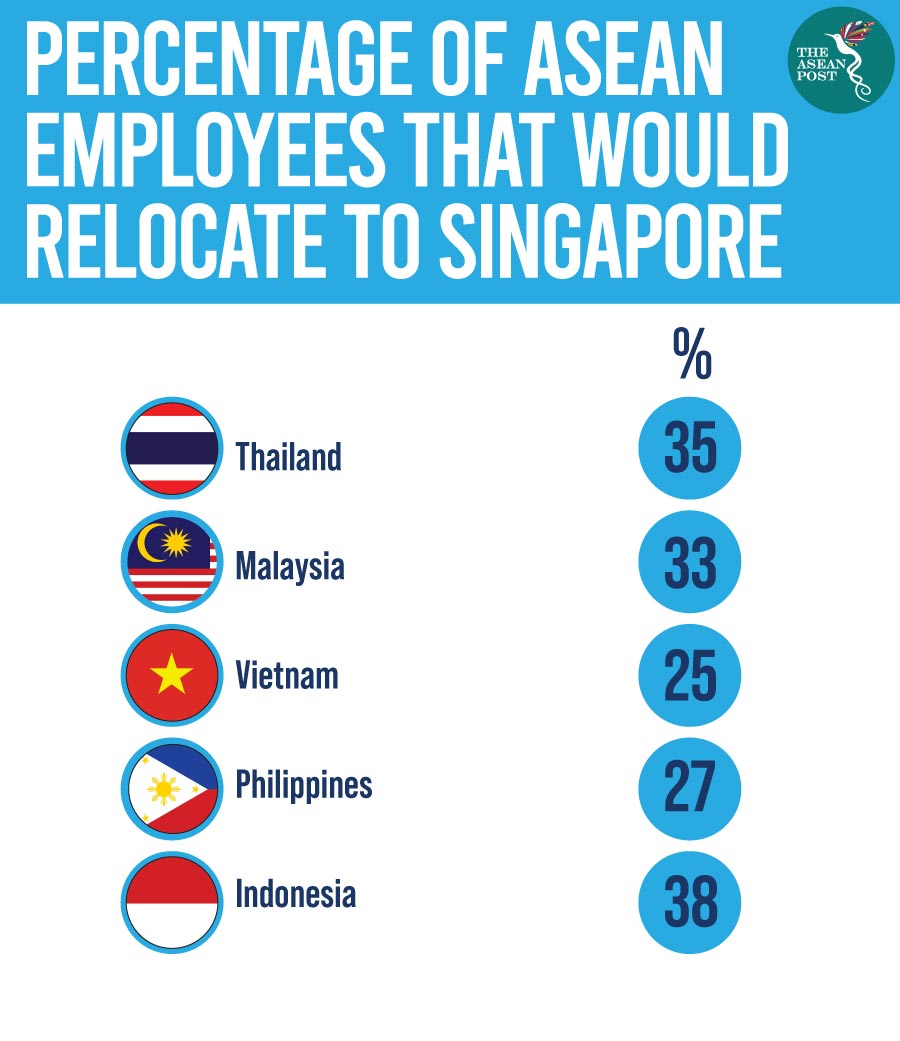 Source: RGF International Recruitment
Bad news for Singaporeans too
While the rest of ASEAN may have a hard time looking for employment in Singapore, people living in the city-state have their own problems to contend with. 
In September last year, Singapore's Education Minister Ong Ye Kung revealed that the government intends to bring in foreign talent in areas critical to Industry 4.0. Ong said that meanwhile, the country will work on rebalancing its education system to meet future demand. The idea is that foreign talent will be able to help the country achieve its target of becoming a "Smart Nation" while schools prepare current students to fill those roles later.
Around the same time, Cisco and Oxford Economics, after analysing 433 occupations across 21 industries, noted that more full-time workers (21 percent) will probably lose their jobs in Singapore compared to other ASEAN countries. Looking at the ASEAN-6 countries (Indonesia, Malaysia, Philippines, Singapore, Thailand and Vietnam), the study revealed a correlation between a high job displacement rate and an "exceptional" environment for innovation and digital transformation.
Singapore already has high foreign worker numbers compared to its total population and it would be ideal if the island state trains its own people instead of relying on foreign labour. The government is well aware of this and has been looking at means to further innovate its education system.
In July last year, Viva Sinniah, Executive Chairman of PSB Academy wrote in the Singapore Business Review that Singaporeans had been underperforming in areas of creative output like domestic trademarks applications and creative industry exports.
Ong, too, was quoted in September by the media as saying that while the education system had its strengths, adjustments needed to be made between an over-focus on exam results and higher-order outcomes.
"We need to re-balance that [the system's strengths and needed adjustments] so education is more fun, more joyful, more holistic and children have a passion and an aptitude in deciding what they want to do," he added.
In 2014, the Ministry of Manpower announced the Fair Consideration Framework (FCF) which requires employers to consider Singaporeans fairly for all job opportunities before hiring Employment Pass (EP) holders.
One of the key requirements of the FCF is that firms making new EP applications must advertise the job vacancy on a new jobs bank administered by the Singapore Workforce Development Agency (WDA). Each advertisement must be open to Singaporeans and run for at least 14 calendar days.
Singapore is clearly doing its part to ensure that Singaporeans are prioritised in the job market. Nonetheless, skills and expertise for the future - and the right industries - will have to be upgraded further. It's hoped that Singapore will be able to achieve this in due time.
Related articles:
Innovating education for Industry 4.0