The island of Phuket, known for its idyllic sandy beaches and pristine blue seawater is probably on the bucket list of most travellers. Ranked as the sixth most popular tourist destination in the Asia Pacific region by Mastercard's Asia Pacific Destinations Index 2017, the island's tourism backbone is set to change for the better with the wide-scale incorporation of technology.
Phuket has been touted as Thailand's first ever smart city – even surpassing the capital, Bangkok. It has also been included as one of 26 cities within the ASEAN Smart Cities Network (ASCN) which envisions a collaborative platform for selected cities to work towards sustainable and smart development.
Why Phuket?
Like Bangkok, Phuket's global tourism appeal stems from its appearance as a melting pot of various nationalities from different walks of life. However, unlike Bangkok, Phuket isn't bogged down by complex urbane problems like human overpopulation, traffic congestion, noise and air pollution. Besides that, in terms of technological development, Phuket is a relatively new player and won't be encumbered by prevailing legacy systems like Bangkok.
This would allow for faster and more rapid integration of technology into its smart city development. Phuket's city development program which aims to make it a smart city by 2020 is funded by the central government with a US$13 million endowment and a possible addition of US$30 million in the coming years as the project expands.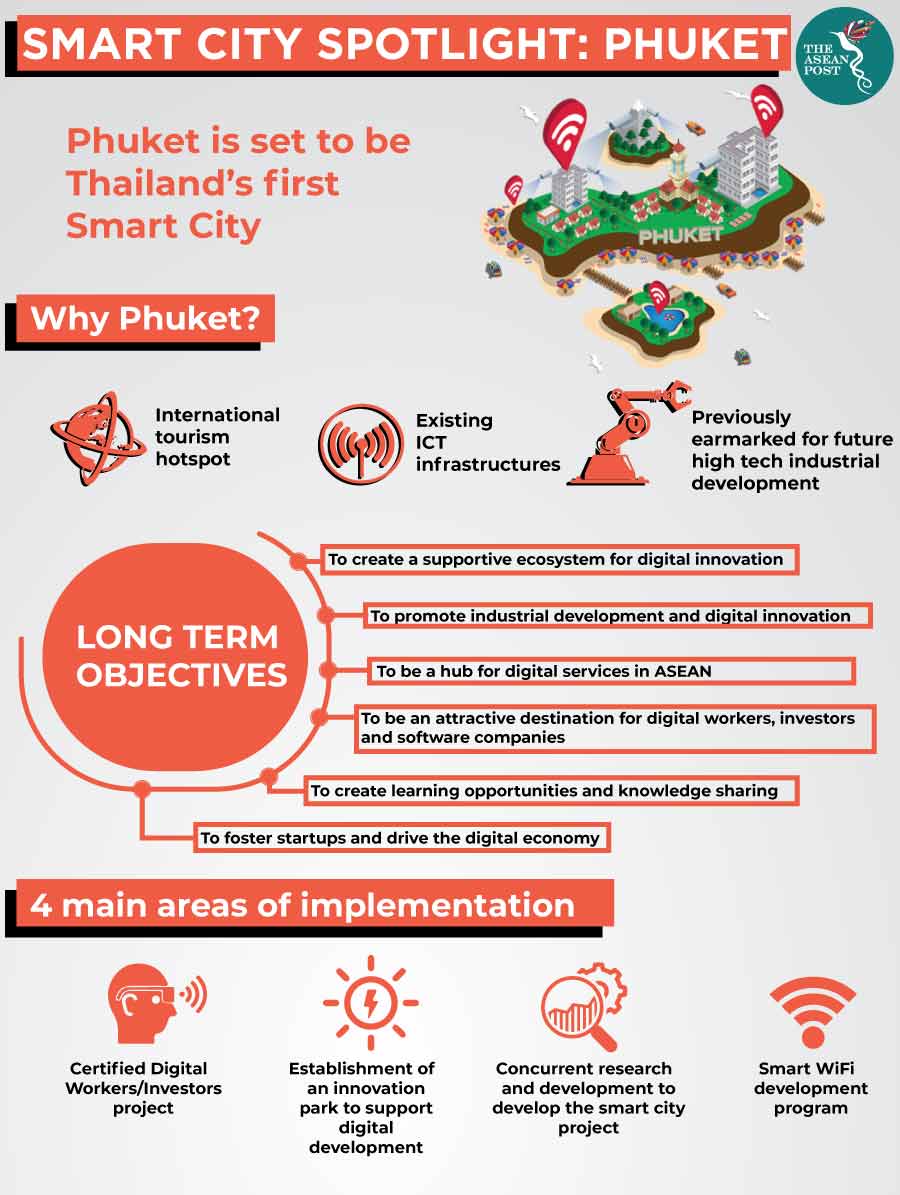 One problem that Phuket faces is unsustainable tourism due to a rapid influx of tourists to the island. According to a recent report, tourist arrivals hit a historic high of 8.4 million last year – a growth of 11.3 percent compared to 2016 – with Chinese tourists making up a large portion of that number. Recently, overcrowding resulted in the closure of the island's famous Maya Bay – a beach made famous by Hollywood star, Leonardo DiCaprio in his box office smash hit, The Beach.
In many ways, Phuket's natural appeal is also its chief cause of environmental and natural resource degradation. As such, the Digital Economy Promotion Agency (DEPA) of Thailand is looking to tap into the digital industry and seek innovative solutions to make tourism in Phuket sustainable. To support this goal, the DEPA aims to create an inclusive ecosystem to support the development of digital innovations. Along this vein, Phuket can then be developed into a regional digital services hub which will serve to attract more tourists and investors to the country.
Development so far
Thus far, the government has been employing big data analytics to keep track of and improve tourism delivery services. For that, it has leveraged on several startups, companies and events like hackathons to study the various types of tourists that visit the island annually. One example is the use of 1,000 free WiFi hotspots which, when combined with CCTV driven vehicle licence plate recognition systems, help to map out Phuket's population density and tourist movements.
The government there is also looking at collaborating with external technology powerhouses like Japan and South Korea to improve their smart city infrastructure. Alongside the United Nations Development Programme (UNDP) and Japan External Trade Organisation (JETRO), the Thai government is looking to entrench its external partnerships which can help further propel its smart city ambitions. Besides that, Phuket is also looking to learn from Busan's smart city experience as South Korea's second largest city. The mayors of both cities further strengthened this cooperation with the signing of a letter of intent to build an innovation park in Phuket for startups.
To further improve local services, data from various sources will be aggregated and visualised to citizens, businesses and tourists via the Smart Phuket Application. The application would provide key information on the city, emergency contacts and updates on news and weather conditions. The application will also be connected to an e-payment gateway which will allow consumers to purchase food and make hotel reservations.
In terms of security, Phuket will deploy around 3,000 CCTV cameras on the island with facial recognition technology. These cameras would be used as part of a system that is connected to police criminal facial records and used to alert authorities when there is a match. Furthermore, tourists going out to sea will soon be given wristbands to track their movements in case of a mishap or if someone goes adrift.
Businesses are also encouraged to adopt more energy sustainable methods for power. Energy demand on the island sees massive upticks especially during peak tourist seasons. As such, the city works closely with the Electricity Authority of Thailand to encourage businesses operating there to use energy more efficiently and to switch to alternative power sources like solar photovoltaics.
Phuket has everything it takes to be a smart city. It's international tourism backbone will make it an interesting laboratory for smart technology development. The use of technology will transform the island from being just another tropical paradise to one that is also technologically advanced.