The Fourth Industrial Revolution has seen many new and exciting concepts take place in the lives of human beings. This massive shift in terms of technological advancement and the role of artificial intelligence (AI) continues to fundamentally alter the way we live, work, and relate to one another. Against this backdrop, a surge in the number of smart cities can be seen across the globe. There are many smart cities in the world, but Singapore has prided itself in being the first Smart Nation.
"Singapore is pushing towards becoming the world's first Smart Nation, one that will improve the quality of life for individuals and business opportunities for enterprises," Singapore's Infocomm Development Authority (IDA) mentioned in a statement. While technically a city-state — being both a city and sovereign nation — Singapore is embracing many similar smart city techniques that can be seen in cities across the globe. Globally, cities are experimenting with smart city technologies to overcome many issues, with this island nation focused on the conundrum that is urban density.
The establishment of The Smart Nation and Digital Government Office (SNDGO) within the Singaporean government last year is not only one of a kind in the region but highlights its seriousness in building a citizenry that is not technologically averse. One of Singapore's strengths is its integration of STEM (Science, Technology, Engineering, Mathematics) subjects in schools. This allows for the creation of a body politic that is more adept with the technological climate, as well as having tools to not only survive, but thrive in such a fast-paced environment.
According to Martin Hayes, President of Robert Bosch Southeast Asia, besides the availability of infrastructure, a sound regulatory framework is needed to create certainty for investors, which are components that enable the strengthening of a Smart Nation.
Singapore is right in 'blowing its own trumpet' in that it has both the tech talent and mechanisms in place to solidify their status as a technological hub within ASEAN.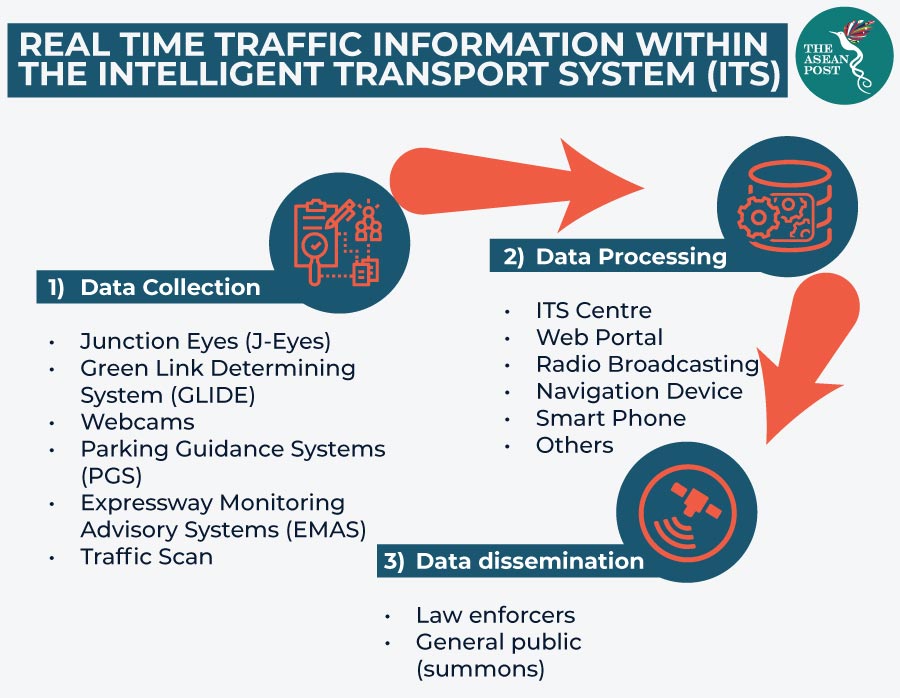 With a land area of 720km², Singapore is the smallest country in Southeast Asia. Considering its relatively small size, urban density and mobility is an issue that is quite unique to the island nation. Therein comes an introduction of the Intelligent Transport System (ITS), a methodology that has eased the issue of traffic congestion in the country. The ITS incorporates a range of 'smart' transportation technologies, including one of the world's first Electronic Road Pricing Systems, real-time traffic information delivered through GPS-enabled taxis, and an integrated public transportation structure.
Based on a joint report by the C40 Cities Climate Leadership Group and Siemens, the ITS has prompted Singapore to be one of the least congested major cities, with an average car speed on main roads of 27km/h, compared to an average speed of 16km/h in London and 5km/h in Jakarta.
Other ITS components include an expressway monitoring and advisory system which alerts motorists to traffic accidents on major routes. Not only that, through the application of data analytics, the Land Transport Authority (LTA) looks to manage its impressive bus fleets, reduce crowdedness, and improve on the punctuality of the Republic's public transportation. What is more impressive is the introduction of autonomous buses which will be 12 metres long with a maximum speed of 60km/h and can seat 40 people. These vehicles will be introduced on selected routes in 2020.
At a bigger level, the system implemented has had a positive impact in terms of maintaining, and further increasing the country's reputation as a modern and efficient state within ASEAN and beyond. Admittedly, it will be difficult for other ASEAN countries to catch up with Singapore's technological prowess. This is not to imply an impossibility, rather it is to say that Singapore should be seen as an example to be emulated. The current Industrial Revolution permeates all divisions apparent within society, including class, race, religion, and gender. Such a consideration should be the driving force behind a need to embrace science and technology in all its varied splendour as both individuals and as members of society.