In March, multiple media outlets broke the news of Cambridge Analytica's business practices. Among some of the things that were reported was that the company had acquired and used personal data about Facebook users from an external researcher who had told Facebook he was collecting it for academic purposes.
Shortly afterwards, Channel 4 News aired undercover investigative videos showing Cambridge Analytica CEO Alexander Nix boasting about using prostitutes, bribery sting operations, and honey traps to discredit politicians on whom it conducted opposition research, saying that the company "ran all of (Donald Trump's) digital campaign".
In response to the media reports, the Information Commissioner of the United Kingdom (UK) pursued a warrant to search the company's servers. Facebook banned Cambridge Analytica from advertising on its platform, saying that it had been deceived. On 23 March 2018, the British High Court granted the Information Commissioner's Office a warrant to search Cambridge Analytica's London offices.
The personal data of approximately 87 million Facebook users was acquired via the 270,000 Facebook users who used a Facebook app called "This Is Your Digital Life." By giving this third-party app permission to acquire their data, back in 2015, this also gave the app access to information on the user's friends network. This, in turn, resulted in the data of about 87 million users (a majority of whom had not explicitly given Cambridge Analytica permission to access their data) being collected. The app developer breached Facebook's terms of service by giving the data to Cambridge Analytica.
Anti-social media movement
The incident led to a campaign known as #DeleteFacebook which, as its name suggests, urged others to delete their Facebook accounts. While the movement did not gain much traction in its initial stages, a recent study by the Pew Research Centre on Facebook trends in the United States (US) suggests that the movement may be becoming more popular.
The study, conducted between 29 May to 11 June, found that just over half of Facebook users aged 18 and older (54 percent) say they have adjusted their privacy settings in the past 12 months. Around four-in-10 (42 percent) say they have taken a break from checking the platform for a period of several weeks or more, while around a quarter (26 percent) say they have deleted the Facebook app from their mobile phones. All told, some 74 percent of Facebook users say they have taken at least one of these three actions in the past year.
This, however, is what's been happening in the West. Meanwhile, in ASEAN countries, social media numbers are hitting the roof.
According to We Are Social and Hootsuite's 2018 report, all countries in Southeast Asia have significant numbers when it comes to social media penetration. Most of these countries have also reported a significant increase in the number of social media users.
Even in less developed countries like Lao PDR, the number of social media users has increased by 33 percent this year since January 2017. In comparison, even Singapore, which is well familiar with social media, has seen an increase of nine percent compared to January 2017.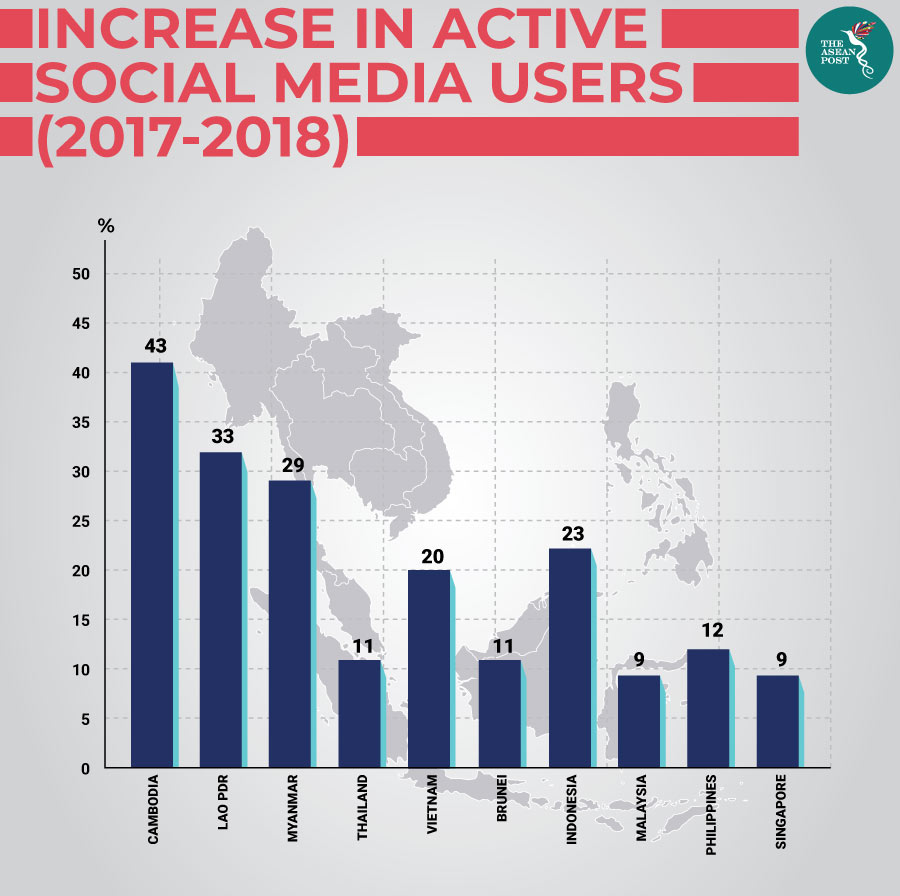 Leveraging on the ASEAN market
Google also found that in general, Southeast Asia will be the next major boom market for e-commerce in the Asia-Pacific region. In an interview with local media, Marc Woo, Google Malaysia's country manager said there were two reasons for this: a growing middle class and rapidly expanding internet access.
As the Western world seems to be increasingly disenchanted with social media, there is a likelihood that ASEAN countries will also follow suit later. As of now, however, social media penetration in ASEAN is growing strong and it's almost a certainty that Western companies - especially those which rely heavily on social media marketing including social media platforms themselves - would have taken a notice of this.
It is likely that countries including Malaysia, Thailand and Indonesia have realised the importance of ASEAN's market to both, social media and online businesses, which would explain these countries' governments' recent decision to find a way to tax online businesses. This would indeed be an important step in the right direction for ASEAN governments as there is huge revenue to be leveraged on with regards to ASEAN's connected population. As yet, there seems to be very little that the peoples of ASEAN as a whole stand to gain from companies like Facebook and Amazon who are raking in the billions.
The Cambridge Analytica incident should be a cautionary tale for the region. There have already been numerous cybercrime cases in Southeast Asia where personal data has been leaked to hackers. While social media continues to grow, ASEAN must also grow to understand that there is a very real possibility that their personal data might be encroached upon for various unknown personal agendas.
Related articles: