The ASEAN Post has published articles on extreme climate in ASEAN member states such as in Myanmar and its threat to the locals, agriculture, and ecosystems. 
It is said that Myanmar is one of the most vulnerable countries at risk of climate crisis. Extreme droughts and flooding in recent years and cyclones have affected millions of locals and cost thousands their lives. Natural disasters are one of the major impacts of climate change.
According to a report by Myanmar's Ministry of Planning and Finance titled, 'Myanmar Sustainable Development Plan 2018-2030', the country penned several action plans to address the climate situation. One of its strategies is to scale-up the use of renewable energy resources in the country. The report also stated that Myanmar will embark on a low-carbon, green economy development trajectory that prioritises the efficient use of natural resources. 
Hydropower is the main source of energy powering electricity generation in Myanmar; making up two-thirds of the total electricity produced in the country. The rest comes from fossil fuels, with gas as the main fuel followed by coal and oil.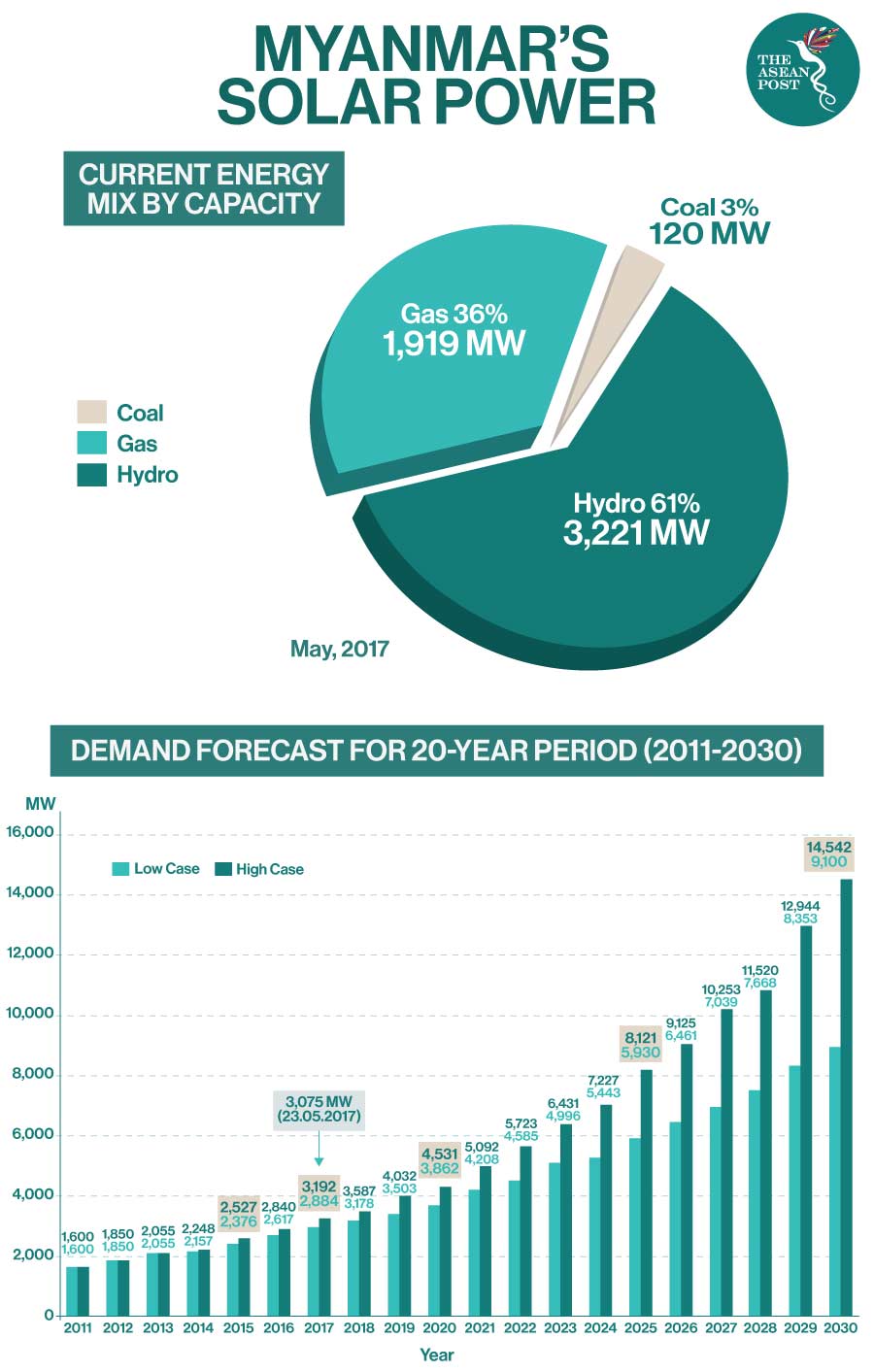 Despite the many benefits of hydropower, this form of renewable energy is not entirely free of greenhouse gas (GHG) emissions as the release of carbon dioxide (CO2) tends to happen during the construction of dams for hydroelectricity. The building of hydropower dams has also sparked concerns about biodiversity loss and environmental disasters. 
Some argue about the advisability of building dams, especially large ones, as they might affect people living downstream from them. Dam failures could also be catastrophic as flooding might occur. 
According to media reports, there has been stress on major rivers posed by dams, especially the Irrawaddy and Salween rivers that flow down from the Myanmar mountains and Himalayan glaciers. 
Based on the 'Myanmar Climate Change Strategy 2018-2030', a report by the Ministry of Natural Resources and Environmental Conservation (MONREC) in the country, climate change such as heat waves could affect power generation and distribution as the number of very hot days rise. The generation of hydropower, a main source of renewable energy and revenue for Myanmar, may suffer from prolonged and unpredictable periods of drought, and intense rainfall.
Consequently, in the aforementioned 'Myanmar Sustainable Development Plan 2018-2030 report', developing an appropriate energy generation mix is crucial, including carefully managing the balance between renewable and non-renewable sources. 
Solar Energy
Currently, 54 percent of the population have access to electricity in Myanmar. While this represents progress compared to several years ago, it still means that at least 23.5 million people in the country do not have reliable electricity. Therefore, roughly five million households are in need of electricity, reported local media.
According to 'Myanmar: Solar investment opportunities' published by SolarPower Europe – a Belgium-based organisation which advocates the use of solar – Myanmar has introduced an ambitious renewable energy goal, which is to increase the share of renewables in electricity production to 12 percent by 2025. 
In 2019, Myanmar's State Counsellor, Aung San Suu Kyi launched the initial phase of the country's first commercial solar-power plant in Minbu, Magwe Region, adding 40 megawatts (MW) of power to the national grid. The power-plant is part of a longer-term goal which is to achieve 100 percent electrification by 2030. 
Suu Kyi added that the country will not rely on any single source of energy. In fact, more recently, it was announced that Myanmar's Ministry of Electricity and Energy plans to also build floating solar power to augment electricity generation under a hydro-solar hybrid system. This is to ensure that the country's rapidly increasing electricity demands are met using a mix of energy generation sources.
Other than that, local media also reported that the Ministry floated a tender for 29 solar power plants, with a target of generating a total of 1,030 MW of power by next summer. This will help meet the country's electricity demand that is growing by 15 percent per year.
Based on the SolarPower Europe report, the life-time cost for solar power plants is economical. Apart from that, solar power can effectively counter-balance the electricity shortage during the dry season, while not occupying too much grid capacity during the rainy season. 
Myanmar's energy needs are largely met with hydropower, but the environmental, geopolitical and social costs are now growing concerns for the country. 
Solar energy is said to be one of the most eco-friendly energy generation sources – despite some its flaws such as a decrease in solar radiance by 50 percent during the rainy season, according to the Asian Development Bank (ADB). However, solar energy has the potential to help Myanmar on its journey to a greener future and to electrify the entire country by 2030.
Related Articles: