If anything is clear from the ASEAN Summit and the East Asian Summit held in Singapore last November is that Southeast Asia is now hot property. The heads of state that attended the summit says it all, from Russia's Vladimir Putin to Japan's Shinzo Abe – everyone is realising the geostrategic importance of the region.
The opportunity presented in Southeast Asia is clear; the region's economy is one of the fastest growing in the world and it has a market with over 600 million consumers. Another reason why many countries are vying for the region's attentions is its geopolitical importance. Southeast Asia is currently enmeshed in a territorial dispute with China over the South China Sea while the United States (US) is making moves to limit Chinese influence in the region. Other countries are also looking to tap into the region's potential by pivoting their foreign policies here. One prime example of this is South Korea's New Southern Policy.
New Southern Policy
In November last year, South Korean president Moon Jae-in unveiled a policy aimed at deepening ties with Southeast Asia. "Korean diplomacy in Asia has been more toward Japan, China and Russia. But I see that it should expand to new horizons," Moon told a forum in Jakarta where he first launched the policy.
His government has said that the policy will be similar to the New Northern Policy which focuses on cooperation with China, Japan, Russia and Mongolia. According to Moon, a presidential committee as well as a comprehensive blueprint have been set up to fulfil the policy.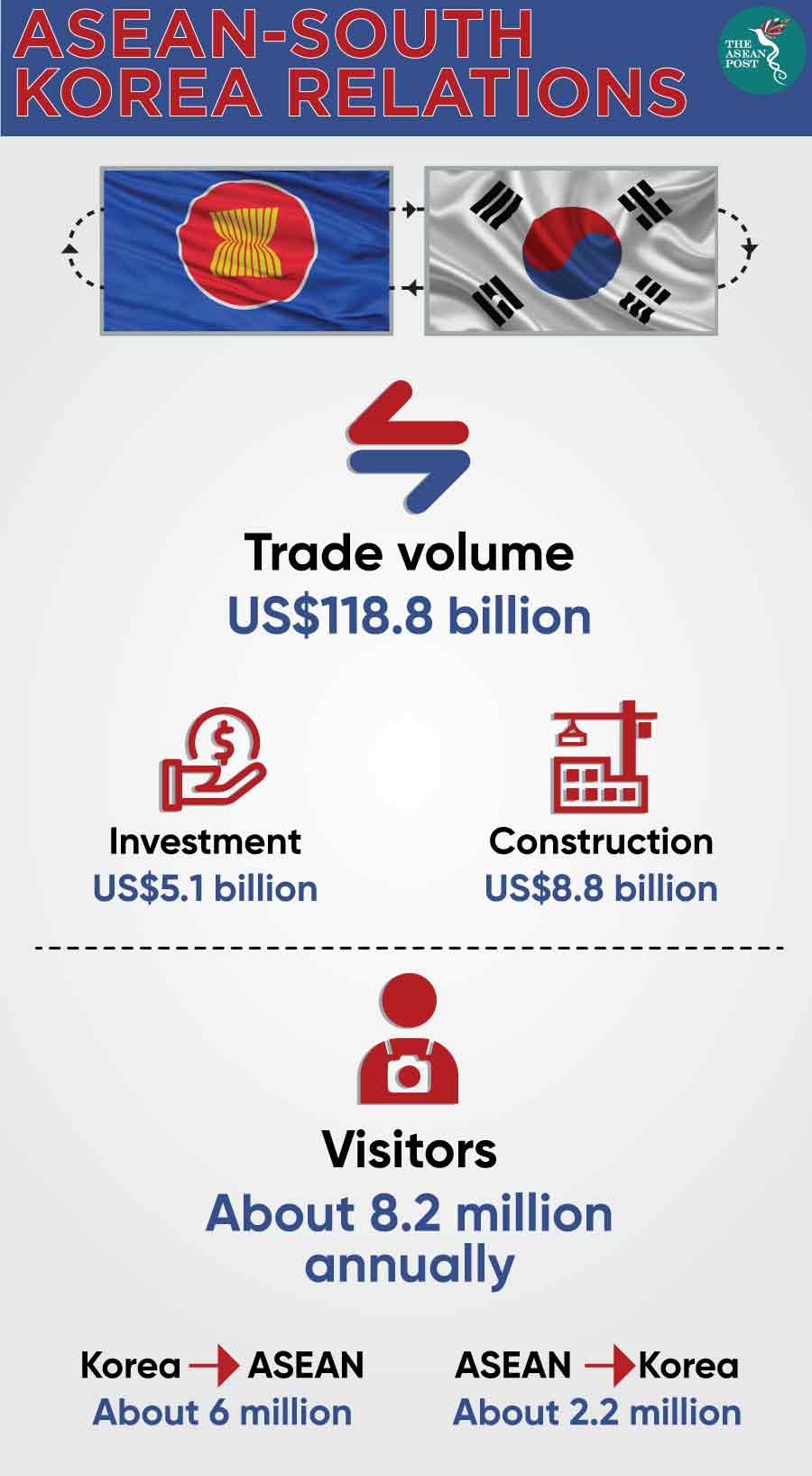 South Korea's interest in the region is nothing new. In fact, ASEAN has had a 20-year diplomatic relationship with the country. ASEAN and South Korea also have very strong trade ties as well. Last year, ASEAN was the second largest trading partner for South Korea, while South Korea is ranked fifth among ASEAN's trade partners.
What Moon aims to do is to further strengthen these existing ties. While the ties between ASEAN and South Korea may seem strong on paper, South Korea is nowhere as close as their North Asian neighbours, China and Japan, when it comes to working with ASEAN. China and Japan have much stronger ties and investments throughout the region. Aside from that, South Korea is also looking to be less reliant on China, US, Japan and Russia by strengthening its ties with ASEAN. 
According to Dr. Lee Jaeyhon from South Korean think tank Asan Institute for Policy Studies in his paper "Korea's New Southern Policy towards ASEAN: Context and Direction", among the reasons ASEAN is the number one choice for strategic cooperation is because the region is geographically closest to South Korea. Both entities also share similar strategic interests. Dr. Lee mentioned that both parties are squeezed between contradicting pressures from major powers – the US and China. Because of that, South Korea and ASEAN are "striving to expand their autonomous space in the region and to increase diplomatic leverage".
The policy is already beginning to garner positive results. Bilateral trade volume with ASEAN had risen six percent to US$120 billion in the first nine months of last year compared to the same period in 2017 and both are looking to reach a trade volume worth US$200 billion by 2020.
The relationship between ASEAN and South Korea can only grow stronger. Moon and Singapore Prime Minister Lee Hsien Loong reaffirmed their commitment at strengthening ties at last year's 33rd ASEAN Summit. "The Republic of Korea has been a strong supporter of ASEAN-led mechanisms as well as ASEAN's community building efforts. There is much more we should do," Lee said.
South Korea is slated to host a Korea-ASEAN summit with all ASEAN leaders this year. There are also plans for the first Korea-Mekong Summit which involves leaders of Mekong River countries such as Lao PDR, Cambodia, Myanmar, Vietnam and Thailand.
Related articles:
Towards reconciliation of the two Koreas